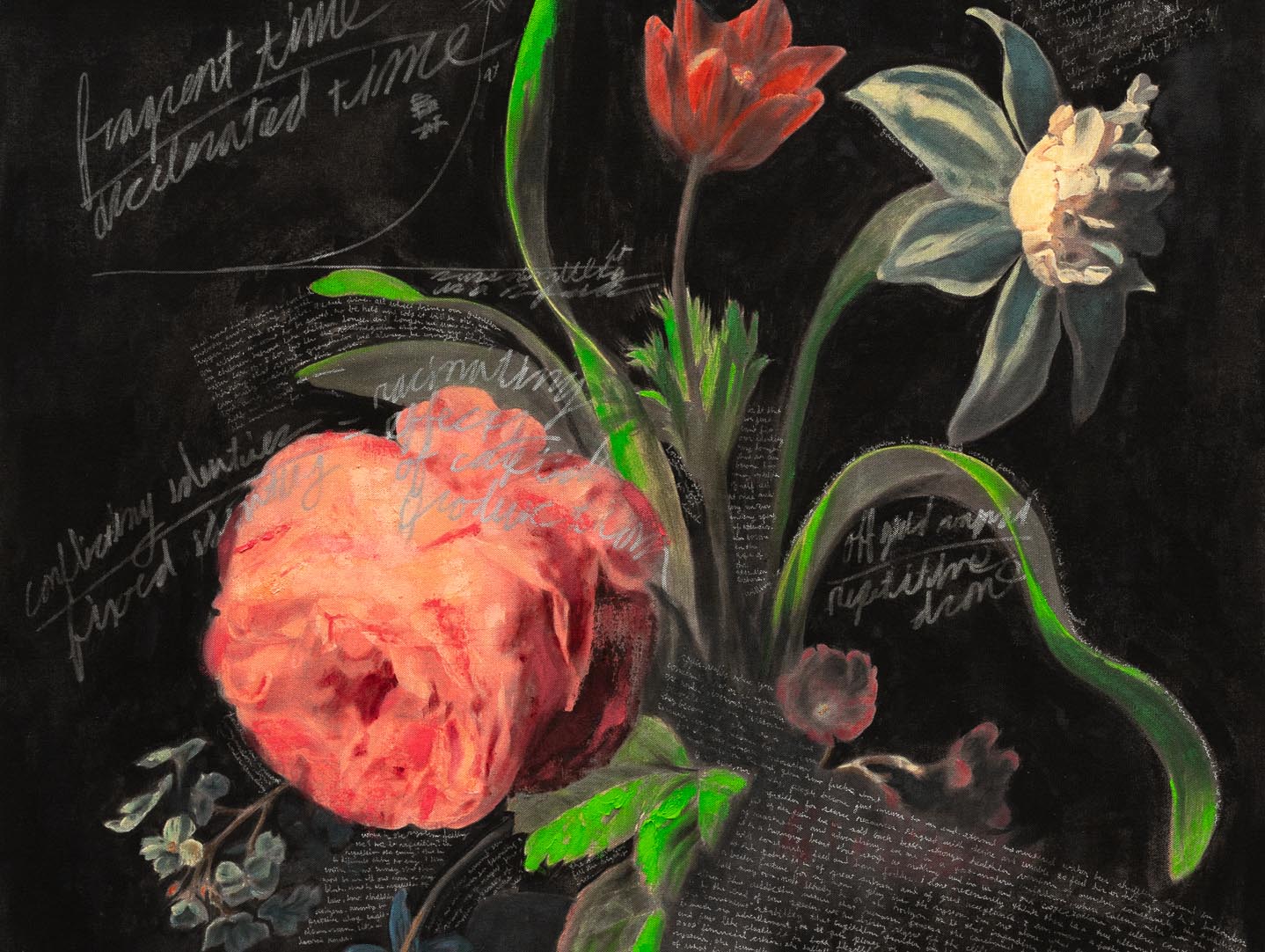 Marc Horowitz: The Aesthetics of Stability
3311 East Pico Blvd, Los Angeles, CA
Apr 23, 4 PM - 8 PM — ends May 28, 2022
MARC HOROWITZ
THE AESTHETICS OF STABILITY
April 23 – May 28, 2022

Opening Reception:
Saturday, April 23 (4-8pm)

Performance:
Saturday, April 23 (6pm)

de boer (los angeles) is pleased to present The Aesthetics of Stability, a new exhibition by Los Angeles based artist Marc Horowitz. The exhibition brings together the core tenets of Horowitz's practice; performance, installation, sculpture, and painting. The Aesthetics of Stability centers around the ideas of stability and its parallel counterpart instability in both business and interpersonal life. Performed through new renditions of 17th century still life paintings, a sculpture that has lived through a fire, industrial fans, coffee makers, a chair, and a desk.

Horowitz's renditions of old master still life paintings by 17th-century Dutch painters Jan Weenix (1649-1719) and Willem van Aelst (1627-1683) combine the original intent of such paintings with diagrams and scrawling text that feel more at home in studies and notebooks. The substrate of a 1600s still life painting is an emblematic starting point for larger aims of reconstruction of symbols of ephemerality. Presenting viewers with the instability of life through vanitas. Showing the transience of life, the futility of pleasure, and the certainty of death, and contrasting symbols of wealth... Horowitz upends this genre and offers by way of messy text, uneasy solutions for reform and restructuring.

In Dwell Adrift, 2022 Horowitz recreates Jan Weenix's painting 'Still life with a dead partridge, on a forest floor' 1712. In previous exhibitions Horowitz has included imagery in his paintings that harken back to old masters, however, there is something decidedly different here. No glaring jokes stare out from the canvas, there are few if any neon colors. Instead, a laborious render exists, paired with compositional play in the form of four diagrams exploding out and growing in size from the upper left corner to the center of the canvas. The last most compositionally centered of these diagrams covers the central dead partridge creating a mimic of its form. The diagrams map out the trajectory of generational trauma. Plus and minus signs are present at the end of each beam of the diagram denoting positive and negative energies.

Horowitz transforms the east garden gallery into an installation that also operates as the location for a performance titled 'The Aesthetics of Stability'. In the gallery, a single desk sits opposite a sculpture titled 'Hubris, 2022' the sculpture combines four industrial fans into one massive force of wind. On the desk are reams of newsprint and an assortment of drawing utensils. On the entry wall is a sculpture entitled 'Imaginary Audience, 2022' consisting of four coffee makers, a mug, and extension cords.

The desk and coffee makers relate to a nine-to-five job routine that often constitutes one definition of stability. While the fans themselves are inventions of modernity that aim to harness and control the wind, one of nature's greatest forces. Horowitz again upends traditional narrative, taking fans which are meant to be used to control an environment and placing enough together to create an uncomfortable environment. Alternating between utilitarian usefulness, symbolism and aesthetics Horowitz creates a stage for instability.


The performance taking place the night of the opening of the exhibition consists of Horowitz attempting to work and make drawings while being forced to withstand the effects of the four industrial fans blowing directly at him. Drawings that fall short of the artist's expectations will be crumpled up and tossed aside, while drawings that work or are deemed acceptable will be tacked to the walls. Working under a strict deadline the moment Horowtiz's time is up the resulting state of the room will remain untouched until its disassembly at the end of the exhibition.

In the west garden gallery, Horowitz's paintings are paired with a decaying sculpture. The sculpture, 'One of the academics is so interested he moves nearer, 2015' was made by Horowitz in 2015. This sculpture gives a nod to the duality of fate, a demonstration of its short display and destiny as part of an unfortunate fire in Malibu, California. The sculpture was spared unlike the building it was housed in, but not without significant scars. This specific history aligns with Horowitz's practice of performance and painting. Presenting similar questions to the portrayed bowls of fruits and dead animals in the paintings that surround it. Horowitz posits that there is beauty in the sculpture's current state. That there is a beauty to decay, to death, to rotting fruit. Within instability is a reminder that however fragile and delicate its balance may be, stability does exist.

MARC HOROWITZ (b. 1976, Columbus, Ohio) is a Los Angeles-based artist. Horowitz performed an innovative social practice informed by his background in entertainment and advertising. His multifaceted practice now encompasses painting, sculpture, video, and installation. Equal parts postmodern and post-internet, Horowitz's work flattens the hierarchies of culture, politics, relationality, and history creating a diverse but singular visual universe.

Horowitz received an MFA at the University of Southern California, Los Angeles CA in 2012. A Creative Time Project Grant Awardee, Horowitz has taught at the University of Southern California, and Otis College, and lectured at the California Institute of the Arts (CalArts), the Hammer Museum, Stanford University, and Yale.

Horowitz has exhibited his work internationally, past exhibitions include venues such as L21, Majorca, Spain; Johannes Vogt, New York, NY; BANK Mab Society, Shanghai, China; Mannerheim Gallery, Paris, France; The Hayward Gallery, London, UK; The Pit, Los Angeles, CA; China Art Objects, Los Angeles, CA; Anat Ebgi Gallery, Los Angeles, CA; Utah Museum of Contemporary Art, Salt Lake City, UT; Galerie Nathalie Halgand, Vienna, Austria; and Mindy Solomon Gallery, Miami, FL among others.