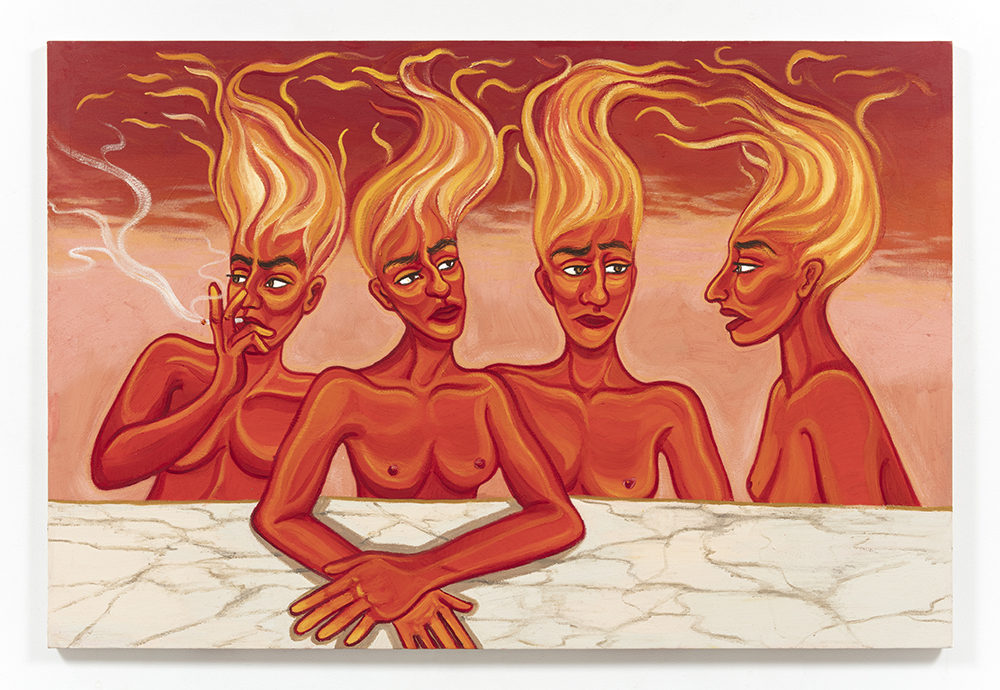 Ania Hobson: Playing with Fire | Shadi Al-Atallah: Waters That Never Quench | Claire Whitehurst: Follow the Moon
6830 Santa Monica Blvd. Los Angeles, CA 90038
Apr 22, 6 PM - 8 PM — ends May 21, 2022
Steve Turner is pleased to present Playing With Fire, a solo exhibition by London-based Ania Hobson featuring recent self-portraits that relate to emotional explosiveness. Hobson uses fire to symbolize this charged feeling, and it appears in most of the paintings, whether in a metal trash barrel, a candle, a cigarette or a lighter—and in the most extreme case, upon the artist's nude body. Most of the paintings include fiery words (fire, burn, heat, smoke and hot), and in the one that does not, "Call Me Emotional," Hobson reveals the most. Symbols and titles aside, Hobson's brushwork—fast, decisive, and occasionally wild—also suggests heightened passion. Her use of red is likewise dramatic, but regardless of Hobson's intensifications, her paintings remain believable. Emotional authenticity rather than factual accuracy is what Hobson values most.
__

Steve Turner is pleased to present Waters That Never Quench, a solo exhibition by London-based painter Shadi Al-Atallah that features new imaginary self-portraits which position the artist in hellish domestic settings. Dark, dynamic and distorted figures seek to convey the absurdity of conflicting emotional states. The paintings consist of brush strokes quickly made, a technique that the artist describes as necessary to convey their thoughts and attitudes. They use painting to escape the constraints of language and to invent genderless figures that embody an ambiguity that language rarely grants. In so doing, they convey Al-Atallah's ideas on gender and sexuality while remaining obscure enough so that viewers can connect with the works on their own terms.
__

Steve Turner is pleased to present Follow the Moon, a solo exhibition by Jackson, Mississippi-based Claire Whitehurst. It features recent relief paintings that depict colorful moon-like orbs in various states of fullness and eclipse, tree rings, eggs, stones, and rainbows, each painted on linen that was stretched over wooden supports that the artist carved to have undulating depth. Shadows appear at different times of day, causing the paintings to have their own daily phases. According to Whitehurst, the works are inspired by nostalgia and her return to Mississippi. They relate to transition, personal and geographic, to growth and decay, and the longing to return home.