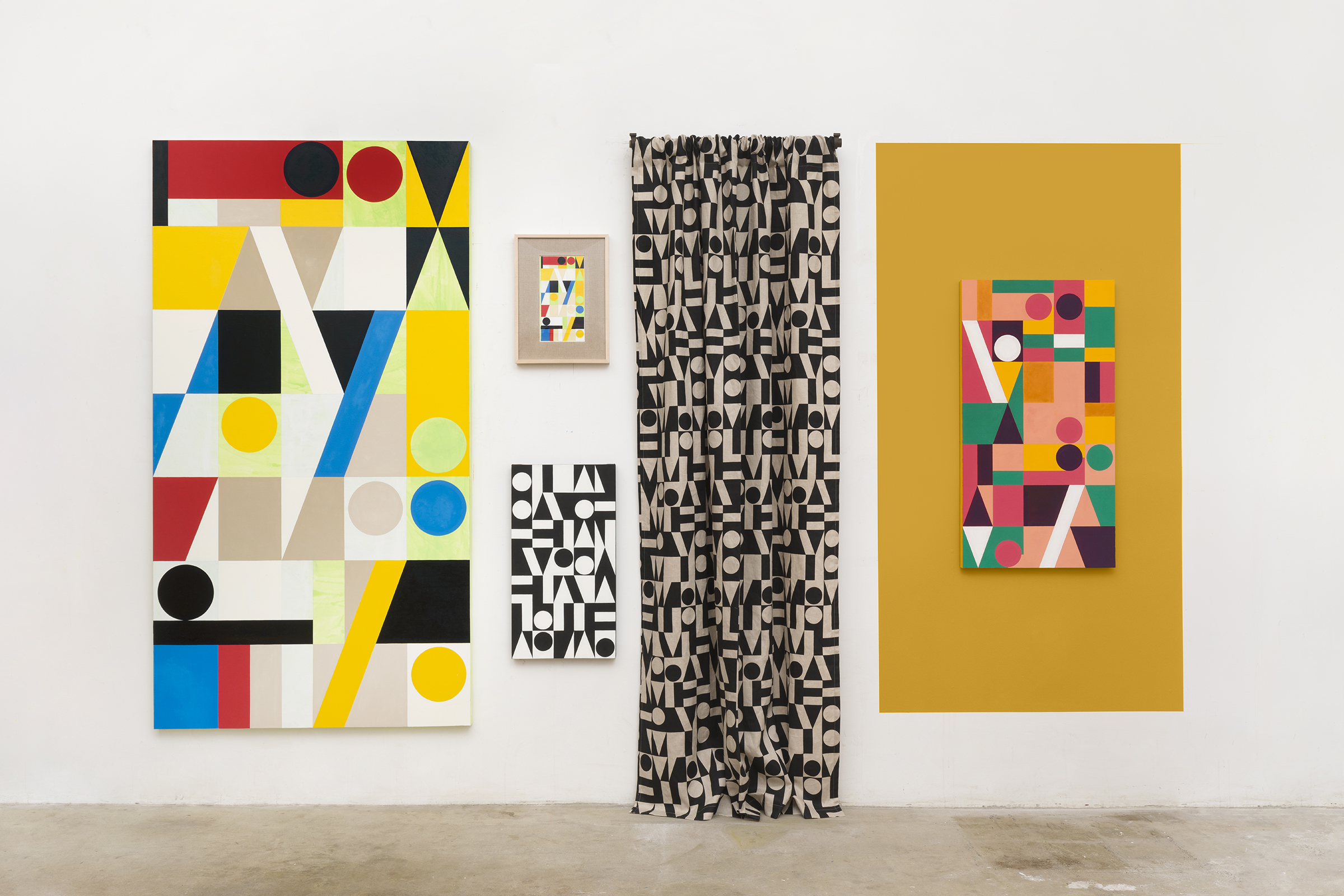 Antonio Adriano Puleo: Una Cosa È Una Cosa
4619 West Washington Blvd. Los Angeles, CA 90016
May 14, 4 PM - 7 PM — ends Jun 25, 2022
Lowell Ryan Projects is pleased to present Una Cosa È Una Cosa, a solo exhibition by Antonio Adriano Puleo. The works in this exhibition explore conceptions of time, language and abstraction, particularly the ability for each to hold influence and necessity over the other. A personal index of abstract shapes that Puleo has been working with for over ten years serve as an organizational basis and catalyst for the works in the exhibition. In Una Cosa È Una Cosa, symbolism is explored in a series of works each titled after an element of time as we define it, but perhaps not how we always understand it.

Four stained glass panels each representing one of the four seasons are installed in the four windows of the upper façade of the gallery. In the main gallery space, six paintings complete with a complementary work on paper are titled after the days of the week designated for work. In the backroom of the gallery, hung on an ochre-colored wall is the seventh painting signifying the final day of the week—the day of rest and reflection. In the upstairs gallery the months of the year are considered in a grouping of twelve paintings. Puleo's index of abstract shapes is further echoed in a large-scale, black and white mural encompassing the full height of the far gallery wall. This motif is carried over into a custom textile that has been used to create curtains and an upholstered bench, as well as tiles that line the floor of the upstairs gallery space.

Puleo's artistic process is defined not by singularity, but the continuation of communication across mediums. An interest in the history of language and abstraction inform his mode of production, particularly how different histories, cultures, situations, and collective experiences have defined and continue to mold how we experience image, language, shape and form. In this exhibition, an acknowledgment of the sacred is also palpable. The historical relationship between art and religion and the reliance on each other are explored. Of particular significance to Puleo is Henri Matisse's Chapelle du Rosaire de Vence, in which Matisse envisioned the entirety of the project, spending more than four years working on the chapel, its architecture, stained glass windows, interior furnishings, murals, and the priests' vestments. Puleo continues that art historical conversation through the works in this exhibition, a dialog with those who came before and a record for those who will follow.