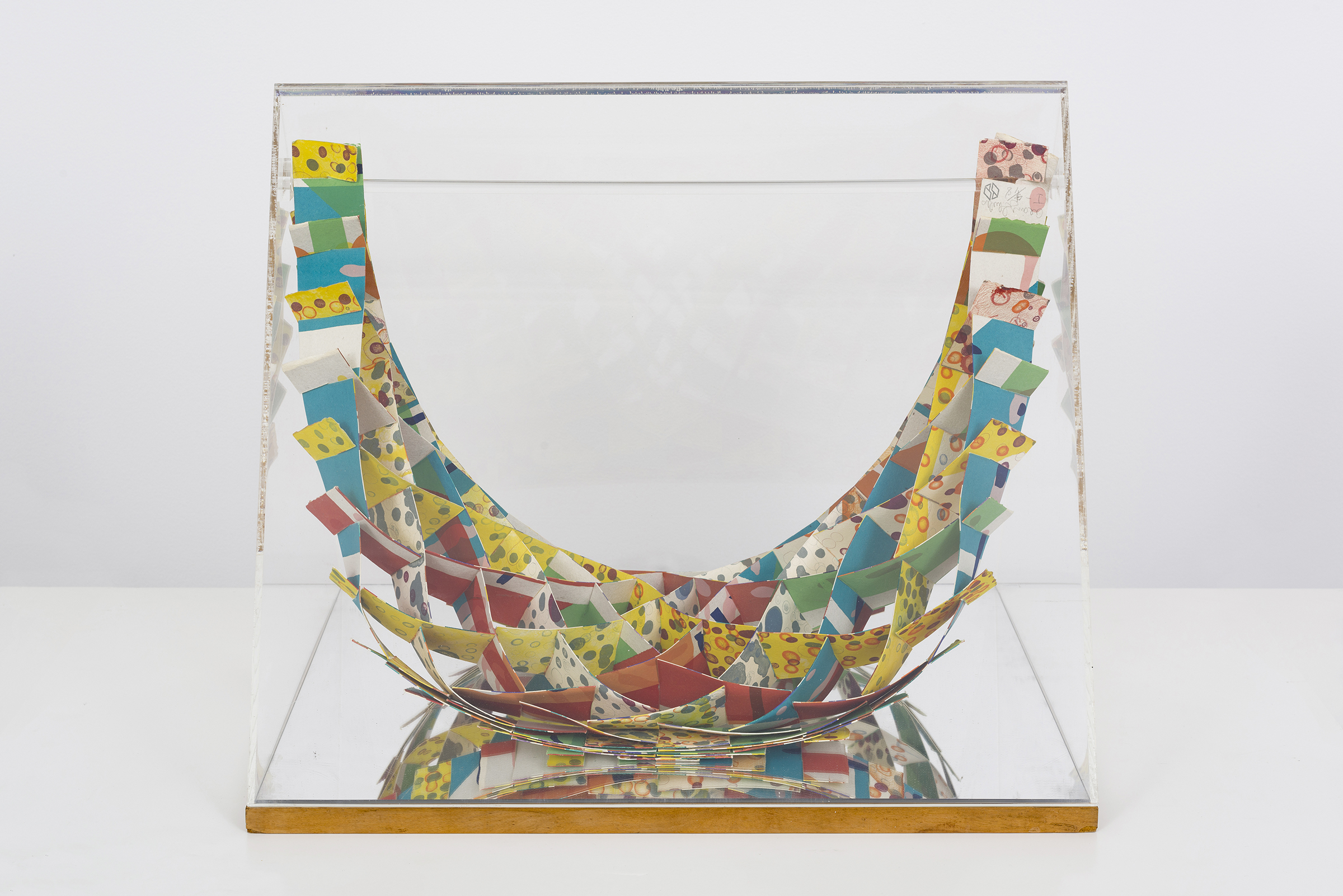 Alan Shields: Tweaking The Grid
5513 Pico Blvd. Los Angeles Ca 90019
May 01, 2 PM - 6 PM — ends Jun 12, 2022
Hunter Shaw Fine Art is pleased to announce "Tweaking The Grid," a solo exhibition by Alan Shields (1944-2005). Working fluently across painting, drawing, sculpture and printmaking, Shields consistently defied categorization with works that questioned the distinction between image and object, surface and support, art and craft. While these inquiries resonate with contemporaneous art movements such as Post-Minimalism, Supports/Surfaces, and Pattern & Decoration, Shields was in a school of his own. Guided by insatiable material exploration, Shields' practice merged precision and play to communicate an aesthetic vision both joyful and rigorous.

Growing up in the rural farming community of Herington, Kansas, Shields learned to hunt, fish, and garden, activities he would pursue throughout his life. At home, his mother and sisters taught him to sew, a skill that would directly contribute to many of his later artistic innovations. Although he took several studio art courses in college, Shields was mostly self-taught, and left school without completing a major. In the late 1960s, the young artist moved to New York City where his early experiments with three-dimensional painting earned him a spot on the revered roster at Paula Cooper Gallery, where he showed regularly through the early 90s. This context is important in understanding Shields' contact with and divergence from the milieu of New York Minimalism. Alongside his peers and roster-mates such as Donald Judd and Sol Lewitt, Shields pursued a deep investigation of geometry and abstraction. Yet where the coolly intellectual approach of his contemporaries tended towards monochromatic aesthetic reduction, Shields' process of intuitive, spontaneous discovery thrived on visual abundance. Where the Minimalists insisted on the fixed, elemental primacy of the grid, Shields handled the grid as a mutable object: its static rhythm subdivided into syncopation, pierced with dynamic irregularities, or twisted into hyperbolic structures. For Shields, the grid was a flexible lattice upon which a garden of visual complexity could flourish.

Early in his career, the artist began creating works with strips of industrial cotton webbing hand sewn into grid-like structures. Formally and conceptually radical, these double-sided paintings are suspended and viewed in the round, allowing the grid to be seen and seen through from an unlimited number of angles, warping and shifting along with the viewer's perspective. Shields later commented on this tactic, saying:

"Its effect, in a sense, became a lens through which you would see an experience on the other side. It became like a theatrical event to view a canvas… In order to see the whole thing, the viewer has to view this side, then he has to walk around to the other side and view the other side. So it becomes a theater or dance. You're seeing it more as a whole, and more as a material hole."

Bringing the pictureplane into three-dimensional space, these liminal objects retain the formal concerns of painting while engaging the spatial dynamics of sculpture. This strategy allowed the artist to create compelling abstract images that appear to float in space. Merging structural and compositional elements, these works exemplify Shields' singular visual language and idiosyncratic materiality. Using vibrantly colored threads, the artist deployed stitching as a unique form of drawing, the sewing machine's dotted, zig-zagging lines integrated into the overall composition, while simultaneously holding the structure together. Deeply saturated with lush acrylic staining, many of these works are embellished with strands of glass beads meandering through the grid, showcasing the artist's unique blend of high abstraction and common craft.

Shields was no less radical in his prolific printmaking endeavors. Eschewing the rigid standard of continuity expected in this field, Shields allowed for a wide margin of variance across his editions, infecting each piece with unique characteristics that were often the result of printing errors that the artist referred to as "traces of hand." His process-driven approach to the medium was endlessly exploratory, resulting in works that communicate the joy of discovery and creation - effulgent displays of the maker's enthusiasm for color, texture, pattern and form. Single works often incorporate a multitude of techniques including lithograph, serigraph, stamping, collage, flocking, embossing, relief and vegetable printing. Shields was particularly innovative with papermaking, developing original techniques to create specially shaped and perforated sheets that he would stack and sew together into densely layered compositions. Mirroring his achievements in painting, Shields pursued the dimensional possibilities of paper. One of the greatest examples of this is "Roosevelt Set" from the 1978 series "Box Sweet Jane's Egg Triumvirate." Inspired by the pulp paper egg dividers the artist knew from his childhood on the farm, the works are constructed from strips of paper printed on both sides and woven into a volumetric grid. The construction is suspended from two points allowing it to hang like a hammock, and is housed in a custom, mirrored-bottom plexibox, offering the viewer multiple perspectives of the riotous explosion of pattern and color within.

For Alan Shields there was little separation between art and life, and the eccentric individuality of his artwork was reflected in his unique lifestyle. In 1971 Shields moved with his young family from Manhattan to Shelter Island, NY to be closer to nature. There he set up his studio in a large greenhouse, and adorned his property with ephemeral beaded sculptures. While maintaining a prolific studio practice and exhibiting internationally, Shields worked as a commercial fisherman and riverboat captain. The artist frequently appeared decked out in wild outfits and jewelry of his own design. With his shaved head, bristly beard and painted fingernails, Shields epitomized countercultural individuality. In photos he is rarely seen without a beaming smile, radiating confidence, joy, and benevolent mischief. These qualities are abundantly evident throughout his oeuvre, communicating a blissful exaltation of the senses that transcends culture and geography. Shields commented on his intentions in a 1986 interview with Kauro Yanase, stating:

"I do have a spiritual connection with these things like my materials… [My] art is not
about politics. I think it has more to do with introspection than with politics. My work
is going to be completely about my philosophy of visual stimulation and visual energy. It's a visual energy that I'm trying to present. That doesn't have a language barrier, a political barrier, or even a historical barrier. It could've happened anytime. One of
the things I've wanted to do is do things that were timeless. The pieces could've been made anytime, and they still are about what they're about."

Alan Shields was born in 1944 in Herington, KS and died in 2005 in Shelter Island, NY. In 1973 the artist was included in both the Whitney and Paris Biennials. Shields' works have been featured in recent important museum exhibitions such as With Pleasure: Pattern and Decoration in American Art 1972-1985 at Museum of Contemporary Art, LA (2019-2020, traveled); Artistic License: Six Takes on the Guggenheim Collection at the Guggenheim Museum, NY (2019-2020); and Outliers and American Vanguard Art at National Gallery of Art, Washington, D.C. (2018-2019, traveled). Solo museum exhibitions of the artist's work include "Alan Shields: Common Threads," Parrish Art Museum, Water Mill, NY (2018); "Alan Shields: Protracted Simplicity (1966-1985)," Aspen Art Museum, Aspen, CO (2016), "Alan Shields: In Motion," Parrish Art Museum, Water Mill, NY (2015); "Into the Maze," SITE Santa Fe, NM (2014); "Stirring Up the Waters," Parrish Art Museum, Southampton, NY (2007); "Alan Shields: A Survey," The Beach Museum of Art, Kansas State University, Manhattan, KS (1999); "1968 – 1983: The Work of Alan Shields," Memphis Brooks Museum of Art, Memphis, TN (1983), which traveled to Lowe Art Museum, Coral Gables, FL, and Nelson-Atkins Museum of Art, Kansas City, MO; and "Alan Shields: Paintings and Prints," Williams College Museum of Art, Williamstown, MA (1981). Shields is represented in the collections of prominent institutions including the Corcoran Gallery of Art, Washington, D.C.; Metropolitan Museum of Art, New York, NY; Museum of Modern Art, New York, NY; National Gallery of Art, Washington, D.C.; The Solomon R. Guggenheim Museum, New York, N;, Tate Collection, London, UK; Walker Art Center, Minneapolis, MN; and the Whitney Museum of American Art, New York, NY.