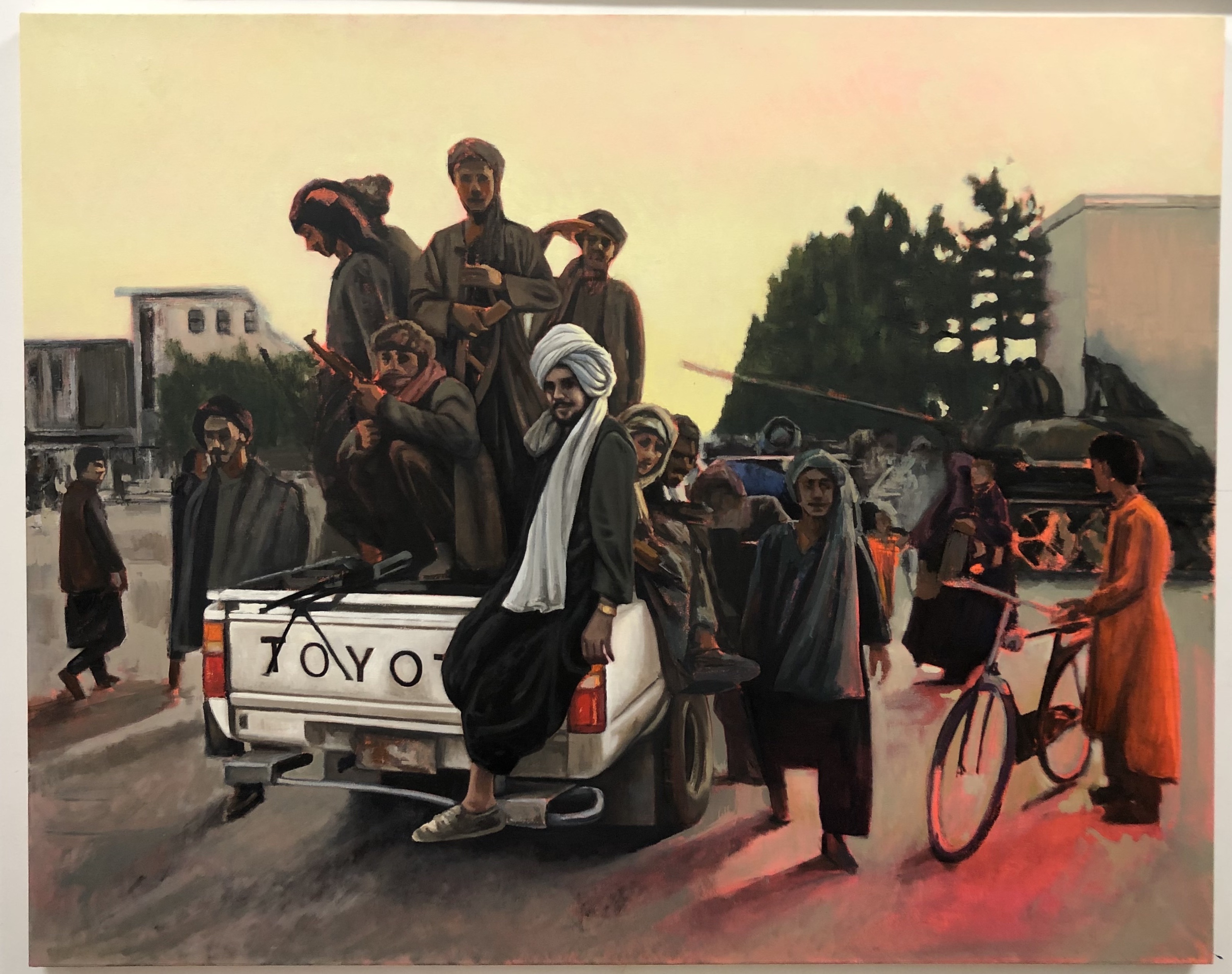 Hely Omar Gonzalez: Workhorse | Group Exhibition: Don't Give Me Flowers
👀
6150 WILSHIRE BLVD, LOS ANGELES CA 90048
May 07, 6 PM - 8 PM — ends Jun 01, 2022
To inaugurate the gallery's new Project Space in Los Angeles at 6150 Wilshire Boulevard, Praz-Delavallade is thrilled to present Hely Omar Gonzalez: Workhorse (opening May 7, 2022 | 6-8PM). The exhibition, curated by Michael Slenske, is a two-year painting study by the Long Beach-based artist focusing on the labor, humanity, and socio-political currency behind the Toyota Hi-Lux mini truck, from local leisure pursuits to international rebel insurgencies. Grounded in a neon-classical palette, Gonzalez's cinematic landscapes and Romantic portraiture are part self-portrait, part social commentary.
__

Praz-Delavallade Los Angeles, is thrilled to announce Don't Give Me Flowers a group exhibition of works by Delia Brown, Shana Lutker, Sarah Miska, Mattea Perrotta, Fay Ray, Fawn Rogers and Amanda Ross-Ho. The exhibition, curated by Nancy Meyer, examines the artists' perspectives on status and female identity through symbols of beauty, value and privilege. Brought together in dialogue about the constructs in which we live, the exhibition postulates the tendencies towards objectification, social motives, and the balance between intrapersonal and interpersonal perceptions. Simultaneously personal and universal, Don't Give Me Flowers relishes in the ambiguity and evolution of the human condition.

Inspired by 17th century vanitas still life paintings, Delia Brown is both artist and model in her recent series of self-portrait boudoir paintings. Having been absent from her work for over a decade, Brown's tantalizing gaze is featured again in Lady of the Canyon. Nestled on a couch in the room of a cozy home, Brown is surrounded by random objects and trophies of achievement and invites the viewer to contemplate mortality and desirability while observing her vulnerable, naked body.

Complicating the origin of an image, Shana Lutker's practice is rich with art historical references. Her interdisciplinary practice draws from the archives of psychoanalysis and surrealism. Playing with one of Man Ray's most iconic works Venus, 1937, Lutker's Anet-her is a tempera on paper sculpture based on a photograph of a reproduction of his work. Here, the essence of the Roman goddess of love and beauty is seized, captured, restrained, and fetishized in a permanent display of arrest.

Drawing from English horseback life and traditional equestrian painting, Sarah Miska's practice examines the rituals of presentation and our preoccupation with how we are perceived by the outside world. With an astute attention to detail and formality, Miska has transformed fragments of the body, in this case the crests of a horse with carefully braided manes, into symbols of status, desire and control. She invites the viewer to contemplate our own fixation with adornment and performativity.

Mattea Perotta's paintings deal with the balance between masculinity and femininity, the unconscious, desire, and the female body. In her recent exhibition My Letter to Picasso, the artist rewrites the cubist's traditional mythology – that of his famous muses and aims to channel and interpret both the personal and shared experiences of trauma.

Fay Ray's high-contrast, monochrome photomontages and metallic sculptures explore the fetishization of objects and the construction of female identity. Conflating the worlds of worship and desire, her multi-dimensional works borrow from the symbolism and composition of traditional religious relics and the visual language of the occult.

Fawn Rogers addresses the idea of power as currency for nature and human interaction. Concerned with the paradox of the natural and unnatural worlds in which we live, her seductive paintings from her The World is Your Oyster series is at the core of the artist's exploration of life and death, nature and industry, pleasure and pain, lust, opulence and the fragility of the future.

Amanda Ross-Ho's practice originates in the archival impulse and attempts to develop intimate understanding of the transitory or ephemeral. She develops tender attachments to the idiosyncratic artifacts that populate commonplace encounters with material culture, media, and daily life and elevates them into speculative monuments and tableaux. Using oppositional strategies of forensics and theatre, she intimately dissects transient matter and reconciles it into enduring and outsized forms. For Don't Give Me Flowers, Ross-Ho includes Untitled Crisis Actor, (hurts as much as you can imagine, although you do not have to be crying to feel this), one in a series of oversized translations of graphic symbols traditionally used to measure physical pain.