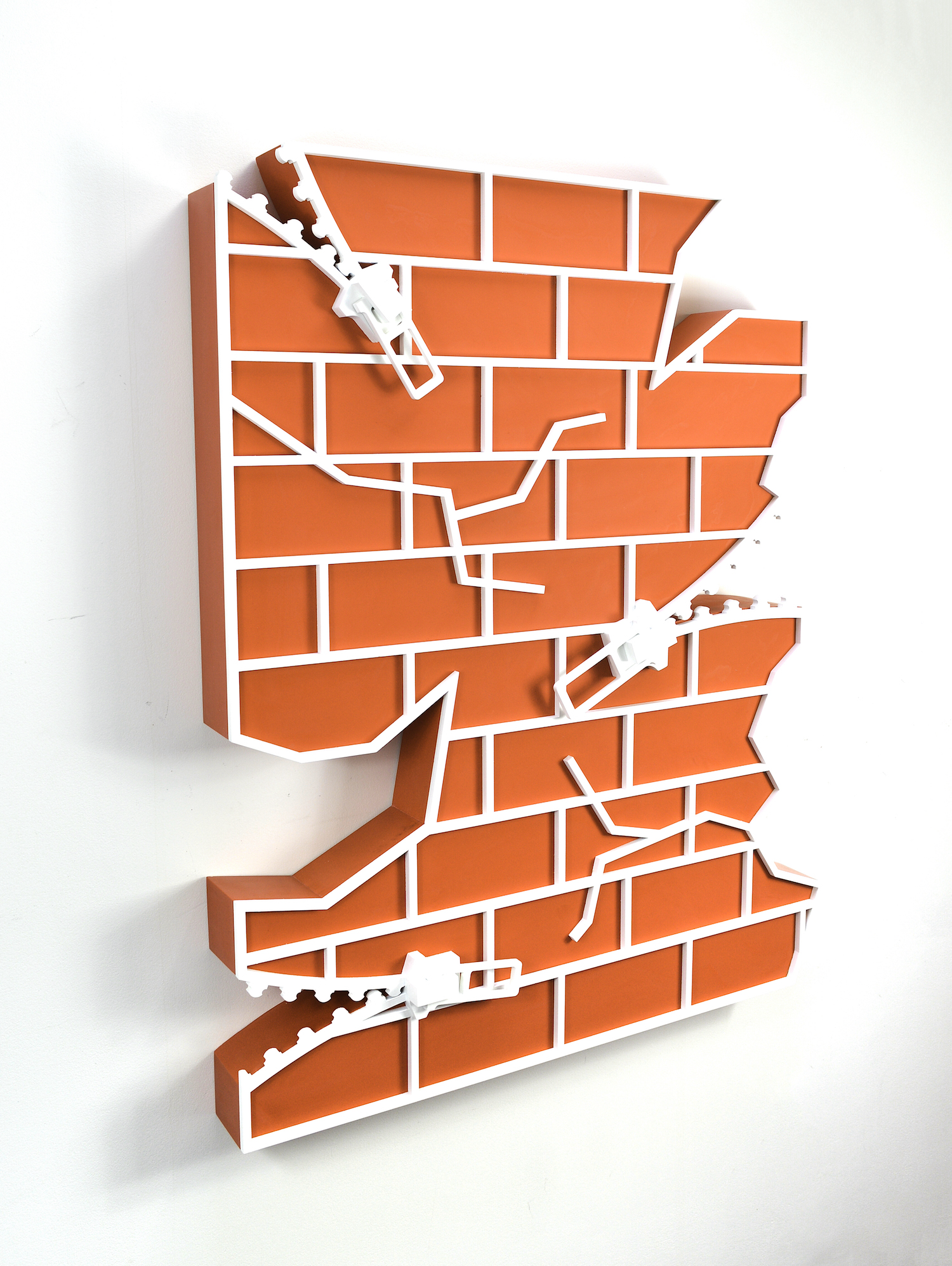 Liam Fallon: On the Other Side of a Locked Door
2525 Michigan Ave., Santa Monica, CA 90404
May 21, 3 PM - 5 PM — ends Jun 25, 2022
On the Other Side of a Locked Door brings together a body of work which seeks to question and interpret what happens when the door closes, lights go off and no one is there to witness what happens. Objects come alive taking on a new spin from previous encounters, joints begin cracking and brick walls begin to defy the material capabilities that they are seemingly made from.
For this show, Fallon presents a body of sculptural works which take the form of a more recently recognizable trope of the brick wall. This motif of a brick wall takes direct inspiration from Jean Genet's 1959's silent film 'Un Chant d'Amour' which documents a love story between two male prisoners. In this story, the prisoners fetishize the prison wall, falling in love through and between it and seductively blowing cigarette smoke back and forth through a small hole as a sexual act and as a means of communication.
It is these brick walls which reoccur throughout the exhibition almost as a process of cathexis with each delving to reinterpret the mundane with sentimental and charged acts. Cathexis is a noun which can be understood as to concentrate and invest mental energy on one particular thing, person, idea or object and it is this act which seemingly forms the backbone of this ongoing series. In these works, the mundane has been revalued, exalted and recharged with meaning- the walls are peeling off their old coats of paint; some are unzipping and revealing a little more than they bargained for, and some are being pulled tightly together whilst their counterparts are being dramatically pushed apart.

About the Artist:

Liam Fallon (b. 1995, Stoke-on-Trent) lives and works in London. Since graduating from Manchester School of Art in 2017 he has exhibited internationally with shows in Glasgow, New York, Berlin and Seoul. In 2017 he was awarded second prize at the Woon Foundation Prize, and in 2018 and 2020 was shortlisted for the Mark Tanner Sculpture Award. In 2019 he received the Pangaea Sculptors' Centre Production Award, and in 2020 a Henry Moore Foundation Artist Award. In 2021 he exhibited at König Galerie, Berlin, Carl Kostyál Gallery, Stockholm and Richard Heller Gallery, Los Angeles. This year he opens debut solo shows at Castor Gallery London and another at Richard Heller Gallery, Los Angeles.