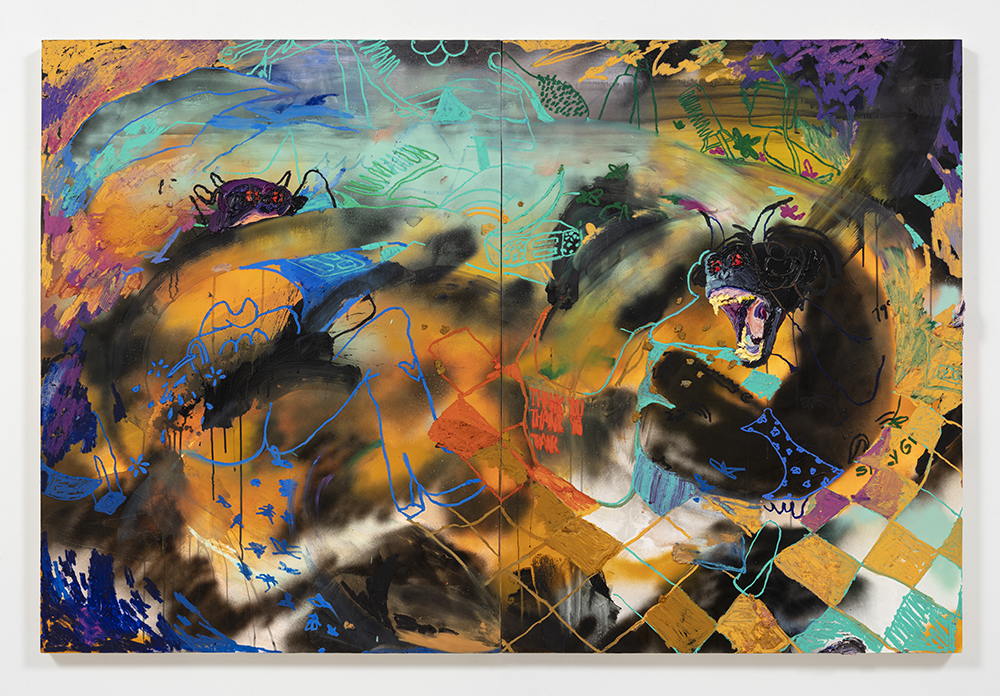 Bianca Fields: In My Bag | Terron Cooper Sorrells: Dama
6830 Santa Monica Blvd. Los Angeles, CA 90038
May 28, 11 AM - 6 PM — ends Jun 25, 2022
Steve Turner is pleased to present In My Bag, a solo exhibition by Kansas City-based Bianca Fields that features new paintings of screaming animals that the artist considers stand-ins for the psyche of her six-year-old self, one who spent hours watching "Tom and Jerry," an American cartoon that portrayed the rivalry of Tom, the cat and Jerry, the mouse. Tom is the protagonist in many of Fields's works, and because he barely spoke, Fields imagined his speech, something she continues to do in these works. Fields, working with intense passion along with a well controlled silent concentration, felt as if she was conjuring up her own internal demon. The resulting works have thick flourishes of lustrous colors, accents of copper that mirror the artist's complexion, as well as scratched lines and text that convey violence and vulnerability, something that Fields routinely experiences as an African American woman.

Bianca Fields (born 1995, Cleveland) earned a BFA from the Cleveland Institute of Art (2019) before relocating to Kansas City. She had a solo exhibition with Dragon, Crab and Turtle, St. Louis (2021) and has had work included in group exhibitions with Steve Turner, Los Angeles (2021); L21, Palma de Mallorca (2021) and Galerie Droste, Paris (2021). This is Fields' first solo exhibition with Steve Turner.
__

Steve Turner is pleased to present Dama, a solo exhibition of new complex and colorful paintings by Chicago-based Terron Cooper Sorrells that convey spirituality, culture and ritual as inspired by three African traditions from Nigeria, Ivory Coast and Mali. These traditions, whether in dance or oral tradition, all relate to the transition from life to the beyond and the endurance of the spirit. Sorrells uses the image of the sky to blend these histories and by conflating them, he aims to emphasize the diversity of the African American experience which brought together enslaved Africans from diverse origins to American plantations where stories, languages and traditions were mixed together. In so doing, he aims to celebrate the past and encourage a new sense of community.

Terron Cooper Sorrells (born 1994, Portsmouth, Virginia) graduated from the Maryland Institute College of Art in 2016 where he focused on printmaking. After moving to Chicago he has steadily developed his painting practice which focuses on imagery drawn from African American history and culture. His experience as a printmaker has enabled him to develop complicated compositions that best address this subject matter. Dama is his first solo exhibition with Steve Turner.