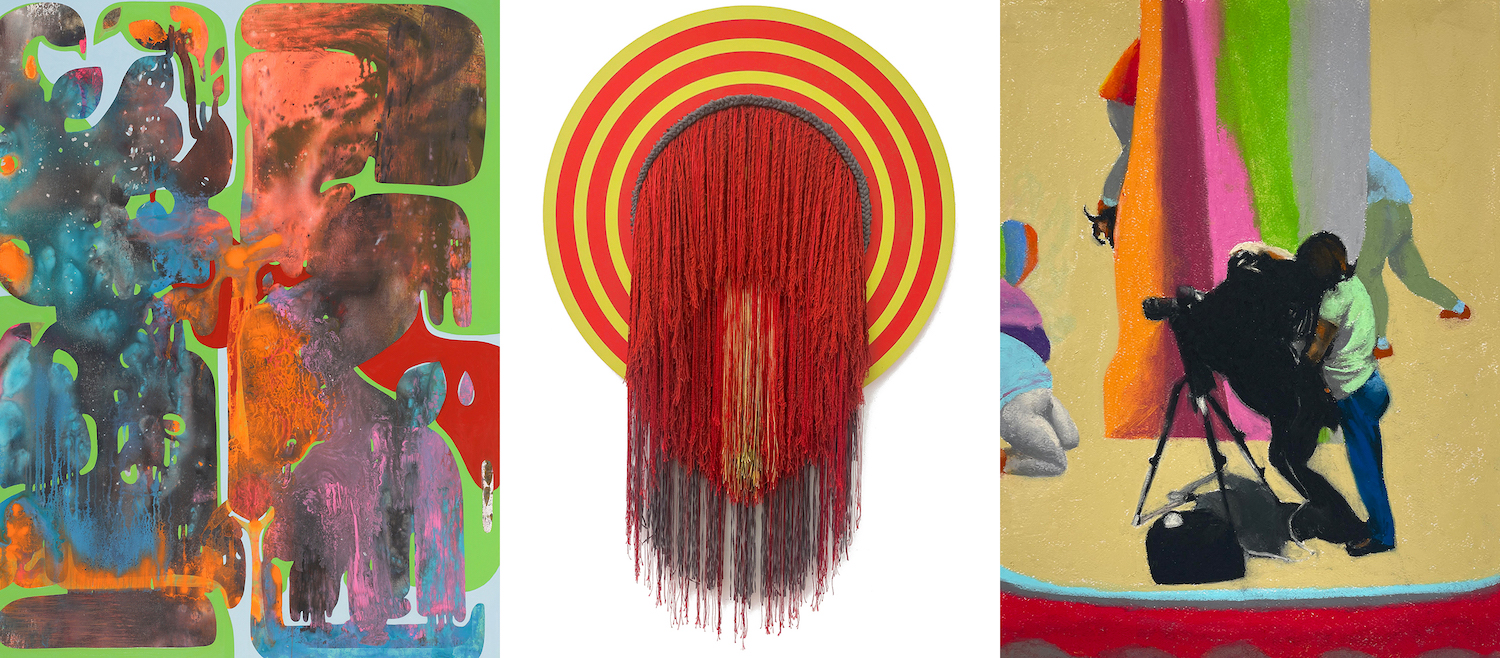 Vian Sora, Liz Collins, & Lavi Daniel
1110 Mateo St. Los Angeles CA, 90021
Jun 04, 5 PM - 8 PM — ends Jul 16, 2022
Luis De Jesus Los Angeles is very pleased to announce three upcoming exhibitions with new work by VIAN SORA, LIZ COLLINS, and LAVI DANIEL. The exhibitions will be on view from June 4 through July 16, 2022. An opening reception will be held on Saturday, June 4th, from 5:00 to 8:00 pm.
The paintings presented in Subduction continue Vian Sora's inquiry and meditation into the powerful forces, events and conditions that have shaped her life, as well as the global challenges facing mankind today which traverse borders and continents. Sora's search for beauty amongst destruction is translated in her compositions through a conscious embrace of decay, resulting in bright, metaphorical "landscapes" that simultaneously signify both the turmoil and dynamics of change. Dense with ideas, the distillation of experiences, and the transmission of emotion, her atmospheric surfaces, layered with optical ambiguities that create illusions of light and movement, of time and space, allow her to express untold emotional landscapes that suggest the turbulence below the fragile surface of social order and its effect on the human soul.
Liz Collins is a multi-media artist whose practice converges at the intersection of textile and fiber arts, painting, installation, and design. Her innovative approach to creating and manipulating textiles with dynamic patterns, vivid colors, and sensual materials are the primary components with which she conveys her ever evolving vision for her fine art practice. In the multifaceted works included in this exhibition, lines of yarn are malleable like brushstrokes, and patterns created by deconstructing fabric or painted in flashe on canvas represent a move towards a more graphic visualization of energy. Gravity impacts the soft materials making them sag and hang. Explosions, vibrations, and optical phenomena materialize in line and shape, shatter and fracture in dramatic ways, and then align themselves with precision and balance through a concurrent process of renewal and decay.
Lavi Daniel's The Fruits of an Enigma is an investigation that begins through the eyes of the artist as a seven-year-old, inspired by the rediscovery of a drawing the artist made at that tender age. Aware that it's sixty years later, and established in the conviction that there is a coexisting viewpoint of the same enigmatic reality, Daniel seeks to recapture the sense of wonderment within the artistic process that he experienced in his youth. The sixteen works on paper presented in this exhibition are created in soft pastel, the same medium he employed 60 years earlier, which provides a sense of comfort and familiarity in his search of a common figurative language between his present and former self.
For further information, including images and previews, please call 213-395-0762, or email:
gallery@luisdejesus.com
.