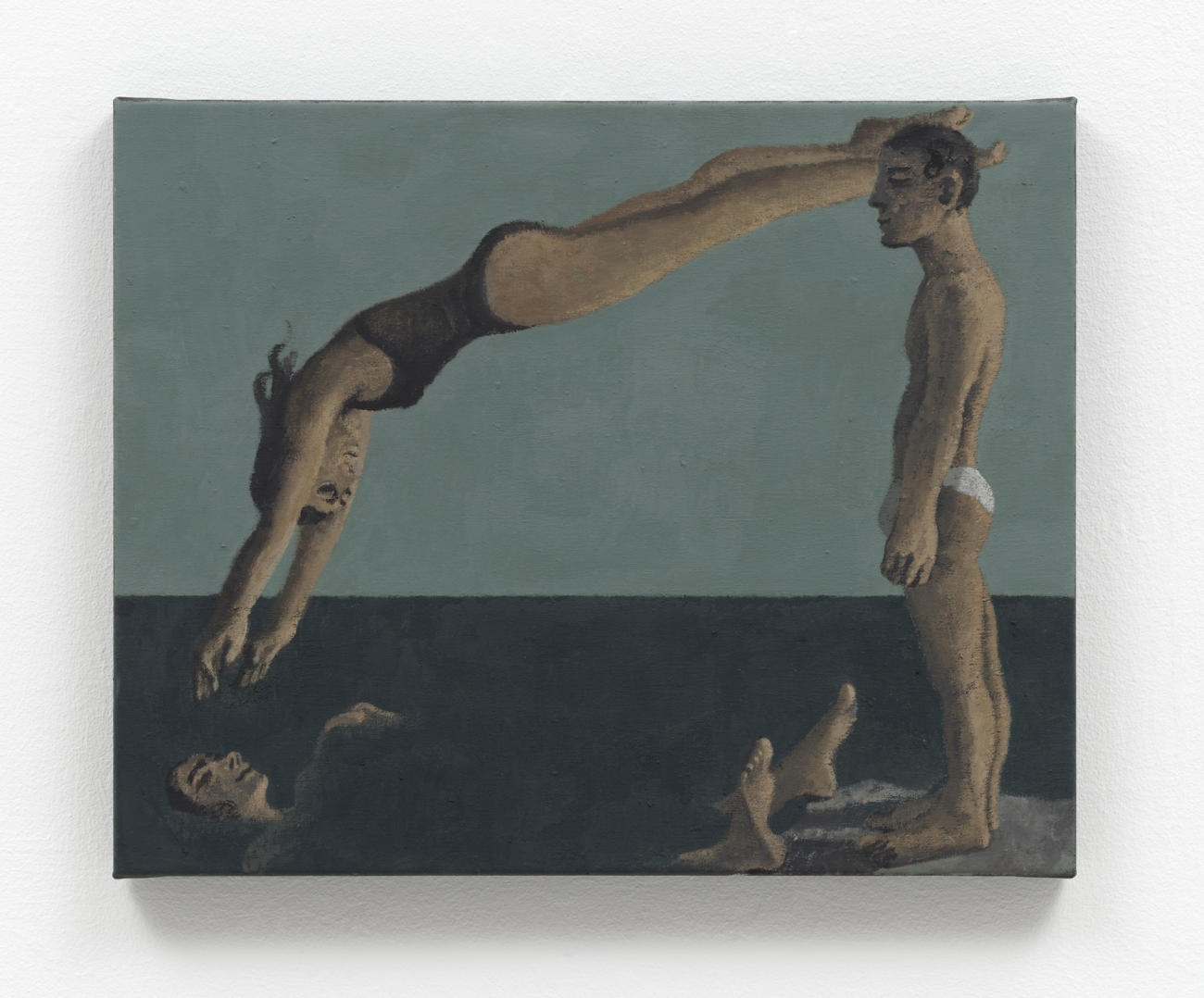 Lenz Geerk: Arrival | Frequency Illusion: Gwen Hollingsworth & Christine Turner
5801 Washington Blvd., Culver City, California 90232
Jun 11, 5 PM - 7 PM — ends Jul 30, 2022
Lenz Geerk's third solo show with the gallery is a deeply psychological exploration of the complexity of desire. Simmering tension permeates every work. Illicit relationships unfold on borrowed time against the sun-drenched light of summer. Geerk explores the shifts from attachment to separation, between closeness and distance, and fuses perception with touch by suggesting an edge that is loath to reveal itself completely. We wonder about, then question, what each relationship means.

The exhibition is like experiencing a dreamy, beautiful, unsettling coming-of-age story, not unlike Luca Guadignino's Call Me By Your Name (2017), Barry Jenkins' Moonlight (2016) or Abdellatif Kechiche's Blue is the Warmest Color (2013), set against the lush backdrop of Godard's noirish Pierrot le Fou (1965).

The use of the beach conveys a continuous experience of space, through the implementation of a nearly-abstracted compositional arrangement, and explores relationships between artist, subject, and viewer. This significant motif is key to understanding Geerk's new work. Unlike the paintings in The Table Portraits (2018) and Mixed Blessings (2019), his first two solo shows with the gallery which emphasized sensuous curves and rippling forms, the works on view are notable for their strong architectural compositions.

Together, Beach Couples form an obvious grouping: identical in scale with a cool blue-gray palette, they all display a pictoral field neatly divided into parallel lines of beach, sea, and sky. Visual depth is achieved by the diagonal positions of his subjects, whose branching, overlapping forms add emotion and complexity to the rigid structure of each painting. This exploration of line and form is further continued in oversized paintings of postcards.

As to his subjects, Geerk takes license with his fictional characters, setting them within imagined scenes of his own making. There is nothing self-consciously aspirational about them. They aren't from anywhere specific. They just are. It invites us, as viewers, to speculate wildly.

On occasion, he alludes to art historical references though he doesn't represent the exact reference itself, just his vision of it. Falcon (2022) embodies the spirit of Eugène Delacroix's La Liberté guidant le peuple (1830) while retaining the cool detachment of Lynette Yiadom-Boakye's The Ever Exacting (2018). Hotel II (2022) hints at Édouard Manet's La Lecture (1865), without the cloying sweetness, while Moon Couple (2022) echoes the waves of Utagawa Hiroshige's Six Jewel Rivers from Various Provinces (1857). Geerk's work stylistically mirrors the sensibility of Baroque Old Masters—Artemesia Gentileschi's expressive portraits come to mind—but manages to showcase a technique that is recognizably his own.

Twin themes of intimacy and estrangement are reoccurring themes in Geerk's body of work. His paintings are full of long pauses and quiet moments, which conceal the emotional turmoil illustrated within. The liberal use of nudity is not inherently sexy, rather, it's a sexiness by proxy, a psychological game of hide and seek where all participants thoroughly enjoy the experience. Every character, every participant, every painting offers us different views of their, and our, experience.
__

In Frequency Illusion, the unification of form and color within each artist's practice reflects a surrounding world of inspiration. Gwen Hollingsworth's attention to the only certain tonalities of blue suggests a profound preoccupation with unearthing the interior self from that of the exterior world. In the darkest shades, nearly inky black, she sculpts shape from shadow.

Derived from a series of metaphysical paintings, they chart the passage of time, feminine intuition, and the artist's own personal experiences, respectively. In contrast, Christine Turner's colorful dotted paintings emphasize compositional structure.. The expressive potential of the highly-pigmented greens and yellows, in contrast with accents of bright reds, accumulates each glance. Rhythmical and energetic, almost chaotic, they encourage regenerative acts without sentimentality.