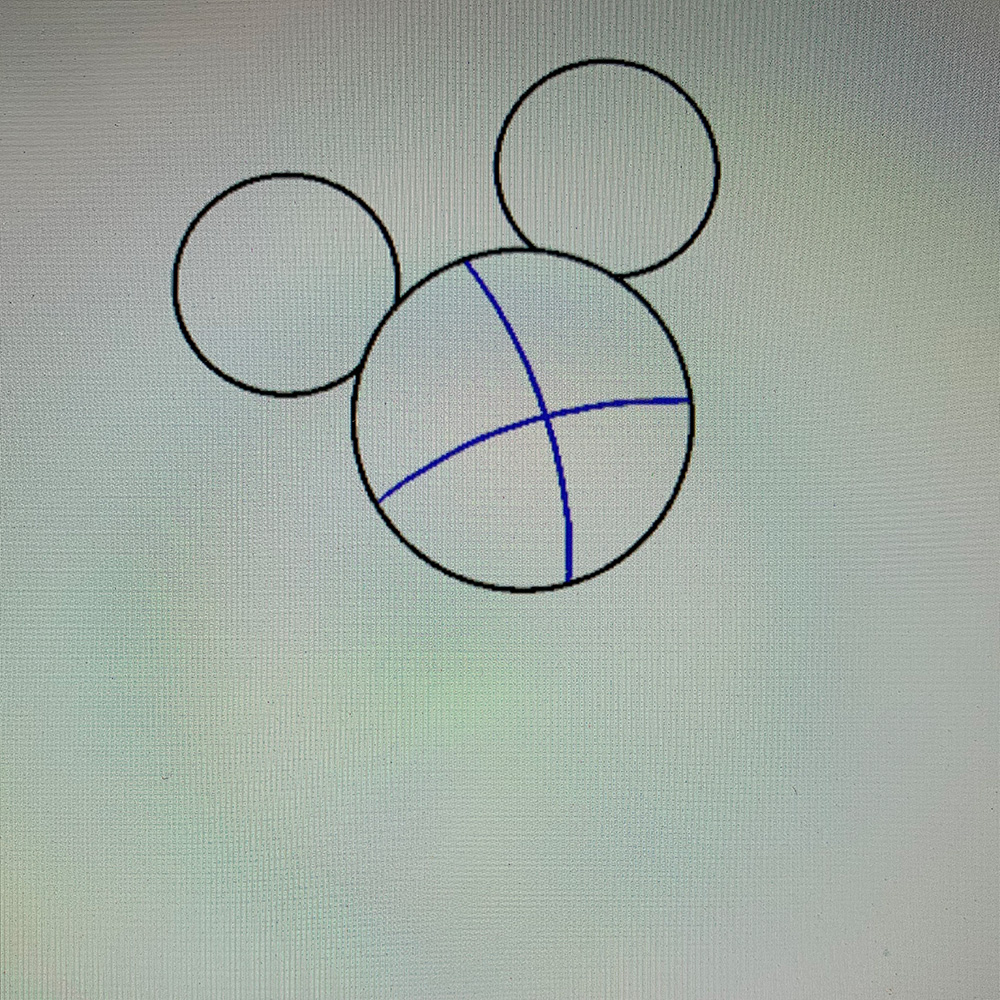 Pui Tiffany Chow and Olivia Mole: 2 Bad Mouse
Los Angeles, CA
Jun 18, 7 PM - 10 PM — ends Jun 27, 2022
2 Bad Mouse
Mickey's ears shape the House of Mouse as a pair of black holes (double trouble), uber-icon of the ideological apparatus of mass culture. But their unmistakable shape is also a generic form, shifting, interchangeable: camera and projector, protuberance and void, fascism and liberation, balls and breasts, castration and prosthetic. No matter what direction Mickey faces, his silhouetted ears face the camera, masking his shady past, a closed code, always on-brand. Because Mickey taught the world how to brand. But how to brand what? The artists enter the icon, and empty it out, use his own hands to repeat his forms until they fall apart. Drawing in the dark, drawing you into the dark, inside-out Mickey, undone and done for… too bad, mouse!
Pui Tiffany Chow (b.1987, Hong Kong) immigrated to the US from Hong Kong after the Handover from the British government and now lives and works in Los Angeles. Pui's practice centers on drawing and painting, with canvases, typically five-feet square or larger. She explores abstraction of familiar motifs such as the female body through the distortion of color and form. Her work is a pastiche of different modes, feelings, and approaches, referencing and questioning Western painting traditions.
Olivia Mole works across disciplines including drawing, animation and installation. She examines the ways in which popular culture serves historical and contemporary ideologies and explores ways in which those ideologies can become unfixed, politically and personally. She has participated in exhibitions at the Hammer Museum, Gattopardo, LAXART, JOAN Los Angeles, Los Angeles Contemporary Archive and Cloaca Projects, San Francisco, among others. Mole previously worked in art direction and set design for live action and animation production studios, including DreamWorks Animation, Warner Brothers, and the BBC.
**
after hours gallery is a practice in shared intimacy, stemming from the collaboration and friendship between Kim Garcia and Amy MacKay. The gallery hosts quarterly, two-person exhibitions with the aim of empowering artists to explore partnership and dialogue across their work. We are currently located at 2181 E 25th Street, Vernon, CA 90058
Please follow our Instagram @galleryafterhours for updates
For appointments and questions:
afterhoursgalleryla@gmail.com