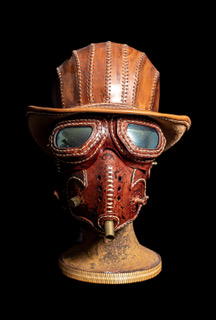 Kit Plumridge: The Isle of Plumii
137 S. Topanga Canyon Blvd., Topanga, 90290
Jun 18, 4 PM - 7 PM — ends Jul 03, 2022
Malibu based artist Kit Plumridge, aka Kitonius V Plummi, has expanded his work and is including some incredible silk scarves that match up to
his leather characters and are sold along with NFT's.

He has also teamed up with the late Frank Zappa's family, and will be featuring album
Roxy by Proxy on his slot machine, pachenko and pinball machines
that will play Zappa's music.

When an NFT is purchased at the show, the buyer will receive a silk scarf dedicated to that particular NFT.

The show is novel and exciting. A band and taco truck will be present to add to the festivities.

As you can see by the images, this show on June 25 th from 12.30 to 7pm, will prove to be very entertaining.