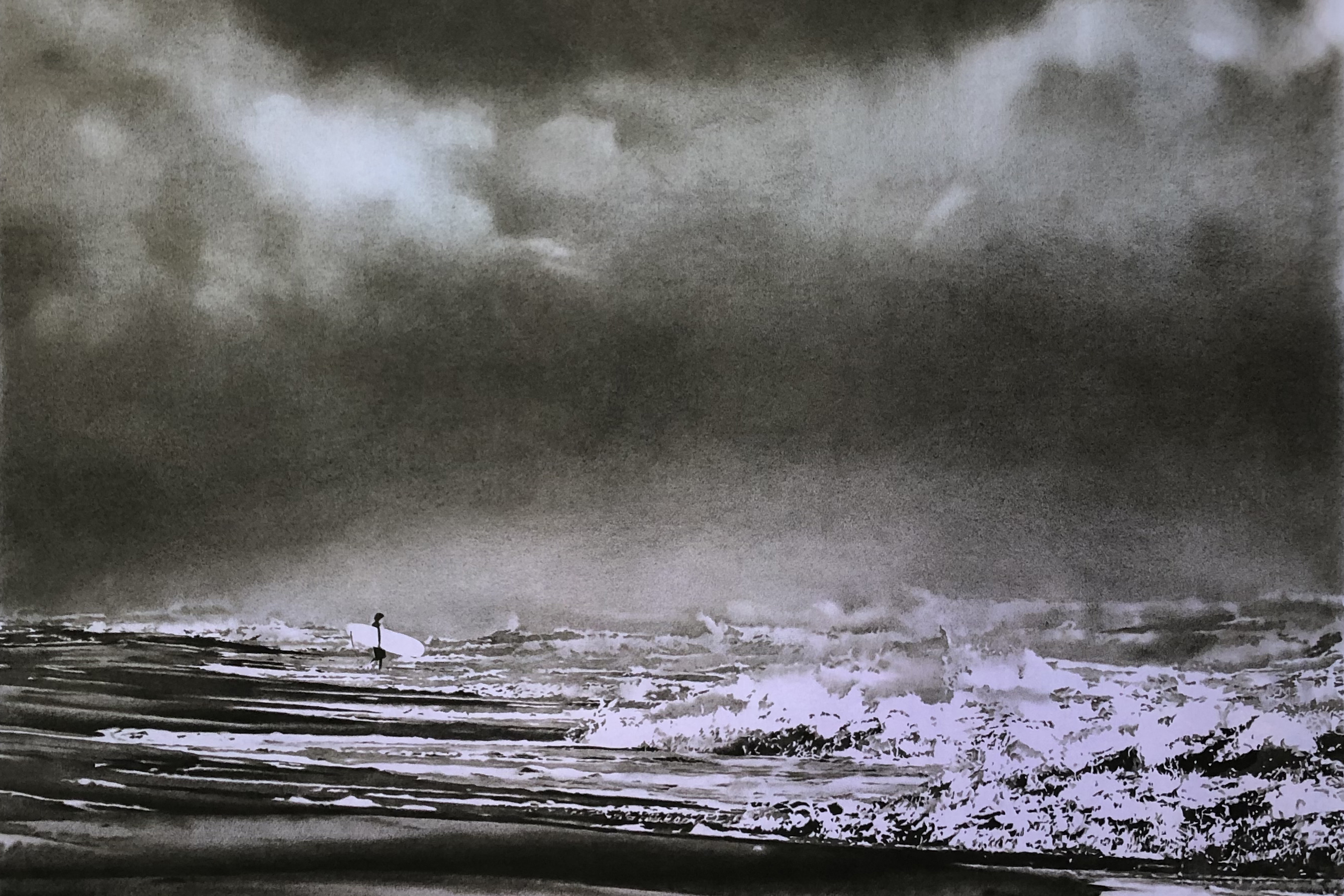 Andy Mister: Snowing Sun
4619 West Washington Blvd. Los Angeles, CA 90016
Jul 09, 5 PM - 7 PM — ends Aug 13, 2022
Lowell Ryan Projects is pleased to present Snowing Sun, a solo exhibition by Beacon, NY-based artist Andy Mister. This will be Andy Mister's first exhibition with the gallery and in Los Angeles. Consisting of twelve works on paper mounted on wooden panel, straddling the line between painting and drawing or as the artist clarifies "drawn paintings," the works in Snowing Sun explore the concept of a visual depiction of a landscape as if through the lens of a poet.

In the main downstairs gallery, seven large-scale works depicting imposing snow-covered mountains are set against images of waves both retreating and crashing. Executed in a monochromatic palette of carbon pencil and charcoal, the meticulously rendered imagery is set against swaths of cool purple and cerulean acrylic washes. In the upper gallery space, an ombré palette of pinks, soft oranges and lavender enliven blooming flowers mounted on oval shaped panels. The title "Snowing Sun" is a reference to a favorite lyric from the Italian rock band, Bellini, "We crossed the ocean to see the snowing sun," referring to the visual imagery in the exhibition, but also his identification with the band. As Mister notes, the "band is lead by an Italian couple who are Buddhists, but they make this loud kind of jarring music. I always related to that on a personal level."

Andy Mister's imagery is taken from various sources, in this exhibition horticultural magazines and friends' photographs from a trip are utilized, however the artist's interest lies not in the specific origin of an image, but the process of its refraction through replication. Color schemes are reminiscent of the tones of paper one would find at a Xerox shop in the pre-internet area, but while Mister's process of reproduction is laborious in nature, his skill is evident in the illusion of effortlessness and the surrealist quality of the final works. Mister, who holds degrees in English Literature, Philosophy and Creative Writing, approaches his work through the mind of a linguist. His artistic method of reproducing imagery becomes a tool to describe an image. He is not attempting to create a visual replication of a sublime experience, but instead create an interpretation of that encounter.