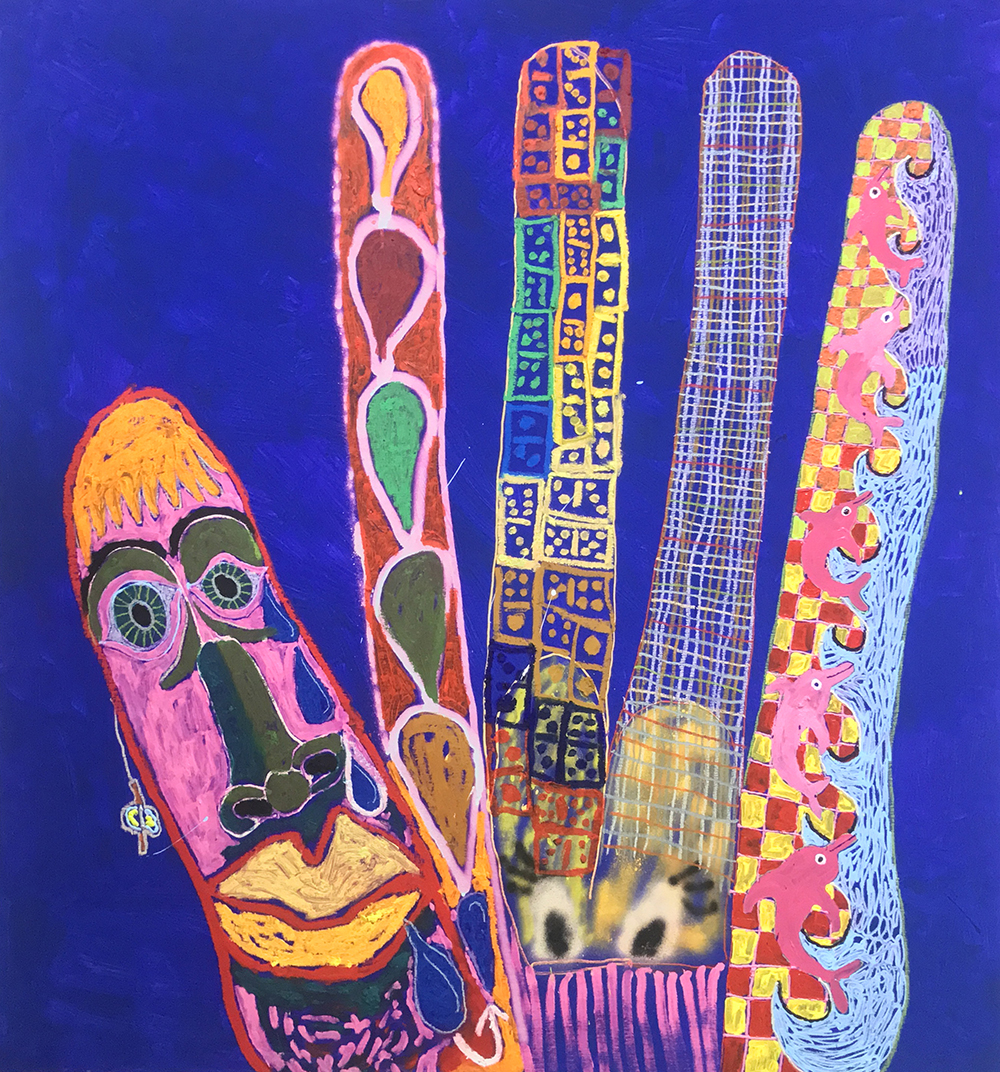 Michael Swaney: Four Hands | Kate Klingbeil: Unseen Animal | Chiachio & Giannone: Paradise
6830 Santa Monica Blvd. Los Angeles, CA 90038
Jul 02, 11 AM - 6 PM — ends Jul 30, 2022
Steve Turner is pleased to present Four Hands, a solo exhibition by Barcelona-based Michael Swaney which features recent paintings that combine exuberantly painted gestures with childlike naivete. His folk-inspired images are drawn from YouTube videos, advertising and daily life. According to Swaney, his artistic vision is informed by the rebellious spirit of Art Brut, especially Jean Dubuffet, as well as the artists of the CoBrA group. Whatever the source or image, Swaney seeks to convey raw intuition.

Michael Swaney (b. 1978, Kimberley, British Columbia) earned a Diploma from Capilano University, Vancouver. He initially worked in Canada as part of the Humanfive artist collective before relocating to Barcelona in 2006. He has exhibited internationally since 2004, with solo exhibitions at galleries in Barcelona, Madrid, New York, Berlin and Miami. This is his first exhibition with Steve Turner.

__
Steve Turner is pleased to present Unseen Animal, a solo exhibition of new paintings by Kate Klingbeil in which nature meets civilization, plants are human, and animals become machines. In this new body of work, Klingbeil's root people, previously confined to life underground in past works, have now emerged from the soil, roaming through a world of horses, trains, cars, and smoke that is both familiar and fantastic. Landscape, cityscape, and dreamscape converge on canvases that combine painted passages with found objects including horse teeth, ceramic tiles, plastic toys, balloons, nail polish bottles, driftwood, toothbrushes, bird wings, rocks, and walnut shell, that Klingbeil foraged in New York and Milwaukee. The layering of these natural and man-made elements yields deeply textured, sculptural paintings that highlight the opposing forces of man and nature; trash and treasure as well as the seen and unseen.

Kate Klingbeil (born 1990, Grosse Pointe, Michigan) received a BFA at California College of the Arts (2012). She has had solo exhibitions at Steve Turner, Los Angeles (2021); Hesse Flatow, New York (2021); SPRING/BREAK, New York with Field Projects (2020) and has been in group exhibitions at Nino Mier, Los Angeles (2021); Steve Turner, Los Angeles (2020); Nevven Gallery, Gothenburg (2019); Andrew Edlin, New York (2019); Paul Kasmin, New York (2018) and Andrew Rafacz, Chicago (2017). She lives in Milwaukee and Brooklyn. This is her second solo exhibition at Steve Turner.

__
Steve Turner is pleased to present Paradise, an exhibition consisting of textile paintings by Chiachio & Giannone that depict the artists and their children (three dachshunds) within festive settings that convey a joyful celebration of life. The duo painstakingly embroidered their invented scenes on canvases revealing their extraordinary perseverance and irreverence in choosing to paint with unconventional materials. They reuse materials from older textiles which they acquire on their many travels. In doing so, old becomes new, and from routine, the artists have built their own paradise stitch by stitch.

Chiachio & Giannone, is a duo of artists formed by Leo Chiachio (born 1969, Buenos Aires) and Daniel Giannone (born 1964, Córdoba) who have been working collaboratively since 2003. They have had numerous solo exhibitions including those at Lux Art Institute, Encinitas, California (2020); Museum of Latin American Art, Long Beach (2019); SAPH, Shanghai (2018) and Ruth Benzacar Gallery, Buenos Aires (2017 & 2012). They live and work in Buenos Aires. Paradise is their first solo exhibition with Steve Turner.