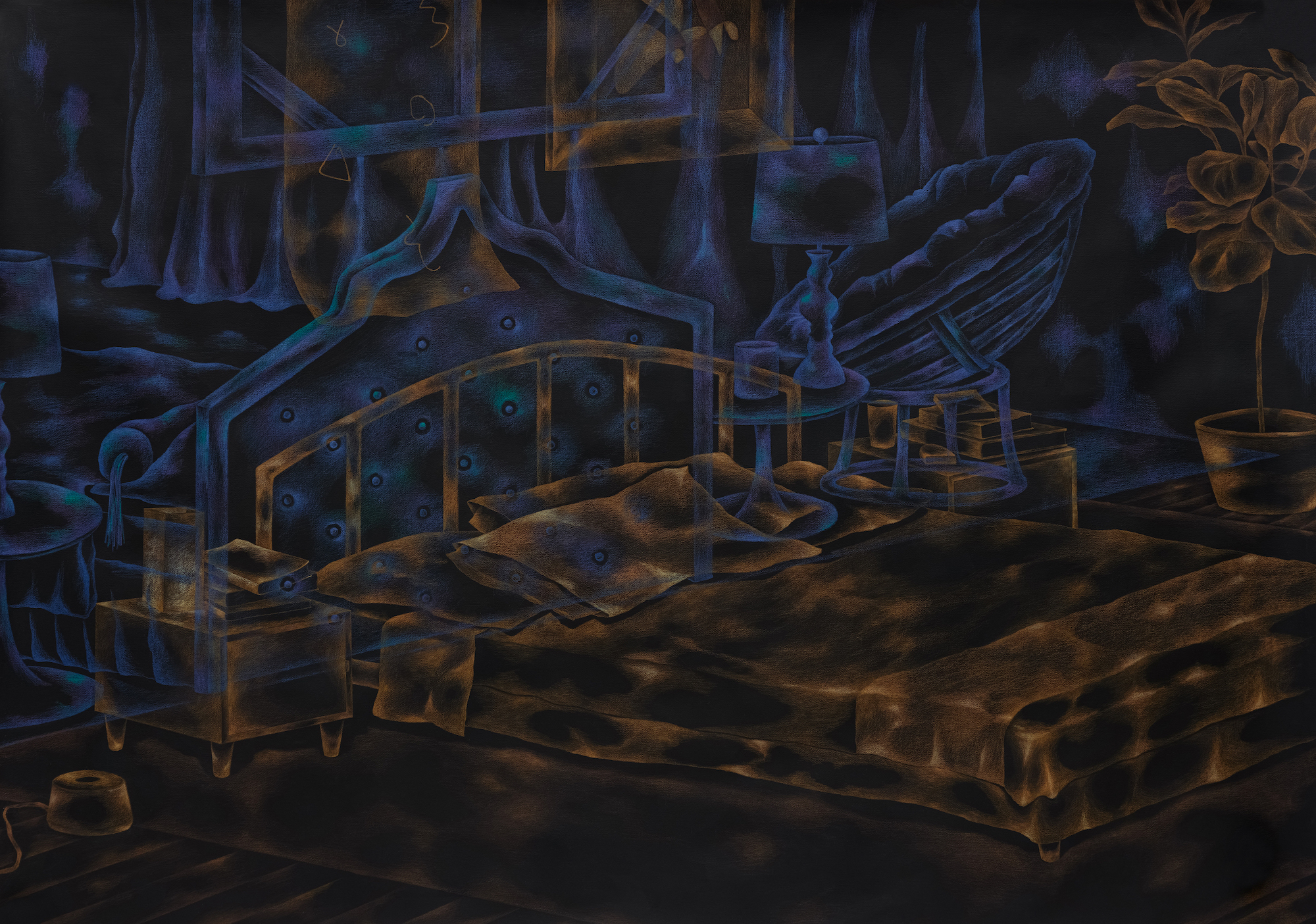 Samantha Roth: Duplex
4043 W Sunset Blvd. Los Angeles, CA 90029
Jul 09, 6 PM - 9 PM — ends Aug 13, 2022
Tyler Park Presents is thrilled to present Duplex, Samantha Roth's first solo exhibition with the gallery. The exhibition opens on July 9, 2022, and will be on view until August 13, 2022.

For many years, Samantha Roth's practice has explored the boundaries of the drawing plane, embracing it as a site of visual communication as well as sculptural possibility. With this most recent body of large works on paper, Roth has prepared the drawing surface by carefully painting it with black gesso, creating a simultaneous stage and dreamlike world for the drawings to unfold upon. The resulting drawings are at once familiar, strange and highly detailed, seducing the viewer with diaphanous layers of carefully applied color pencil.

The drawings in Duplex derive from everyday experiences: something overhead through the wall, read in a text, encountered while teaching, seen on a walk, noticed in the studio. For Roth, the impulse to mine daily experience is a way to harness her anxious and observant mind, capturing details and interactions that seem worth turning over again and again. Throughout the exhibition, drawings explore "duplex" as architectural place as well as conceptual framework, utilizing transparency, permeability, broken boundaries, and unusual or impossible views. Each work plays with a doubling or pairing of sorts: the imagined mirror image of a neighbor's apartment or the interior and exterior of a form.

Head to Head, the central work in Duplex was conceived several months into the pandemic, and in it, the etymological root of the word Duplex ("composed of two parts, double, twofold,") indeed strikes twofold. For the artist, living in a side-by-side duplex during a period of lockdown, the absurdity of the deep and unspoken intimacy with a stranger became especially potent. The charade of not hearing a person's phone calls, farts and other occasionally theatrical sounds became difficult to maintain. The duplex, as physical and metaphorical space—a place where two parties try to maintain the guise of privacy, when so much is happening just beyond a shared wall—spoke to the sense of stability that had cracked in much of the infrastructure that was collectively taken for solid ground.

Another set of drawings, Micro Manager and Macro Planner propose two different means to an end. These drawings take their titles from writer Zadie Smith's essay "That Crafty Feeling," in which she suggests the potential for being one of two kinds of novelists. Smith describes those who build their story from the first sentence and follow it somewhat blindly to their last ("Micro Managers") and others who know the entire outline of their plot before they begin ("Macro Planners.") The opposing methods of constructing with clay, building through compressed coils or throwing from a single ball on the wheel, (a medium that Roth also works in,) act as parallel observations to the divided path described by Smith. Cactus Smuggler (Nail File) from the Cactus Smuggler series, offers two more layers: the part we see, and the part hidden just below. The works in this series were inspired by a slew of news coverage about individuals smuggling cacti and succulents across borders. In it, the figure engages in the nonchalant act of filing her nails, a familiar and ordinary act of disinterest, diverting the viewer's attention from the contraband just below.

These drawings, and the others in the exhibition, act as a place to gather and form thoughts from a variety of sometimes incongruous influences. Writing and reading have been a backbone of Roth's practice, and her body of work could be viewed as a collection of short stories. Themes echo, expansive moments compress, details return one drawing to the next, and through it all, the viewer is invited to reflect and return to their own relationship to the twofold, again and again.


Samantha Roth (b. 1981, Brooklyn, NY) lives and works in Los Angeles, CA. She holds an MFA from University of Southern California, and a BFA from Carnegie Mellon University. Her work has been shown in Los Angeles and beyond, including Jancar Jones, Pepin Moore, Luis De Jesus, Human Resources, AWHRHWAR and most recently in the group exhibition INT/EXT at La Loma Projects.