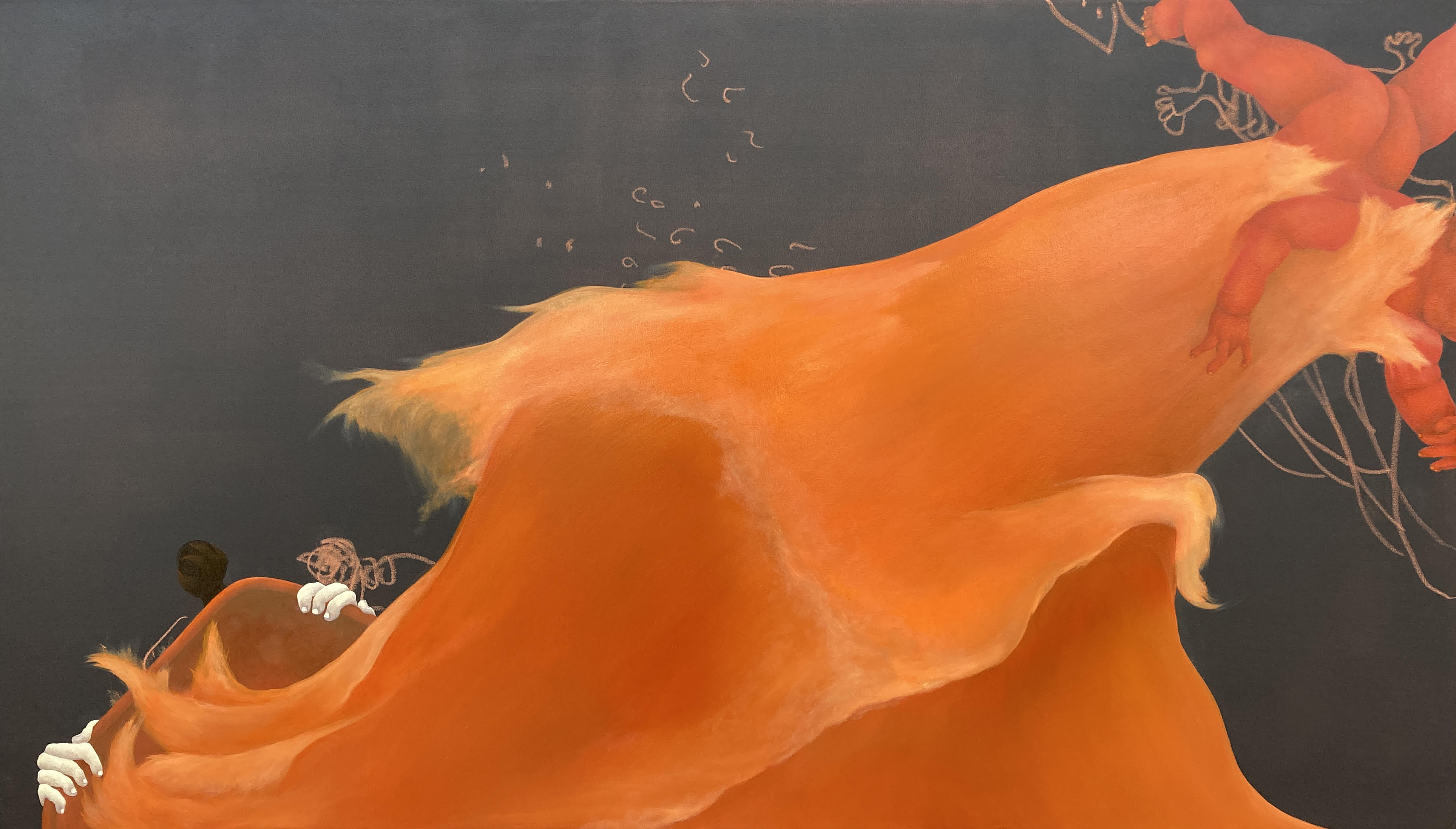 Ranee Henderson
👀
1718 Albion Street Los Angeles, CA 90031
Jul 16, 6 PM - 9 PM — ends Aug 06, 2022
Nuts Cut Clean
"Face it Kim, we're just peanuts to them," Henderson's Uncle said to her Mother during the summer of 2019. That was the jumpstart. A sentence equally weighted in stop and start, both soiled and solid. Naturally, emo afterthoughts of helplessness and rage bounced around, but plans for retribution landed with the biggest thump. "Nuts cut clean" extends the artist's hot poker as it slides through class assumptions choked by shovels of whitewashed dictation. Treatment like a peanut always happens but why? Why is the upper crust so lavishly slathered over the lower dough? Why is she a nut and they're the thems? While rock-hard resolutions are hard to come by, a vengeful framework of yucky color and labored-over totems fulfill intentions of showing them to them so their sociopathology might sink in or stand out. Of course, seeing does not automatically lead to following, so pointed proverbs like "Can't hide the grossest ghost" and "No room for a 30-day appeal when you're sitting in bleached zeal" throw out suppositions that the haves actually shine brighter. The peanut portraits and whittled worlds are where the artist flips the script and takes stock of her personal position. Henderson's family codex requires a reckoning of how things used to be and what's improved. There are indicators alluding to this, but enough space is left malleable for minds to wander into their own tax bracket.
Henderson is resolute in championing the power of the peanut, or at least the one living in her own shell.

Ranee Henderson is a Los Angeles-based, multi-disciplinary artist. She graduated from both Emily Carr University of Art and Design (2010-Fine Art), and Art Center College of Design (2015-Illustration/Fine Art). She completed her MFA at Milton Avery Graduate School of the Arts at Bard College (2018/2019). Most recently, she was a participant at the Golden Residency (2020) and at the Skowhegan School of Painting and Sculpture (2019). She has built up a diverse body of work, which has been exhibited in Canada and the United States.