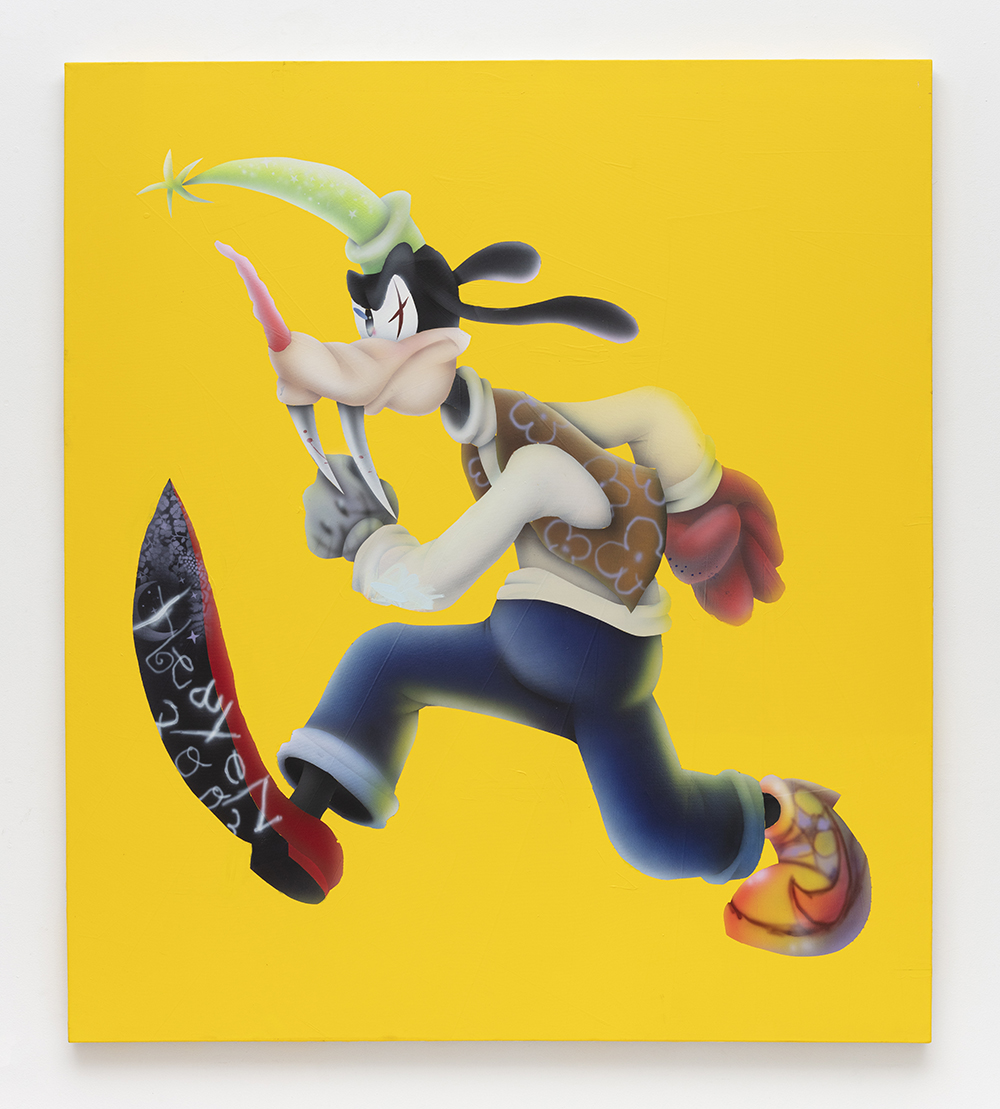 Zachary Ochoa: All Dogs Go 2 Heaven | Bradley McCrary | Shirley Villavicencio Pizango: Under One Sky
6830 Santa Monica Blvd. Los Angeles, CA 90038
Aug 06, 11 AM - 6 PM — ends Sep 03, 2022
Steve Turner is pleased to present All Dogs Go 2 Heaven, a solo exhibition by Milwaukee-based Zachary Ochoa that features new paintings which add to the narrative that they introduced with their 2021 solo exhibition. Where they previously depicted Girl Hero, the artist's invented protaganist, with an array of urns, swords and other weapons bearing symbols from tarot cards, graffiti and tattoo art, they have now created new characters, familiar and iconic, yet also marked by their resemblance to Girl Hero. It is as though Girl Hero has produced offspring with Mickey Mouse, Bugs Bunny, Pluto, Goofy and Pinochio. While weaponry is largely absent, the symbols from tarot remain. The paintings combine thickly painted brushstrokes that have been overpainted with solid background colors within which float Ochoa's precisely articulated airbrushed figures. The contrast suggests a buried history from which the new characters have emerged. According to Ochoa, this represents the evolution of their narrative as the new characters seek to abandon anger and violence in favor of love and self-acceptance.

Zachary Ochoa (born 1998, Aurora, Illinois) earned a BFA from the Milwaukee Institute of Art and Design (2020). They had a solo exhibition with Steve Turner, Los Angeles (2021) and have had works included in group exhibitions at Spring Break, New York (2021) and Woaw, Hong Kong (2022). Ochoa creates paintings to explore their trans femme and Afro Latino identity.
__

Steve Turner is pleased to present Dancers In The Stream, a solo exhibition by Rockland, Maine-based Bradley McCrary that features paintings of dancers, skaters, chanteuses and frolickers within a natural setting. McCrary is inspired by 19th century romantic landscape painting, his surroundings in Maine, and the music and personas of Mariah Carey, Cèline Dion and Dolly Parton. His colorful compositions incorporate these disparate sources to create dramatic scenes with personal narratives and an art historical objective. According to the artist, "This is more than a formal pictorial invention. I hope to empower queer narratives within the history of landscape painting."

Bradley McCrary (born 1998, Schenectady, New York) earned a BFA from the Rhode Island School of Design (2020) and has had work in group exhibitions at Waterman Gallery, Providence (2017); Memorial Hall Gallery, Providence (2017 & 2018); Galleria Bibliotè, Rome (2019); Woods Gerry Gallery, Providence (2020) and Thierry Goldberg Gallery, New York (2021). Dancers In The Stream is McCrary's first solo exhibition.
__

Steve Turner is pleased to present Under One Sky, a solo exhibition by Ghent-based Shirley Villavicencio Pizango that features a selection of portrait paintings of friends, family and herself that were created in Ghent and Los Angeles. All the works are informed by Villavicencio's fascinating history of living her first eighteen years in the crowded tenements of Lima and the last sixteen in the calm comfort of Ghent. They bear traces of Peru as well as the influences of academic rigor hard earned over many years in Belgium. Villavicencio's sitters appear to be deep in thought and might also bear a touch of melancholy. She animates her expressionless sitters with vigorous brushstrokes while blocks of unpainted canvas likewise convey a sense of emptiness. According to Villavicencio, memories of Lima and the Peruvian Amazon are always part of her works: patterned fabrics, native plants, primitive vases and her brown skin tones are clear references, but the same end is more subtly achieved with just the right application of green or blue. She aims to highlight dark-skinned people like herself who are not part of European painting history while also recording the melancholy that she feels and observes wherever she is.

Shirley Villavicencio Pizango (born 1988, Lima) earned an MA at The Royal Academy of Fine Art (KASK), Ghent (2013) as well as a Laureate Degree at the Higher Institute of Fine Art (HISK), Ghent (2020). She has had solo exhibitions at Geukens & De Vil, Antwerp (2018 & 2020); Steve Turner, Los Angeles (2020); Ginsberg Gallery, Lima (2021); Frieze, London (2021, with Ginsberg) and Art Brussels (2022, with Geukens & De Vil). This is Villavicencio's second solo exhibition with Steve Turner.