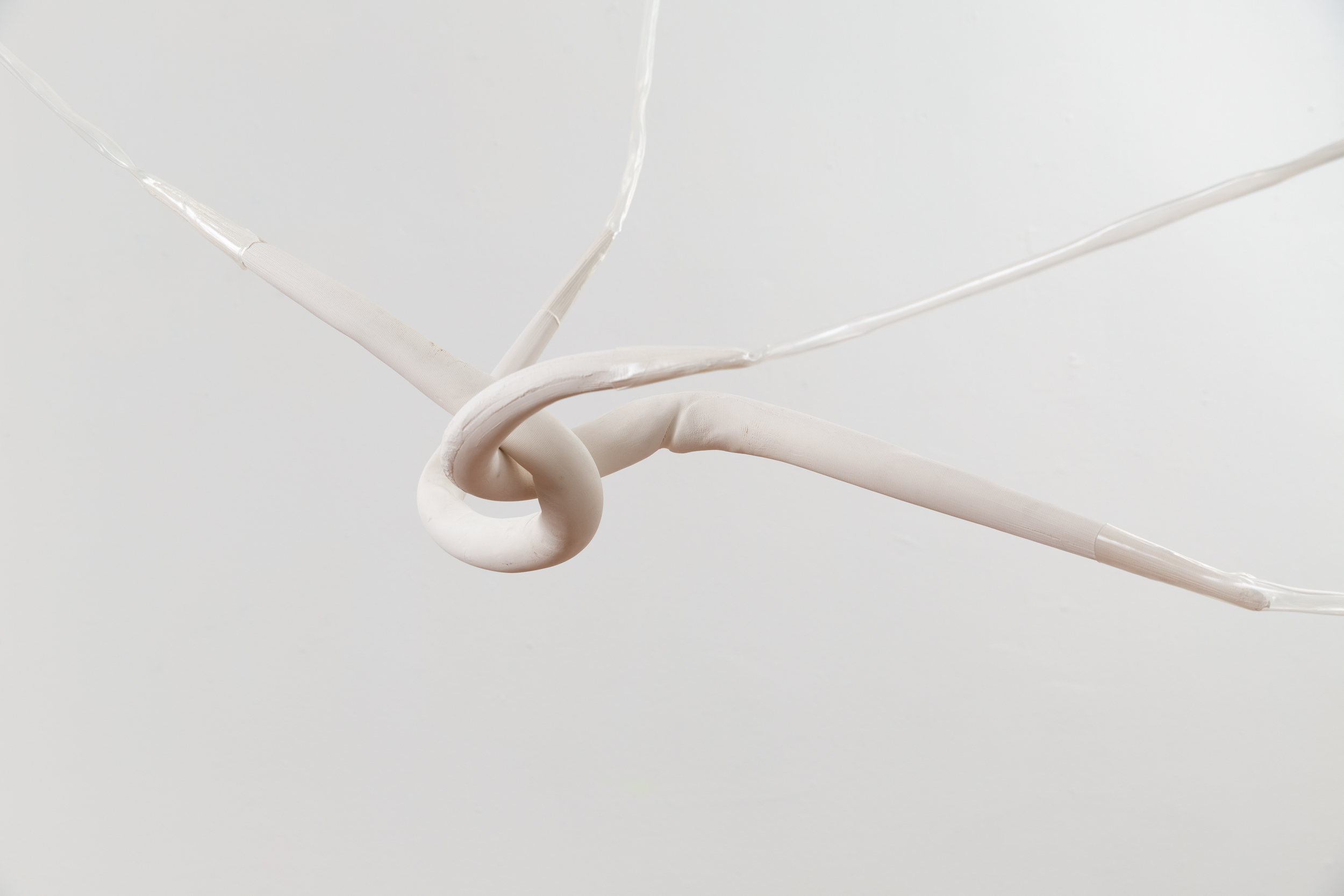 Kristin Reger: WETWARP
688 S Santa Fe Avenue #203 Los Angeles, CA 90021
Jul 27, 6 PM - 9 PM — ends Aug 28, 2022
APARADOR LA, the new project space by renowned Mexican artist Aldo Chaparro and local curator Bryan Munguia, is proud to announce: WETWARP- the Los Angeles debut for visual artist Kristin Reger inaugurating this year's edition of Los Angeles Gallery Weekend.
In WETWARP, Reger realizes an innate attraction to psychedelia, exhibiting altered manifestations of floating human anatomy rendered from deep within the subconscious. In a consistent confrontation between disintegration and integration, staggering six-feet-tall (or six-feet-under) abstract paintings surround a sticky web of slithering porcelain bisque ceramics suspended mid-air.
Reacting specifically to sentimental spatial resources, the paintings preview a hoarded collection of over 80 lipsticks once belonging to the artist's grandmother. Here, lipstick acts as an oxidizing medium, archiving its active performance on butcher paper coupled with spontaneous oil imprints of Reger's bodily parts.
The materials all belong to the body, lipstick pigment referencing acts of beauty modification, butcher paper meant to wrap disembodiments of flesh, porcelain hung by scattered piercing hooks, everything in organic tension between the medium and its hosts.
Observed under clinically bright white light, death and sex become nostalgically subtle in both the sculptures and paintings. Body-horror aesthetics, a recurring trope for Reger, confronts an emphasized inability to reconcile the natural process of human sickness. Through experimental reactions to new environments and new traumas, WETWARP creates a seductive environment leaving a sense of lucid impermanence gummed to its viewer.
WETWARP will be on view at Aparador LA in the Los Angeles Arts District from July 27th to August 28, 2022, by appointment only. Private viewings available through emailing
bryan@aldochaparro.com
.