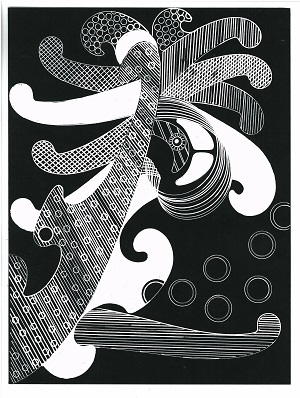 Marisa Dominguez: Bugs
366 W 7th St, San Pedro, CA 90731
Aug 04, 6 PM - 9 PM — ends Aug 31, 2022
Menduina Schneider Art Gallery
Presents
Marisa Dominguez
"Bugs"
Solo Show
August 2022
Opening: First Thursday 4th, 6 PM
at MS Art Gallery
366 West 7th Street San Pedro CA 90731
www.msartgallery.com
.
Curatorial Text:
Curatorial Text:
There's something hidden in the human mind. Something primeval. Something that has been dwelling, if not dormant it's been forgotten, for centuries. The origin of everything is stored in our DNA. And that's precisely where Marisa Dominguez went to find this new series of works. They seem surrealistic in nature and yet they go deeper than the subconscious. They are almost the origin of life itself. Forms, all geometric in nature as the Universe is pure geometry, forms that crawl and walk. Forms that mutate but keep their common traits.
It's not a coincidence that the artist chose the name "Bugs" for her show. It is a name that has withstood the test of time and it does bother us with phantasmagoric images that resemble our distant origin.
"Bugs" makes you go deep into your past, a regressive therapy one could say, to find the commonness that bonds us all.
by Maria Schneider
.
MS Art Gallery
366 West 7th Street San Pedro CA 90731
www.msartgallery.com