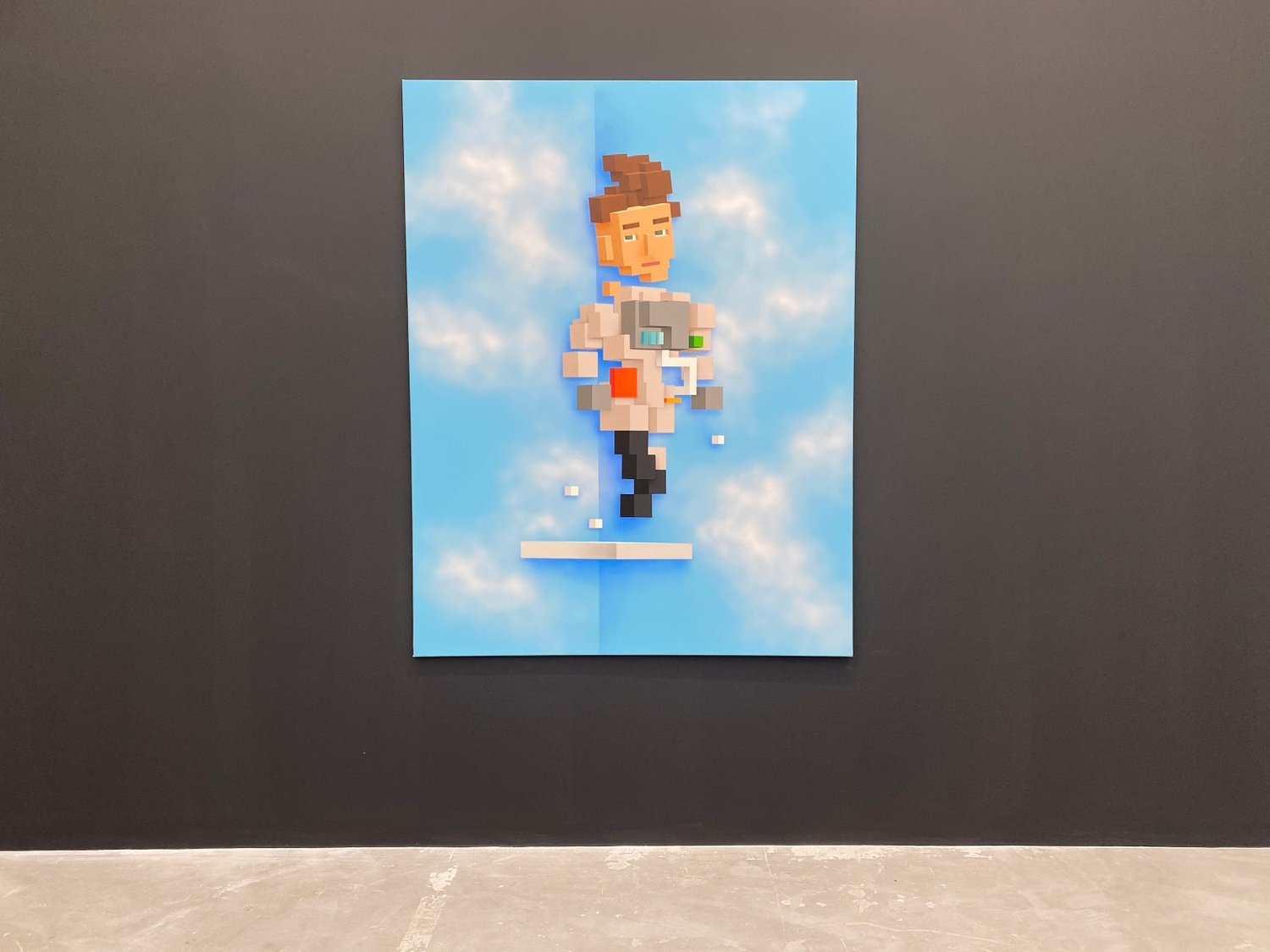 Sepand Danesh: Fear of Collapse | Dan Levenson: Two Proposals Toward the Formation of a New Art School
6150 WILSHIRE BLVD, LOS ANGELES CA 90048
Aug 06, 6 PM - 8 PM — ends Sep 10, 2022
Praz-Delavallade Los Angeles is pleased to present Fear of Collapse, a solo exhibition by Sepand Danesh (b. 1984, Tehran, Iran), opening on August 6 and running through September 10, 2022. This is Danesh's first exhibition at Praz-Delavallade and his first in the US.

In his practice, Danesh uses drawing, painting and trompe-l'oeil techniques to provoke questions of the human condition. Danesh references his personal experiences and memories, and relates them to the grander memory of Human history to create short and unique narratives. In Fear of Collapse, each of Danesh's paintings contain a character composed from cube-like shapes which he places in a corner, without a floor or a ceiling, to bring awareness to the condition of being trapped and wanting to escape.

Escaping has been an obsession of Danesh's. To succeed in this, he draws countless numbers of small fragments of his life arranged with rigor in endless grids. Danesh explains, "Every time I feel trapped, images flicker through my head with high frequency. Those images assemble into a fast-paced inner movie that I know by heart. My years in Tehran, my parents, my house, the streets, the neighbors, the extremely violent elementary school of the post-war period I attended and my immigration from Tehran to Paris." Danesh's images are captured in his drawings during glimpses of time which creates an archive of ideas that then need a place to be stored. A place which encompassed both the feeling of being trapped and finding a way to escape.

When Danesh was a child, the ability to record and use personal information on the web did not yet exist. Key moments were recorded by analog means and eventually became personal belongings. Today, every aspect of our lives is collected, saved, and analyzed to create a shadow of our personal details and activities - geolocalisation, heartbeat tracking, cookies, dataveillance of points of interest, expenses - it is now known that the gathering of all that information creates a digital twin of each of us. The creation of this digital-twin came as a new aspect of identity and as a result pushes us to create new ways to escape. This dual identity makes accessible other aspects of human consciousness, still unexplored, which will impact, whether we like it or not, our physically existing identity.

Sepand Danesh (b. 1984 Tehran, Iran, lives and works in Paris, FR). Danesh left Iran at the age of 13 for Los Angeles and shortly after for Paris. Danesh studied product design at the ENSAAMA Olivier de Serres in Paris and is a graduate of École Nationale Supérieure des Beaux Arts Paris where he studied under Giuseppe Penone and Philippe Cognée. Danesh also studied painting at the University of the Arts Helsinki (Uniarts Helsinki), Finland. His work has been exhibited throughout the world, including France, Belgium, UAE, Iran and Morocco and his work is including in prestigious collections such as; the Fonds National d'Art Contemporain, FRAC Poitou Charentes, Collection Société Générale and Fondation Colas. Danesh was featured in the Dubai Expo 2020 and he regularly takes part in residencies and performances, including the Mac/Val, which has also featured his work on multiple occasions.
__

Praz-Delavallade Los Angeles is pleased to present Two Proposals Toward the Formation of a New Art School opening August 6 and running through September 10, 2022. The imaginary State Art Academy, Zürich (SKZ), forms the basis of Dan Levenson's practice as an artist. Through performance, video, installation, objects and paintings, Levenson expounds on the curriculum and philosophy of an institution that, although never existed, reflects on art institutions both past and present.

The first proposal, "SKZ Kindergarten Maquette," takes the form of a miniature kindergarten classroom, itself an artwork, that is based on live interactive performances Levenson exhibited with children aged 2-9 in 2019 and 2020. The maquette contains miniature scale versions of the components of the live performances: flat-pack modernist children's easels and mannequins wearing painting tunics. The mirrored walls of the classroom maquette suggest infinite expansion. Kindergarteners are gently introduced to the same strict formalist principles which form the basis of the advanced graduate program. An accompanying video documents the live performances.

The second proposal, "Chance Operations," consists of a second miniature classroom and an accompanying board game. The classroom furniture are modernist geometric desks and chairs which come apart and pack flat. Designed for advanced students, each student would be given a board game with dice that have each side painted a different color. With a roll of the dice, the color of both the classroom furniture and the paintings is determined.

The exhibition includes two new paintings by Dan Levenson representing student artwork from his imaginary art school. The design of the paintings follows the same principles as both the kindergarten lesson and the advanced graduate classroom, giving the entire exhibition an overall sense of unity.
------
His recent work concerns the Kindergarten attached to the imaginary art school. "SKZ Children's Painting Workshop" is an experiment in collaboration with children, presented as installations and performances. The workshop draws inspiration from Friedrich Fröbel's original 1837 concept of the Kindergarten: a garden that promotes natural learning and creative growth. Children are invited into an installation environment with sculptural painting easels, hand-painted painting smocks, and brightly colored banners. Children paint on large abstract silkscreened coloring-book pages. Their interactions with the printed composition invite reflection on creativity and freedom.

Dan Levenson (b. 1972, New York, NY, lives and works in Los Angeles) is a visual artist working in installation, performance, video, painting, and sculpture. His work addresses issues of subjectivity, education, creativity and freedom and takes the form of artifacts rescued from the ruins of an imaginary art school: the State Art Academy, Zürich (its initials in Swiss-German are SKZ). As a painter, he follows the strict formalist pedagogy of his imaginary school: geometrically dividing metrically sized canvases to create abstract compositions. He expands on the story through performance, installation and video. Levenson has taught performative drawing lessons taken from the school's curriculum at the Hammer Museum, American Jewish University, USC's Roski School of Art, and the Saas-Fee Summer Institute in Berlin, Germany. He has has exhibited at The Hammer Museum, Los Angeles; Vielmetter Los Angeles; Honor Fraser, Los Angeles; Praz-Delavallade, Paris and Los Angeles; de boer Gallery, Los Angeles; PARTICIPANT INC, NYC; LAXART, Los Angeles; White Columns, NYC; and Vox Populi, Philadelphia, PA. He has an upcoming exhibition with James Fuentes. He is the recipient of a Pollock/Krasner grant and Yaddo and MacDowell Fellowships, among other awards.