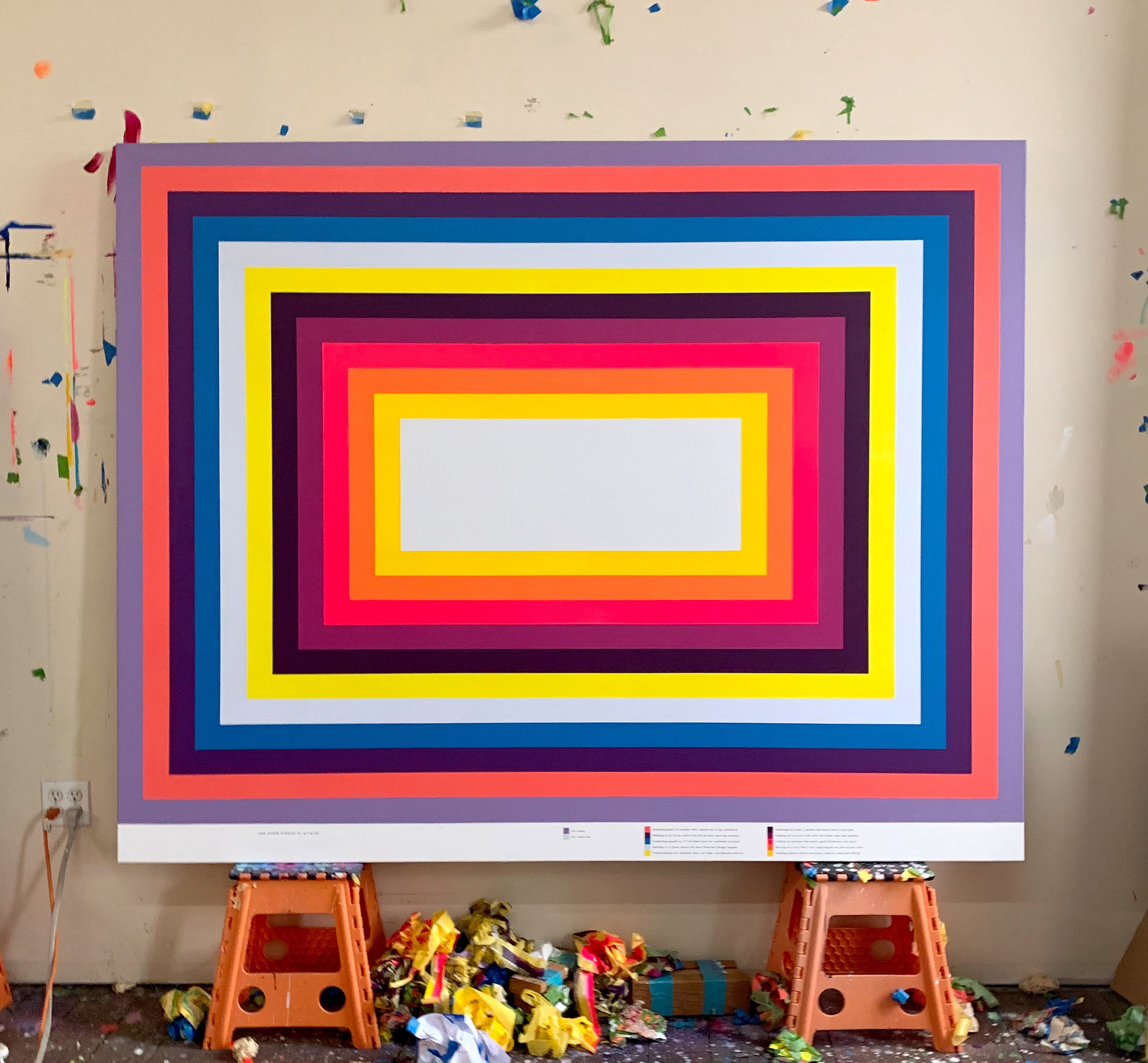 Andrew Kuo: TMI
4654 W Washington Blvd, Los Angeles, 90016
Aug 20, 5 PM - 8 PM — ends Sep 24, 2022
Preview: August 20, BBQ 5pm
Special outdoor film screening by Sky Hopinka 7:30pm (45 min)

Tanya Leighton Gallery is pleased to present 'TMI', the first Los Angeles solo exhibition by New York artist Andrew Kuo.

Born in New York and raised by a dissident Taiwanese writer father and art historian mother, Kuo has lived an uncommon existence that melds an immigrant narrative, an intellectual milieu, and a passion for American culture and its discontents.

Kuo's paintings combine an omnivorous appetite for data with a highly refined graphic sense and a sneakily complex chromatic approach. He harnesses statistical syntax in the cause of emotional exploration, repurposing quantitative tools in the form of programmatic charts that make sly reference to the Modernist canon. In this sense, his works are not abstractions but instead are crammed with complex information that is detailed in a key that sits at the bottom of the painting. The text showcases Kuo's knack for concise, Tweet-length expressions that distill moments as quotidian as waiting for a friend or as heavy as the death of a parent.

Andrew Kuo (born in 1977 in Queens, NY) is a NYC-based artist known for his data-informed abstractions. A recent participant in NYC's citywide initiative, 'Art on the Grid', awarded by the Public Art Fund, in 2020, Kuo has held solo exhibitions at Marlborough Contemporary, London, 2018; Green Gallery, Milwaukee, 2017; Marlborough Chelsea, NY, 2016; and Galeria Marabini, Bologna, 2012. His other recent exhibitions include 'Why I Make Art' curated by Brian Alfred, Miles McEnery Gallery, New York, 2022; 'Ten Years', Halsey McKay, 2021; 'Heterotopia I', curated by Gea Politi, The Academy of Fine Arts of Venice, Italy; and 'Something Green', Reyes Projects, Birmingham, Michigan among others.

With special thanks to Broadway, New York for making this exhibition possible.

Open hours are Wednesday to Saturday, 11am – 6pm and by appointment.