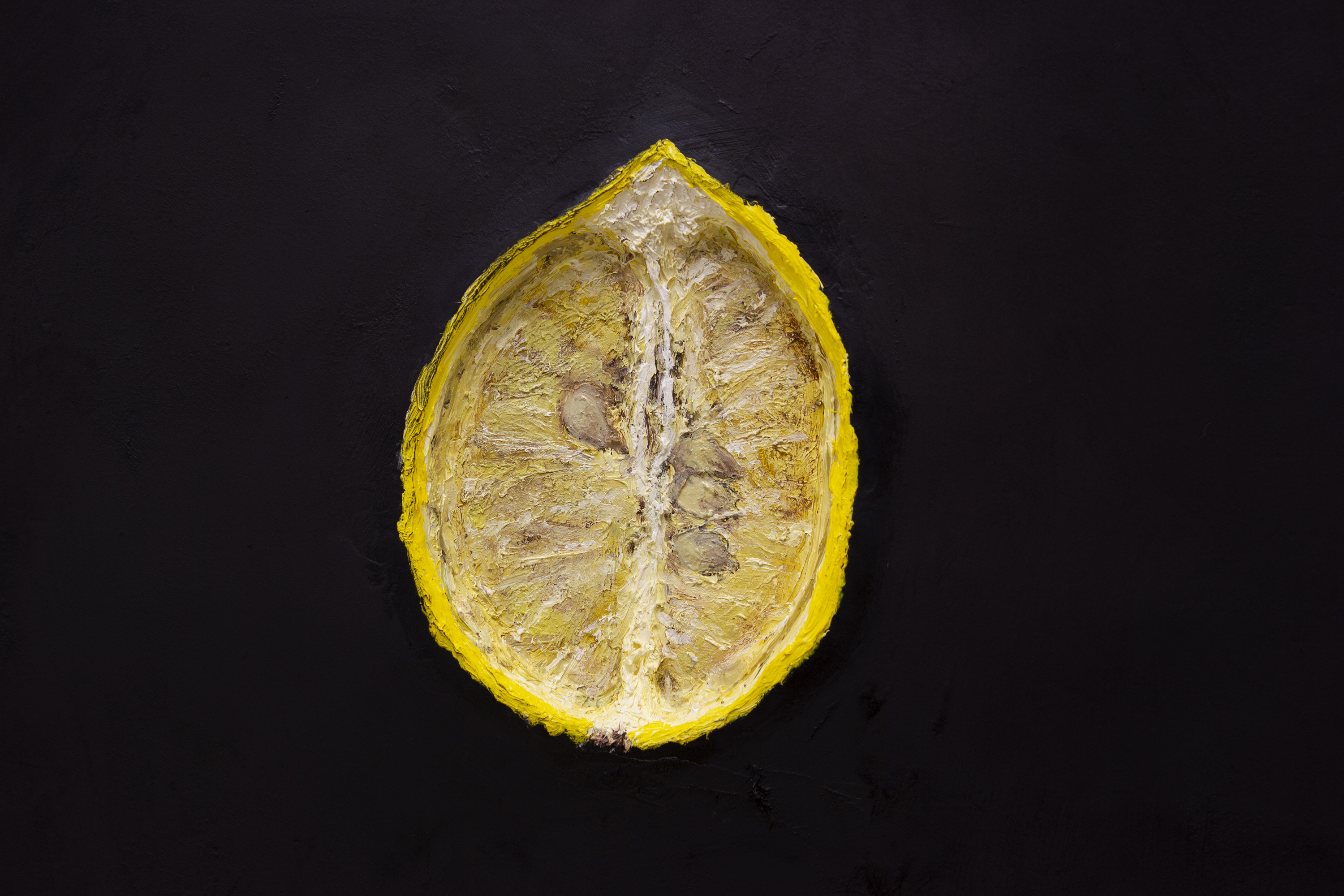 Dustin Metz: The Fruit
5513 Pico Blvd. Los Angeles Ca 90019
Sep 11, 3 PM - 6 PM — ends Oct 23, 2022
For Los Angeles based painter Dustin Metz, fruit is an apt vehicle to explore existential drama. Fruit is common and familiar yet enigmatic and transcendent: living flesh - heavy and expectant. Elaborating these metaphysical associations, Metz depicts fruits at moments of profound spiritual transformation. Lemons sliced in half emerge from black, mounded voids, some with their peels splayed around them like skinned martyrs. These citrus saints are illuminated by the inner light of the sacred, or else appear backlit as if eclipsing the sun.

Seeking the divine in his subject allows Metz to communicate the individuality - the beingness - of each fruit as a unique instance of spiritual potential. How might the fruit picture itself while contemplating its mortality? What would the moment of death feel like versus how it might look on the outside for a fruit? This almost absurd premise is tempered by Metz's commitment and sincerity as a painter. Implicit within the spiritual nature of these images is the artist's own relationship to painting as a quiet, daily discipline of transcendence. This devotion results in works possessed of an exacting and deliberate economy of image. The pictures are lean, allowing each element of their construction to be articulated to fullest effect. The scrupulous execution of deeply-considered formal decisions evince an almost mystical regard for painting's ability to collapse time, space, touch and meaning through a nexus of brushwork, palette, texture, and composition. Feelings of religiosity and awe have been explored since painting began. By applying these feelings to fruit and evoking sentience within non-human entities, Metz deepens his search for an expanded view of empathy through painting.

Dustin Metz received a BFA from Tyler School of Art, Temple University in Elkins Park, PA (2007), and an MFA from Mason Gross School of Art, Rutgers University, New Brunswick, NJ (2012). Metz also attended Skowhegan School of Painting and Sculpture, Skowhegan, ME (2017). In 2021, Metz was a recipient of the MacDowell Fellowship. Recent solo and two person exhibitions include "Tatzpit" with Roni Schneior, Parker Gallery, Los Angeles (2018); and "Night Spots and a Dirty Sun Clock," Chicken Coop Contemporary, Portland, OR (2016). Selected group exhibitions include "Meet You At The Garden Gate" curated by Katie Hector and Adam Sabolick, Peripheral Space, Los Angeles (2021); "Good Pictures" curated by Austin Lee, Jeffery Deitch, New York, NY (2020); "The Biblical Imagination" curated by Mike Hernandez, Irenic Projects, Pasadena, CA (2020); "American Fine Arts: Part 1" curated by Timo Fahler, BBQLA, Los Angeles, CA (2018); "Frame Work" curated by Lauren Whearty, Ortega Y Gasset Projects, Brooklyn, NY (2018); "ANGSTZEITEN" curated by Don Edler, Elevator Mondays, Los Angeles, CA (2017); and "Polaroid Black" curated by Doug Crocco, Big Pictures, Los Angeles, CA (2017).