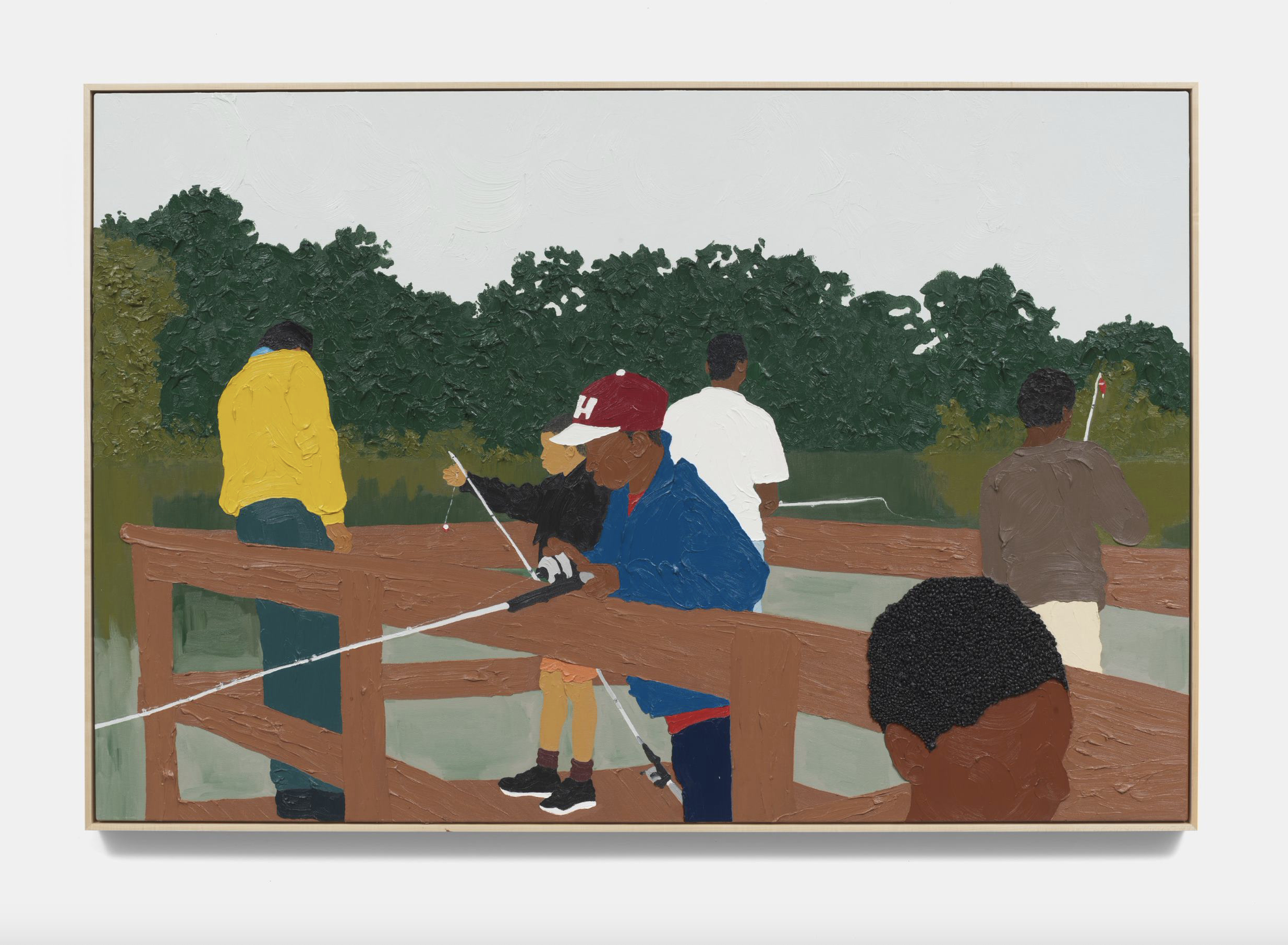 Shaina McCoy: Apples and Oranges
8255 Beverly Blvd. Los Angeles, CA 90048
Sep 03, 4 PM - 6 PM — ends Sep 24, 2022
Simchowitz is pleased to present Apples and Oranges, the gallery's first exhibition of the Minneapolis-based artist Shaina McCoy. McCoy's first forays into art were small-sized paintings on paper of her family members, and Apples and Oranges builds on her early explorations of portraiture. The title of the show refers to the apparent differences between items seen as incomparable or incommensurable. McCoy applies the phrase to the complexities and antagonisms that constitute Black being. In the artist's eyes and hands, Apples and Oranges counters the social conditions that bar Black subjects from delighting in joy and pleasure. Her textured portraits and landscapes of quotidian Black life and leisure are, for the artist, portals of remembrance and homage that rewrite media narratives devoted to Black suffering and trauma. Sourced from the artist's personal archive of family photographs, Apples and Oranges comprises a Black vernacular vocabulary that bridges the real and the unreal.

The artist considers her practice to be a lifelong collaboration between herself and her grandfather, the family photographer. McCoy's mother and aunt are his muses, and the tenderness and affection that defines their bond comes through in each painting. Faint halos crown her subjects, communicating reverence and elevating her relatives—living and deceased—to the status of saints and angels. This is how McCoy views her ancestors and her role as an artist. It is vulnerable work, spiritual work. Her commitment to picturing intimacy also emerges in the dwelling and gathering spaces depicted in each composition. In "Crappies," a group of brown boys stands on a fishing dock overlooking a lake. Outdoor scenes are new for the artist, an extension of her interests in spotlighting Black joy and respite. These mundane representations are quiet protests that, for the artist, combat feelings of otherness by cultivating spaces of ease and belonging.

McCoy uses color to establish proportion and perspective—a meditation on sameness and difference that punctuates the exhibition's title—while improvisational brushstrokes symbolize freedom and expanse for the artist. Sculpted elements make the figures and scenes pop off the canvas: beads of black paint double as kinky curls; thick, short brushstrokes accumulate into densely packed treetops; swirling monochromatic patterns become clouds. In many of her paintings, the background is flat and nondescript whereas the middle and foreground simulate the dynamic relationship between photography and film. Alternating between wide angle and medium close-up shots, the carefully composed framing of each composition positions viewers as observers and participants. Whether the setting is outdoors or a domestic interior, these images provide an intimate view of Black experience that is at once personal and archetypal. None of the subjects in McCoy's paintings have recognizable facial features. This is a conscious decision on the artist's part, a recurring motif that renders her subjects anonymous so that viewers might see themselves and their own families in what is pictured. In so doing, McCoy constructs a world full of qualitative yet impractical differences where her figures sit, rest, linger, breathe, and thrive against all odds.

The exhibition is on view from September 3rd – 24th, 2022 with an opening reception on September 3rd from 4PM - 6PM.