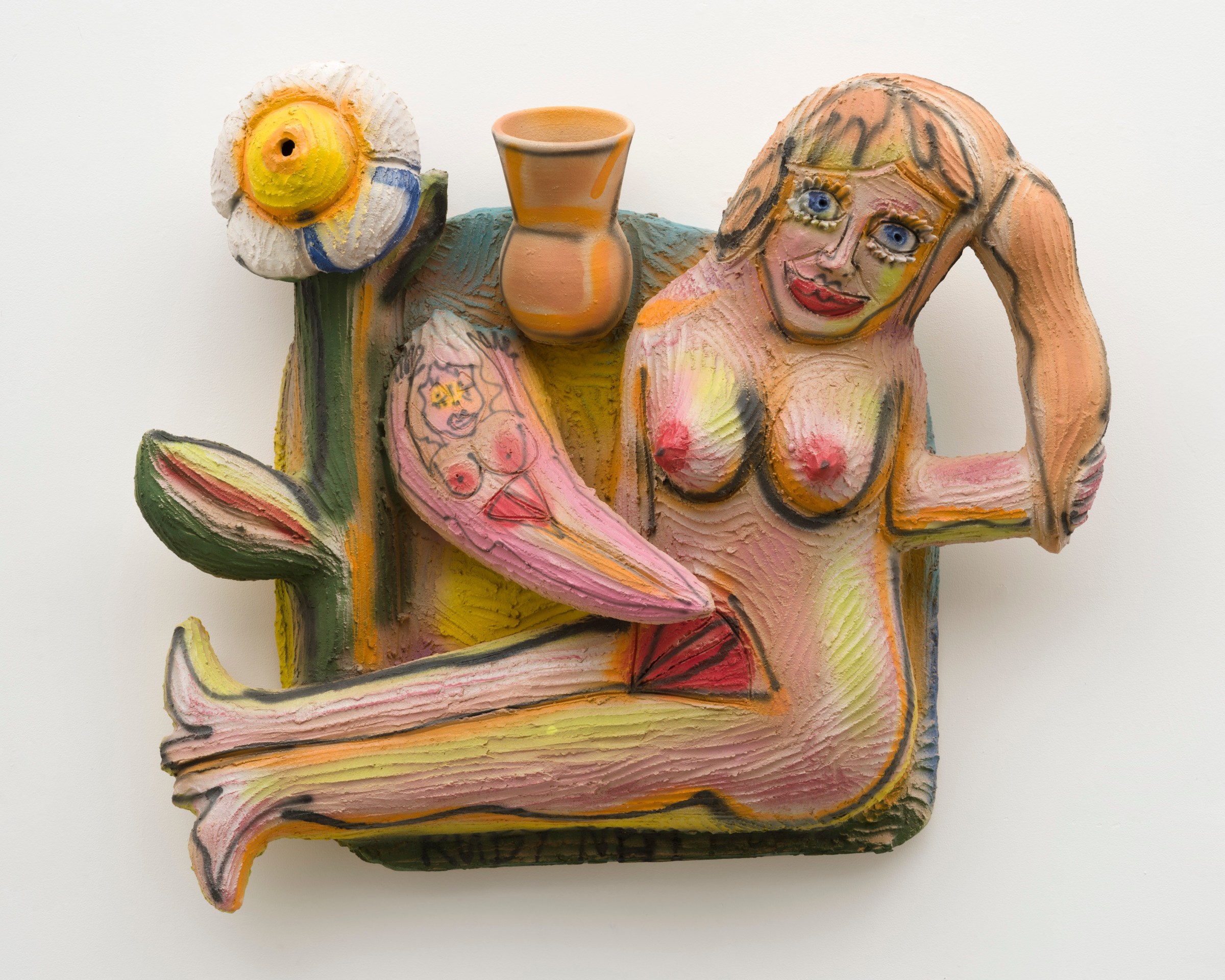 Ruby Neri | Shahryar Nashat: Happier Than Ever | Aaron Curry: Metal Plastic Paint
5130 W. Edgewood Pl. Los Angeles, CA 90019
Sep 17, 6 PM - 9 PM — ends Oct 22, 2022
David Kordansky Gallery Los Angeles is pleased to present an exhibition of new works by Ruby Neri, on view from September 17 through October 22, 2022. An opening reception will take place on Saturday, September 17 from 6 to 8 PM.

Ruby Neri is a Los Angeles-based artist who draws upon twentieth century West Coast traditions as well as a global catalogue of art historical and anthropological modes. In recent years, Neri has become increasingly recognized for floor-based vessels and sculptures featuring figurative female forms. Here, she pushes the limits of the ceramic medium that has been at the center of her practice for much of the last decade, engaging in new experiments. For this exhibition, her fifth solo presentation with David Kordansky Gallery, these include new wall-based ceramic sculptures and a major bronze sculpture—an eight-foot-tall form that represents the artist's first time working with the medium.

Related to Neri's ongoing interest in the form of the female figure, the narrative thread uniting these works is the full expression of human emotion: pleasure, terror, ambivalence, and joy. The wall sculptures range widely in their renderings of a bawdy feminist life force and exude frenetic energy. In one composition, a woman riding a white horse suspiciously glances backward toward a small, nude figure fiercely gripping at her hair. Here, the dramatic line work is a literal translation of Neri's previous experience spray painting graffiti onto buildings—now transferred onto textured clay surfaces that swirl in bursts of color and tone. In another setting, a trio of women in white and yellow heels kick outward in repetitive motions, extending their hands to the viewer in an invitation that feels both generous and sinister.

Several of the new sculptures are composed of various bodies that vary in size, emerging from a singular form at the center of the composition. The relationships between the figures provide crucial insights into Neri's world, both literally and metaphorically, and can alternately be read as evocations of dynamic inner forces or symbolic manifestations of archetypal entities. Expressed consistently throughout this new group of works is a timeless, gritty, feminist energy and a series of conflicting human expressions that feels specifically relevant to the out-of-control nature of contemporary existence. Structurally, the embraces between the figures hold the works together and account for much of their formal and technical bravura.

The new bronze sculpture, on the other hand, brings Neri's technical strengths of building larger-than-life objects to the foreground. Here, Neri's sculpture features a maximalist, celebratory depiction of the human body as seen in many of her previous works, in which a colossal woman with crescent-shaped eyes and muscular arms cradles—on the crown of her head—a smaller figure that reaches upwards. A gaggle of women climb up the figure's torso as she gleefully tosses them back toward the ground.

Neri arrived at her signature typology of voluptuous, full-figured women by synthesizing a wide range of influences gleaned from her experiences in various art communities in northern California, including the Bay Area Figurative movement and street art. She applies mark-making techniques often associated with graffiti tagging, transposing them via spray-based glazes into the vocabulary of ceramics. Air-brushed black accents define the curves of the women's bodies, the strands of their hair, and the varied shapes of their breasts. Sprays of red and pink define their lips, cheeks, and nipples. The vigor of Neri's lines gives these works a fully lifelike presence and echoes the ecstatic quality that appears to animate the characters from which they are constructed.

Throughout the exhibition, Neri refers to traditional clay vessels, nodding to the long history of her medium and creatively reorganizing its tenets to achieve new effects and generate new possibilities. Unlike previous works by the artist that utilize vases as surfaces on which Neri paints, the vessels that constitute parts of these objects function as background elements in the larger compositions. The pictures that occupy their three-dimensional foregrounds are thereby contained, both physically and conceptually. They also function as symbols of fertility: in one work, a baby emerges from a woman's uterus, zipping upward toward an orange-glazed container at the top center of the work. The bulbous base and curved lip of the object can be read as a metaphor for the female body itself, and as a vessel for the fertile life force of all beings.

As Neri pushes into new material feats and expanded scales, her vision continues to grasp an intimate, celebratory approach to various states of existence and anxieties felt by the crushing demands of our contemporary world. Neri's entourage of clay and bronze figures possesses a collective energy of survival—a utopian future where joining hands calls for a powerful embrace of the haunting unknown, together in form and spirit. Across this new body of work, these spirited figures march, kick, flail, and tug toward and against a future that is at once frustratingly difficult, yet triumphantly hopeful.

In 2018, Ruby Neri (b. 1970, San Francisco) was the subject of a two-person exhibition, Alicia McCarthy and Ruby Neri / MATRIX 270, at the Berkeley Art Museum and Pacific Film Archive (BAMPFA), California. Recent group shows include The Flames: The Age of Ceramics, Musée d'Art moderne de la Ville de Paris (2022); New Time: Art and Feminisms in the 21st Century, BAMPFA, California (2021); The Domestic Plane: New Perspectives on Tabletop Art Objects, Objects Like Us, Aldrich Contemporary Art Museum, Ridgefield, Connecticut (2018); From Funk to Punk, Left Coast Ceramics, Everson Museum of Art, Syracuse, New York (2017); Fertile Ground: Art and Community in California, Oakland Museum of California and San Francisco Museum of Modern Art (2014); Energy That is All Around: Mission School, Grey Art Gallery, New York University (2014); Busted, High Line, New York (2013); and Made in L.A. 2012, Hammer Museum, Los Angeles (2012). Her work is in the permanent collections of The Museum of Contemporary Art, Los Angeles; BAMPFA, California; Brooklyn Museum, New York; and Hammer Museum, Los Angeles. Neri lives and works in Los Angeles.
__

David Kordansky Gallery Los Angeles is pleased to present Happier Than Ever, an exhibition of new work by Shahryar Nashat, on view from September 17 through October 22, 2022. An opening reception will take place Saturday, September 17 from 6 to 8 PM.

The exhibition, the artist's second presentation with the gallery, will feature floor- and wall-based sculptures, including a selection of works from his newest series, Lover.JPEG, as well as a major video installation.

**

Text by Kristian Vistrup Madsen

The lover is a horizon taken the shape of a single individual. His portrait hangs on the wall as a picture of the inside of a ribcage; hollow, but heart-shaped. There is another kind of cruelty to the lover because he is out there for the thrill of it; to see what he might harvest for himself of emotion and drama and other people's bodily fluids. He is different from a boyfriend in that way. Like cutting flowers from a field or beachcombing, the lover takes with him what is beautiful as much for it to not be there—the small power that there is in such a robbery—as because he wants it for himself.

But the lover's economy is an extractive one. A staggered breath, a lapse in consciousness, a brief delirium, how a throat convulses and gags, muscles twitch, and sweat protrudes—these are the small deaths he seeks to collect. We see them in Shahryar Nashat's video, flashing extracts. Like flowers and seashells, they have aesthetic qualities, sure, but imagine being able to capture their energy as we do waves or wind or rainwater that drips down through metal link chains into gaping troughs; imagine being able to live on this material.

In Nashat's exhibition, pale, viscous urethane slinks down thin, straight spines from a great height. It works as a kind of trap for the thick liquid. In another work, what was gathered of blood, sweat, and tears in the square plastic containers has already been distilled into pigment, the lover's bounty in primary colors. These are the physical manifestations of a love that is not about who you might become (together, as in the idea of the boyfriend), but what you might take away. The fiberglass floor sculptures are remnants of a reclining body or its imprint, an attempt to fasten and maintain. It is the boniest the series has ever gotten. Of course, behind such selfish impulses is a sense that certain kinds of nurture won't be provided, and so the lover must provide for himself. Such is nature, after all, the lover thinks.

The lovers' subjects hang from the ceiling like the dripping corpses of cattle in a slaughterhouse, or paintings on the walls of museums, or Jesus, at the end, on the cross. But what of an artist's own blood always colors the work; what flesh does the lover—inadvertently or not—have in the game? From his portrait, it might look like he is hollow, but a great marble column suggests that there is a core, after all, helplessly blunt and immovable. What is really on view here is the lover and the lover's creation. It is not the subject who has given himself up to these works, but in his efforts to resuscitate a shed skin, the lover himself. The boyfriend who sleeps next to you does not labor to know how you sleep (the position of your hand, folded on top of your torso). It is the lover who collects such information because it is the lover who lost, and so created for himself a horizon in the shape of your remnants.

Shahryar Nashat (b. 1975, Geneva) has been the subject of numerous solo exhibitions at institutions including The Museum of Modern Art, New York (2020); SMK—Statens Museum for Kunst, Copenhagen, Denmark (2019); Swiss Institute, New York (2019); Kunsthalle Basel, Switzerland (2017); Portikus, Frankfurt, Germany (2016); Schinkel Pavillon, Berlin (2016); Carpenter Center for the Visual Arts, Harvard University, Cambridge, Massachusetts (2015); Palais de Tokyo, Paris (2014); Kunstverein Nürnberg, Germany (2010); and Kunst Halle Sankt Gallen, Switzerland (2009). Recent and notable group exhibitions include Honestly Speaking: The Word, the Body and the Internet, Auckland Art Gallery, New Zealand (2020); Made in L.A. 2016: a, the, though, only, Hammer Museum, Los Angeles (2016); 20th Biennale of Sydney (2016); Le Grand Balcon, La Biennale de Montréal, Canada (2016); 8th Berlin Biennale (2014); and ILLUMInations, 54th Venice Biennale, Italy (2011). His work is in the permanent collections of museums worldwide, including Centre Pompidou, Paris; Hammer Museum, Los Angeles; Kunsthaus Zurich, Switzerland; Art Institute of Chicago; and Walker Art Center, Minneapolis. Nashat lives and works in Los Angeles.
__

David Kordansky Gallery Los Angeles is pleased to present Metal Plastic Paint, an exhibition of new sculptures by Aaron Curry, on view from September 17 through October 22. An opening reception will be held on Saturday, September 17 from 6 to 8 PM.

In new aluminum sculptures rendered at both medium and large scales, Curry continues to investigate the spatial and material tensions between artistic mediums and modes of mark-making. While certain components of these objects—the abstract shapes they contain, as well as their rivets and other details of their industrial construction—invite associations with modernist public sculptures by Alexander Calder, their fabrication in aluminum preserves a delicate sense of Curry's hand, paradoxically evoking the immediacy of painting or the handcrafted aesthetic qualities of wooden sculpture. These works originate as drawings in Curry's sketchbook; the sketches are then rendered digitally and constructed as paper maquettes. These alchemical transformations allow the artist to maintain the warm, idiosyncratic presence of his gestures in a fixed and durable metallic material—freezing them, Medusa-like, in painted aluminum.

If Curry's substantial aluminum sculptures reflect the monumental proportions of mid-century municipal sculpture, in contrast, six sculptures installed on pedestals in the West gallery shift to a more human scale, foregrounding a surreal, seemingly improvised compositional flair. The biomorphism of their organic forms and irregular shapes is infused with humor and irony, subverting and subtly critiquing modernism's austere, formalist sensibilities.

Curry's use of color also contributes significantly to this pervasive sense of critical playfulness. Each of the six pedestal-based sculptures establishes a striking contrast between two or three colors, often juxtaposing pastels and jewel tones: matte pink and sharp turquoise, muted periwinkle and eggplant purple, heather gray and citrus-hued orange. These contrasts are both chromatic and material—the sculptures' aluminum components are painted in more muted pastels, while bolder, more saturated colors appear as drooping lumps or spheres of plastic that perch upon or dangle from the aluminum constructions like birds on a wire.

Curry has long used his own signature as a way of both paying homage to and poking fun at modernism and its heroic aspirations, self-reflectively considering his own proximity to—and distance from—art historical narratives about authority and the longstanding posturing of "great," mostly white male modern artists. Here, the signatures—often executed in three dimensions—appear in a variety of unconventional forms: "A. Curry" scrawled in the negative space within a cluster of scribbled lines cast in aluminum; the letters "AC" rendered as gray bubble letters hanging from a length of pink chain. Such unexpected flourishes reposition the artist's signature—historically a marker of authenticity and value—as a winking joke or kitschy trinket, but they also become spaces for formal experimentation where Curry's interests in subverting expectations about space, volume, and flatness find complex new expressions.

Two new large-scale aluminum sculptures are also installed in the gallery's courtyard, providing an opportunity for Curry to address the variable conditions of an outdoor context, not to mention the relationship between public spaces and images in the public imagination. The improvisatory origins of their forms take on particular meaning in settings where light and other conditions are themselves inherently unpredictable. Despite their monumentality, the sculptures are accessible and approachable, their sci-fi-infused otherworldliness tempered by a down-to-earth compositional sense that establishes connections with viewers on physical, intellectual, and intuitive terms alike.

For two decades, Curry has foregrounded such connectedness by posing questions about where visual art resides in contemporary culture. Rather than deny its place in the museum, gallery, or art history book, however, he has shown how these spaces are permeable to any number of other influences—including movies, cartoons, underground comics, video games, and regional symbols—and how art's form, as well as its content, can change as a result. The new sculptures on view in this exhibition exemplify the ways in which Curry brings an awareness of this expanded field to each stage of his process; the breadth of their reach is matched only by the unmistakable and idiosyncratic nature of his vocabulary and his material touch.

Aaron Curry has presented solo exhibitions at the deCordova Sculpture Park and Museum, Lincoln, Massachusetts (2017–2021); McNay Art Museum, San Antonio, Texas (2019); STPI Creative Workshop & Gallery, Singapore (2018); Bass Museum of Art, Miami (2018); Rubell Museum, Miami (2014); CAPC musée d'art contemporain de Bordeaux, France (2014); Lincoln Center for the Performing Arts, New York (2013); and High Museum of Art, Atlanta (2012). His work has been included in group exhibitions at Pinakothek der Moderne, Munich (2021); de la Cruz Collection, Miami (2019); and Jing'an Sculpture Park, Shanghai (2018). Curry's work is in the permanent collections of the Hammer Museum, Los Angeles; Minneapolis Institute of Art; Montreal Museum of Fine Arts; Museum of Contemporary Art Chicago; San Francisco Museum of Modern Art; and Seattle Art Museum, among many other institutions. Curry lives and works in Los Angeles.