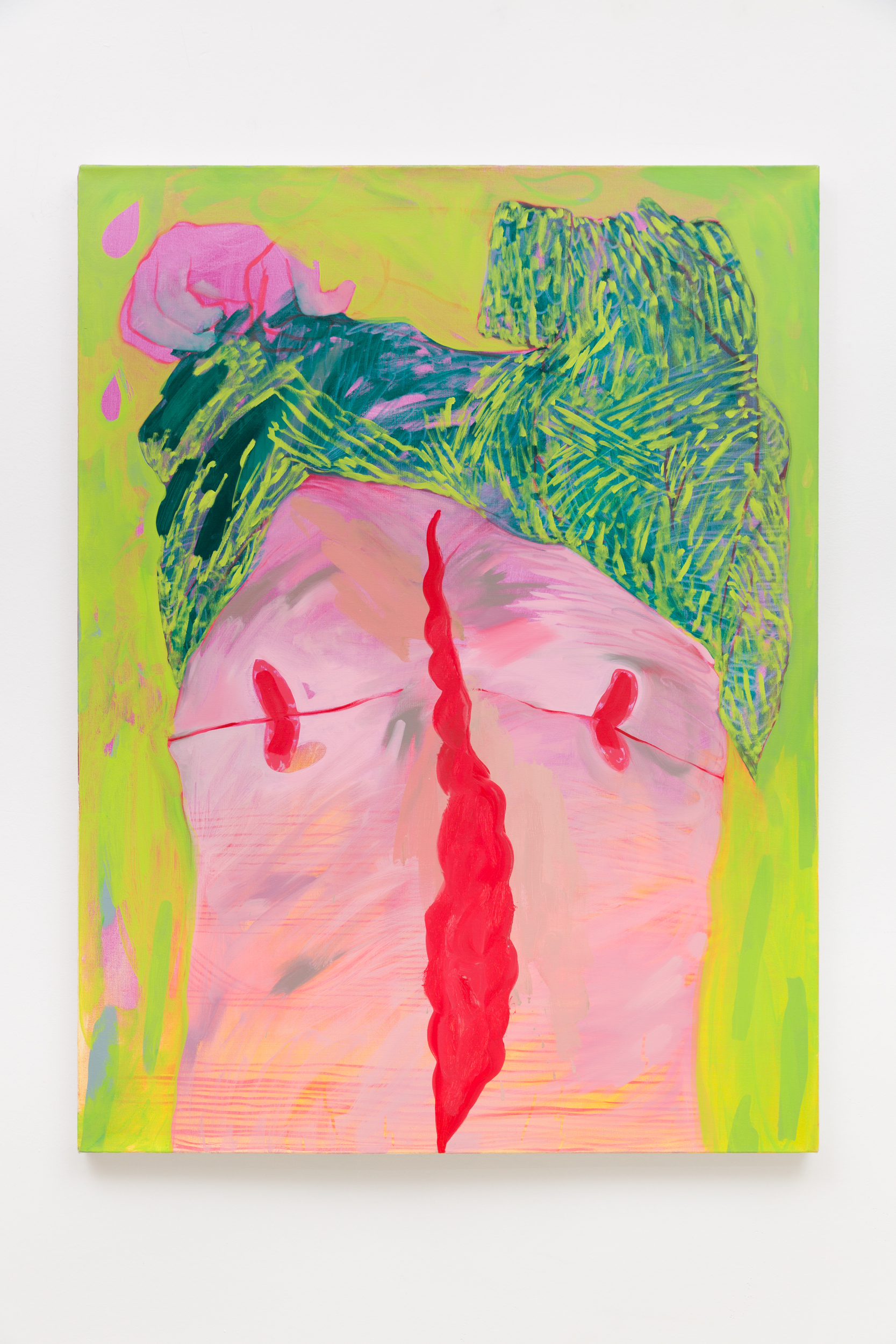 Cassidy Early: In the Light of Day
5225 Hollywood Boulevard Los Angeles CA 90027
Sep 02, 5 PM - 8 PM — ends Oct 08, 2022
Lauren Powell Projects is honored to present In the Light of Day, the first Los Angeles solo show from Chicago based painter Cassidy Early, on view from September 2 - October 8, 2022. This exhibition considers a grief two years in the making with a new collection of paintings expressing a mourning for their mother and their former self in limbo; ghosts that coexist in a cloud of tenderness, oscillating between states of despair and relief.

Early writes about the work,

" In the last two years after my mom died I've had top surgery, gotten engaged, and have become fairly obsessed with dungeons and dragons. All three of these things are omnipresent in the work. Surgery completely flipped my relationship with my body, engagement was like a bright light in the darkness of grief, and D&D reminds me that in some worlds, magic exists. Sometimes I hear my mom's voice in my head and it sparks a hope that maybe she's still here somewhere, that maybe she sees me when I see myself. The ghost of me before surgery and the ghost of her just cheering me on."

The painting Maps and Treasures features an ultramarine entity traversing an astral lake deep in the pocket of a monochromatic galaxy. They feel white hot laser beams arcing over their chest, followed by a cascading relief. They massage the healing wound and continue into the void, on their own adventure. Trans People are Angels reflects the neverending attempt to feel the glow – to feel the awesomeness of a malleable body and mind. To feel like a Natasha Beddingfield song instead of Puddle of Mudd. Early's rainbows are hard fought and hard won. They are a beautiful reminder that we are surrounded by miracles, and that we are so, so small. We are a drop in the ocean of beauty.

In the Light of Day is a show about the sharply lit morning after. Consequences laid bare with nowhere to hide, visceral contrast evoking memories of loss and love. Paintings of blue lined yellow legal pad paper reference the notes Early's mother left in the days between her cancer diagnosis and death. Here they drift, usually in a bright blue sky, illegible. It's hard for Early to not be overly romantic about their top surgery, how it reflects a change that distances them from their mother in an undeniable, physical way. Some days they hear her voice in their head - 'good for you,' before the puff and sharp inhale of a cigarette. The ghost of her still cheers them up.