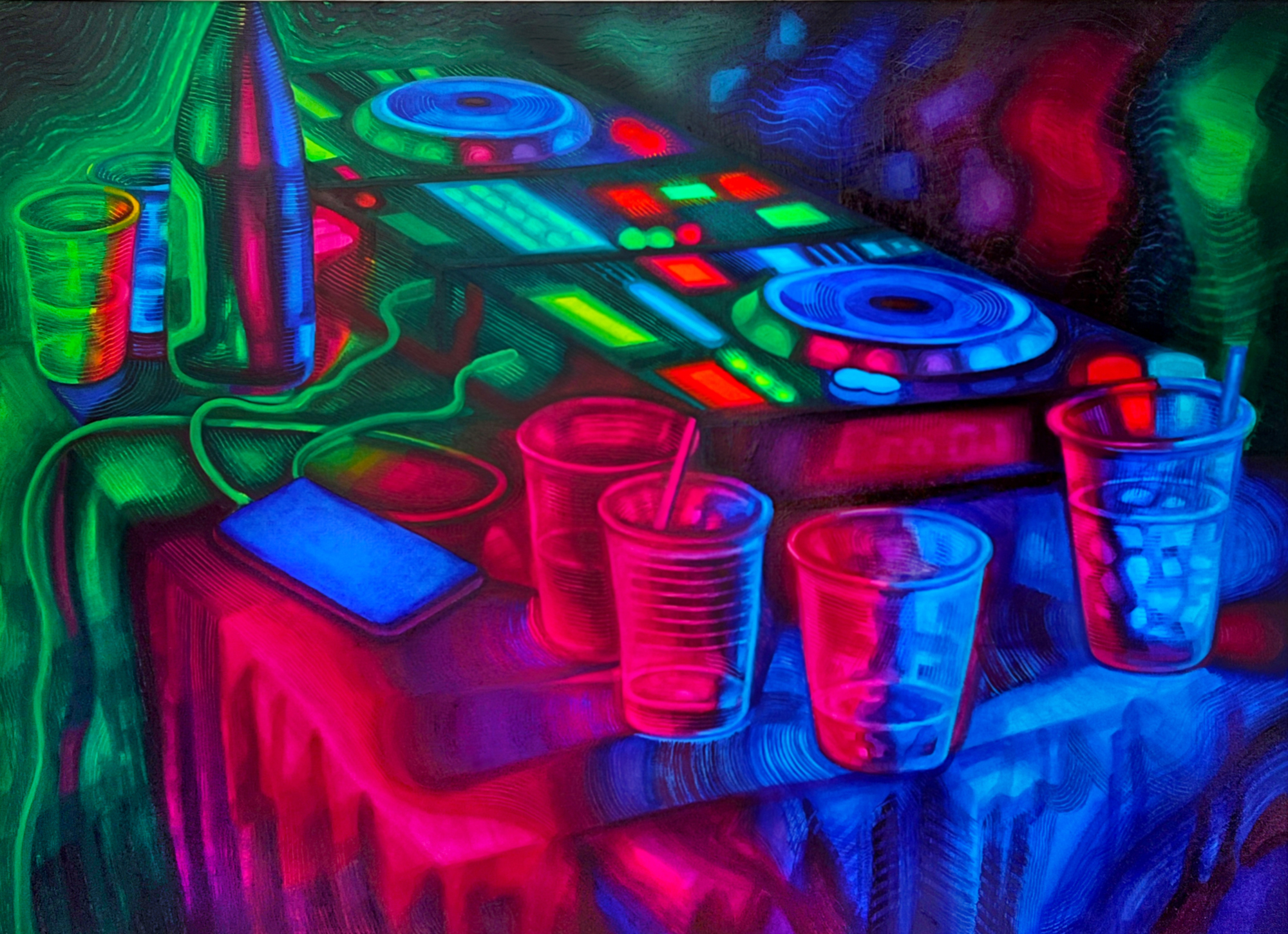 James Bartolacci: Time To Leave | An Te Liu: Low Fidelity
6150 Wilshire Blvd, Los Angeles, CA 90048
Sep 17, 6 PM - 8 PM — ends Oct 22, 2022
Anat Ebgi is pleased to announce Time To Leave, a solo exhibition by New York based painter James Bartolacci on view at 6150 Wilshire Blvd, September 17 - October 22, 2022. This is the artist's first solo exhibition with the gallery and in Los Angeles. An opening reception will take place Saturday, September 17 from 5 - 8pm.

Time To Leave consists of six oil paintings made by Bartolacci throughout this past summer. Known for their intensely colorful documentation of queer nightlife in New York City, this exhibition focuses largely on the atmospheric elements of nightclubs and afterparties. Many works zoom in on details around the DJ booth or abandoned drinks as well as their ongoing portrayals of glistening clubgoers on the dance floor. The paintings in this exhibition take on 'light' both as a material investigation as well as a conceptual one—considering temporality and the passage of time.

Concentrating on expanding their painterly lexicon for this exhibition, Bartolacci explores new brush techniques in these works. Experimenting with silicone wedges and comb tools the resulting compositions emote a sonic energy. Scratching and scraping at the canvases releases hidden subtleties of their palette of technicolor greens, blues, and magentas, creating a sound wave or ripple effect. The subjects are cast in halos literally emanating light. Evocative of strobes, solid matter appears liquid in these paintings, destabilized, at the precipice of vanishing. Bartolacci's color sense and bold aesthetics go outside of what is considered 'good taste.' But this is part of the point, a decision meant to reject what is palatable, easy, or expected much like queerness itself. Through the works in this exhibition, Bartolacci seeks to elaborate on and offers a larger description of, what can be found in queer community and nightlife, and what might happen when it's time to leave.

James Bartolacci (b. 1988, Easton, PA) received an MFA in painting and printmaking from the Yale School of Art and a BA in art history from Brandeis University. Their work has been exhibited in group and solo exhibitions at Galerie Perrotin, New York; Anat Ebgi, Los Angeles; and Taymour Grahne Projects in London. Their work has been reviewed in The New York Times, Frieze, and California Art Review among others. Bartolacci lives and works in Brooklyn, NY.
__

Anat Ebgi is pleased to announce Low Fidelity, a solo exhibition by An Te Liu on view at 6150 Wilshire Blvd, September 17 - October 22. Low Fidelity is the artist's second solo exhibition with the gallery. An opening reception will take place Saturday, September 17, from 5 - 8 pm.

For Low Fidelity, the artist presents a collection of bronze, ceramic, and steel sculptures composed and cast from foam packaging materials, sports equipment, and other relics of the artist's childhood. Liu's sculptures take their origins from everyday objects designed to protect and enhance and, through his interventions, are transformed into sensual biomorphic forms that are at once familiar yet uncanny.

Several works in the exhibition draw upon early memories of the artist's upbringing in Taiwan. Two suspended works, Sukuda and Mikado were cast from the body of a 1964 Vespa VBB — the same model of scooter the artist's grandfather and parents rode. These crescent-shaped figures hover in the gallery like apparitions; artifacts of his childhood. Similarly, the rhizomatic Over Time derives its mysterious coral-like form from a deconstructed Nerf football — the first piece of sports equipment Liu recalls owning. In this way, the child's plaything metamorphoses into a scholar's stone.

These allusions to the excavation of personal history and altered casts of sports equipment and armor continue to echo throughout much of the exhibition. Citing the history of Modernism and its hubristic desire for purity and refinement, Liu's transgenerational signals of the body and memory mutate and devolve. These works serve as a means for the artist to explore progress, improvement, and provocations of what it might mean to achieve one's peak physical form or "optimum condition" through time.

This connection is furthered in a related group of works Mola Mola, IO, and Omatic. These ceramic sculptures take their forms from heads of massage guns, designed to release tension and improve flexibility. Turned upside down, their gleaming forms assume the appearance of helmets; their enlargement amplifies Liu's ruminations, transforming them into idols or something to venerate. In a comical turn, the artist has given a parenthetical title to this series, Verschlimmbesserung, a German noun describing an attempted improvement that only makes things worse, suggesting that despite earnest attempts to become fitter and better, this is perhaps a losing battle.

Within Low Fidelity, the new suite of sculptures become anachronistic actors upon a dramatic stage orchestrated by Liu. The reverberations of time and formal memory the works emit are distortions of originals yet reanimated through their transference. Whereas the concept of fidelity imparts a near moral sensibility, Liu ascribes value to loss. It is in the valley Liu creates between the original and its echo that his works garner their character; specters of someone, something, somewhere that once could be
known.