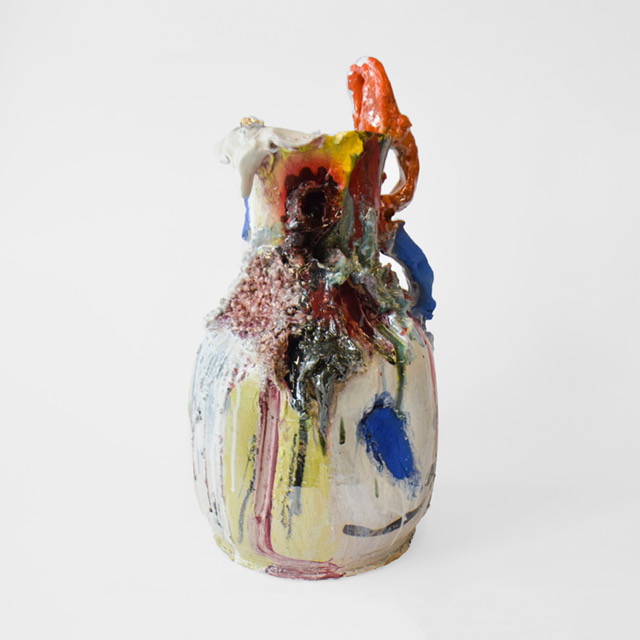 Reinaldo Sanguino: "De Aca De Alla" As I Remember
451 N La Cienega Blvd, Los Angeles, CA 90048
Sep 17, 6 PM - 9 PM — ends Oct 15, 2022
Dries Van Noten is honored to announce his invitation to Reinaldo Sanguino to exhibit his show "De Aca De Alla" As I Remember at The Little House, 451 N. La Cienega Blvd. in Los Angeles. Available to the public September 17th until October 15th.

The exhibition brings together a suite of watercolor paintings by Hollander and textile floor works by Apfelbaum, each operating as flexible calendars performed through the course of the exhibition. Operating as a material conversation between these oft-collaborators, the artworks in the exhibition catalogue the passing of time through the lens of color, pattern, and movement.

Featuring over 30 new works swathed in rich color and texture, "De Aca De Alla" As I Remember serves as a dynamic resume of the artist's freeform approach to ceramic sculpture and the experimental processes he has refined over the last decade — from crocheted components embedded in clay, made in collaboration with his aunt, to glazes infused with sawdust and steel-cut oats, to the unconventional use of the artist's body as a sculpting tool. The expansive exhibition will feature an array of expressive ceramic works, including series of dome-like wall pieces, textural vessels, functional sculptures, and steel-framed ceramic tables measuring up to six feet-long — the artist's largest furniture to date.

When conceptualizing the new body of work for his solo presentation at The Little House, Sanguino returned to his native Venezuela last January in an effort to bridge this dynamic megalopolitan energy with ancestral craft traditions. Serving as a pilgrimage of sorts, the trip became a primary source of inspiration for "De Aca De Alla" As I Remember. Vernacular architectural details like cement 'popcorn' ceilings recalibrated his process, igniting a desire to create uniquely textured surfaces through new material amalgamations, such as sawdust-ingrained ceramic glazes. Mirroring Sanguino's journey home, the artist's aunt traveled to New York to collaborate with him on a series of vessels with crocheted textiles embedded in their surfaces. This familial relationship to crochet extends to his grandmother who taught Sanguino how to master the craft — a memory which Sanguino admits is tied to his acceleration of creative experimentation. Sanguino's intimate relationship to the materials found in his work is intrinsically tied to memory, which the artist acknowledges in the exhibition's title, "De Aca De Alla" As I Remember.