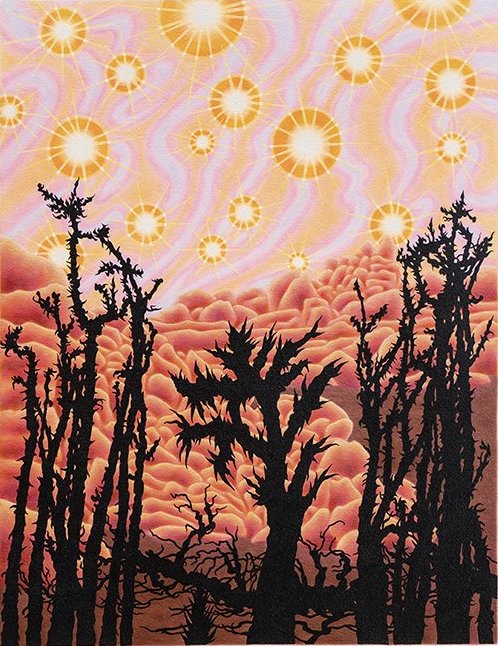 Sharon Ellis: New Works on Paper | Lita Albuquerque Screening
1227 North Highland Ave Los Angeles, CA 90038
Sep 24, 5 PM - 8 PM — ends Oct 29, 2022
Kohn Gallery is delighted to present a collection of new works by California-based artist Sharon Ellis. Ellis' visionary landscapes merge symmetrical composition with brilliant, glossy color hovering in the realm of the sublime. This new body of work examines summer in the desert, shifting from star filled nightscapes to science-influenced renderings of heat waves. This exhibition coincides with Ellis' participation in the 2022 California Biennial at the Orange County Museum of Art. Her work is included in the collections of the San Francisco Museum of Art, Long Beach Museum of Art, Laguna Art Museum, Walker Art Center, Nora Eccles Harrison Museum of Art, and Los Angeles County Museum of Art.

Ellis' lush visions of the natural world act as both a warning and an enticement, further emphasized by a conscious recording of the physical process with flowing lines and intense, saturated color. Up to sixty layers of lustrous, alkyd paint obscure all traces of the painter's hand, ensuring a licked finish where the separation between the nonobjective and representational is never completely delineated. Paintings like Mojave Night construct an interplay between chaos and order, with the finely worked, serene grooves of a purple desert punctuated by a clutch of stars. By contrast, Summer Heat features a ferocious, undulating sky framed by copses of blackened trees.

Ellis' Romantic abstractions owe as much to the physical process as to her artistic predecessors. Numbered among her influences are painters Charles Burchfield, Joseph Stella, Georgia O'Keeffe, Agnes Pelton, and Arthur Dove. These early American modernists were inheritors of the European traditions of Romantic landscape, Symbolism, and Art Nouveau, but were nevertheless strongly devoted to expanding the potential of abstraction in the pictorial realm. This radical ability to synthesize the conventions of naturalistic forms with inventive compositions is fundamental to Ellis' work.

Art for Ellis is ultimately a spiritual practice, harkening back to 19th century aesthetic principles and craftsmanship. As she states: "I feel that my work follows in the tradition of love for the natural world, obsession with the painted universes we create, and a reverence for the mystery of imagination itself. There will always be a place for a new image, another symbol for what it feels like to be immersed in the seasons and spectacles of the earth: alive to the beauty and also the danger in our universe."
__

Kohn Gallery is pleased to present a special display of works by Lita Albuquerque, housed in the Project Space. The artist has recently experienced an increased emergence on the international exhibition circuit, including major installations for Desert X AlUla and Copenhagen Contemporary, and most notably a solo exhibition, Liquid Light, on view through November 27th as part of the 59th La Biennale di Venezia, Biennale Arte 2022, and curated by Elizabeta Betinski of bardoLA and Neville Wakefield. Albuquerque's body of work interweaves photography, film, performance, painting, and sculpture into a vibrant synthesis of personal and cosmic mythologies through the central tenet "light carries information".

At Kohn Gallery, Albuquerque has organized a selection of works centered around her use of pigment pertaining to the experience of light reflecting materials in nature like salt and snow. The display includes a painting from Albuquerque's Auric Field series, rock sculptures dusted with white pigments, and a small figurative sculpture which relates to the narrative in the Liquid Light film. For the reception, Albuquerque will have a one time screening of Liquid Light at Kohn Gallery at 5pm, September 24, 2022. The works at Kohn Gallery utilize white color pigments to build a contemplative space referencing the color's reflective qualities in nature.

Albuquerque famously installed Stellar Axis: Antarctica, a land artwork of 99 ultramarine blue spheres on the Antarctic ice, in 2006. There, the artist encountered and embraced a light of deep clarity where one could see infinitely beyond the landscape's horizon. Albuquerque recalls this experience during the filming for the Liquid Light exhibition at the Uyuni Salt Flats in Bolivia. The display at Kohn Gallery's Project Space correlates and emphasizes the encounter with the phenomena of luminosity in nature.

Albuquerque work's often relies on elements and materials - pigment, gold, rocks - that become poetic when used as mediums to conceptual link the human to the cosmos. They exemplify the artist's innovative interdisciplinary approach to an art practice that pertains to the cosmos.