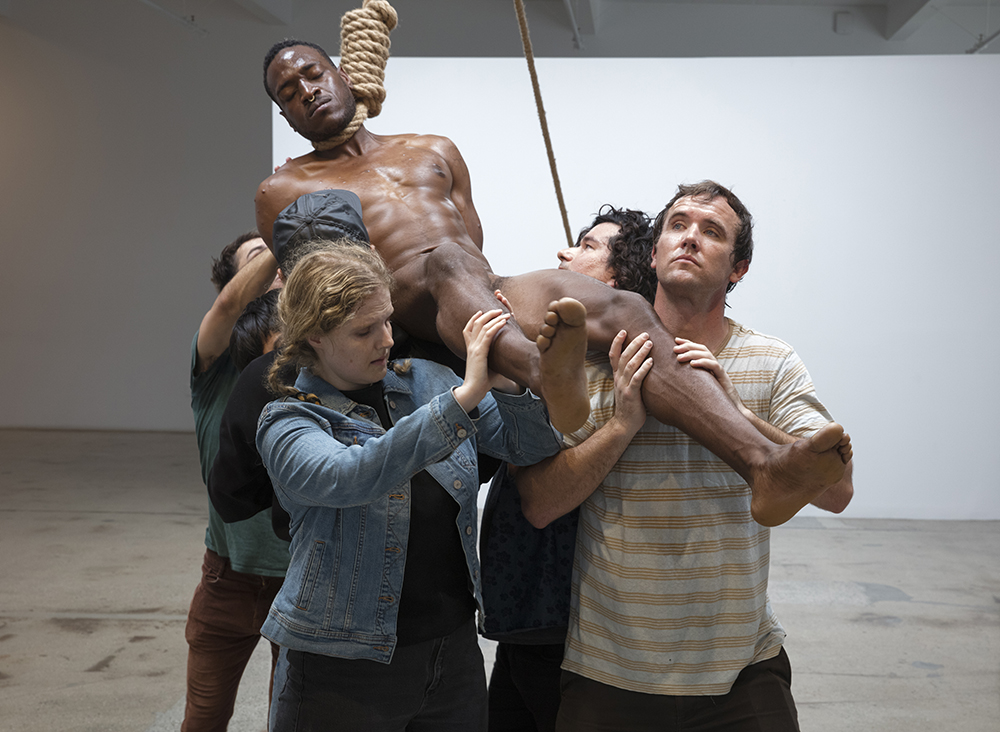 Carlos Martiel: Peso | Drew Dodge: Prophecy | Luca Sára Rózsa: Naked Mammals
👀
6830 Santa Monica Blvd. Los Angeles, CA 90038
Oct 01, 6 PM - 8 PM — ends Oct 29, 2022
Steve Turner is pleased to present Peso, the gallery's fourth solo exhibition by Carlos Martiel. The exhibition will feature recent works which encompass photography, video, sculpture, drawing, installation and performance. For the first time, Martiel has created performance works expressly for the video format, something that he intends to pursue more in the future. While each work is visually distinct from the others, all bear Martiel's unmistakable vocabulary in which his bodily presence, that of a queer Afro-Latino man, is highlighted within a context of cultural violence. As suggested by the exhibition's title, each work conveys conflicting interactions with weight. In some, a heavy object is carried or dragged by Martiel; in one, Martiel's body is the weight that requires the support of others, and in another, a once light American flag is weighed down by the density of dry blood. According to Martiel, "weight is more than mere gravity holding our bodies down; it is the incontrovertible force that binds, traverses and crushes our flesh into submission, alienation or dependency. It exists in our public monuments, in corpses hanging from trees, in shackles and in banners. It exists in our history and it is present in 2022."

During the exhibition's opening on October 1, 2022, Martiel will perform his durational piece Time for the first time. The performance will be recorded and presented as a video during the run of the exhibition.

Carlos Martiel (born 1989, Havana) graduated from the National Academy of Fine Arts, (San Alejandro), Havana (2009) and has been creating highly distinctive works ever since. They have been included in the Lanzarote Biennial, Biennial of the Americas; Vancouver Biennale; Sharjah Biennial; Cuenca Biennial; Venice Biennale; Casablanca Biennale; Biennial "La Otra", Bogota; Liverpool Biennial; Pontevedra Biennial, Spain; and the Havana Biennial. He has presented performances at The Leslie-Lohman Museum of Art, New York; Solomon R Guggenheim Museum, New York; El Museo del Barrio, New York; Stedelijk Museum, Amsterdam; La Tertulia Museum, Cali; Walker Art Center, Minneapolis; Museum of Fine Arts Houston and Padiglione d'Arte Contemporanea, Milan. He has received several awards, including the Grants to Artists from the Foundation for Contemporary Arts, New York, 2021; The Franklin Furnace Fund, New York, 2016; CIFOS Grants & Commissions Program Award, Miami, 2014 and Arte Laguna, Venice, 2013. His work has been exhibited at the São Paulo Museum of Art; the Museum of Latin American Art, Long Beach; Zisa Zona Arti Contemporanea, Palermo; Patricia and Phillip Frost Art Museum, Miami; Benaki Museum, Athens and the National Museum of Fine Arts, Havana. His works are in The Solomon R Guggenheim Museum, New York; The Pérez Art Museum, Miami and the Museu de Arte do Rio. Martiel lives and works in New York and Mexico City.

__

Steve Turner is pleased to present Prophecy, the gallery's second solo exhibition by Drew Dodge featuring recent paintings that depict imagery of the desert West and the artist's canine-man hybrid. Dodge carefully applies lustrous brush strokes to transform a desert wasteland into a lush, majestic and spiritual setting that enables him to process the past and imagine a future in one scene. He hopes to create an environment rich with queer symbolism that suggests a sense of belonging and freedom. The animal skull that appears in each painting is a malleable symbol that offers different interpretations depending upon the setting within which it has been placed. According to Dodge, "the skull tantalizes the figures and encourages them to look inward to find the same core that the skull represents."

Drew Dodge (born 2001, Monterey, California) earned a BFA from the Rhode Island School of Design (2022) and has exhibited his work since 2021 when he had his debut solo exhibition at Steve Turner, Los Angeles. Since then he has had a solo exhibition at L21, Palma and had work included in exhibitions at 1969 Gallery, New York; Eve Leibe, London; Untitled, Miami Beach (with Steve Turner) and The Armory Show, New York (with 1969 Gallery). Dodge lives and works in New York.

__

Steve Turner is pleased to present Naked Mammals, the American debut solo exhibition for Budapest-based Luca Sára Rózsa that features recent paintings that depict unclothed humans within nature. As the artist describes it, "nature plays a different role within the philosophical approaches developed in the East and the West. Eastern philosophies attest to a balanced juxtaposition, the yin and yang of nature, whereas the Western approach is organized upon a hierarchy, with man on the top and everything else lined up below in order to serve him. The figures in my paintings are mammals who have eaten from the Tree of Knowledge, expelled from Paradise, where they are fully exposed to their fate, at times facing it with resignation, while at other times seeking and questioning its meaning."

Born in Budapest in 1990, Luca Sára Rózsa grew up between Brazil and Hungary. She returned to Europe to study at Eszterházy Károly College, Eger, Hungary (2009-2012); Universitate di Arta si Design, Cluj Napoca, Romania (2011); Hungarian University of Fine Arts, Budapest (2012-2017) and Jan Matejko University of Fine Arts, Krakow (2015). She has had eleven solo exhibitions in Hungary since 2011, most recently at Viltin Gallery, Budapest (2021). This is her first exhibition at Steve Turner, Los Angeles.