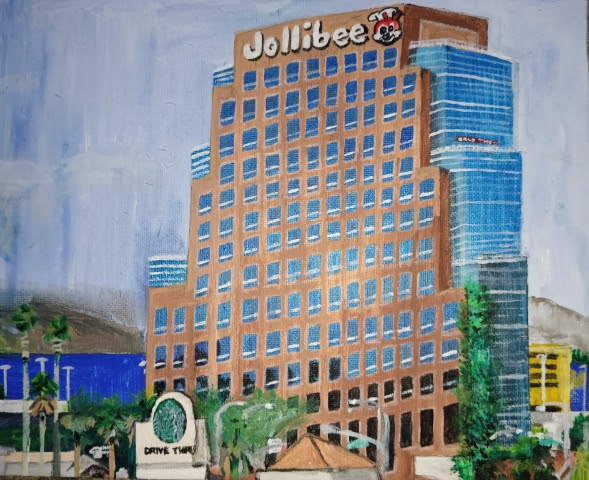 Gregory Shimada: Caught in the Grip of the City, Madness
661 N. Spaulding Ave, Los Angeles CA 90036
Oct 01, 7 PM - 10 PM — ends Oct 30, 2022
HVW8 Gallery Los Angeles is pleased to present Caught in the Grip of the City, Madness - a monumental solo exhibition from Bay Area artist Gregory Shimada. This will be Shimada's first solo exhibition in Los Angeles.

It's the year 2022: underground hip hop (backpack rap) never died, Matt Gonzalez won the 2003 San Francisco mayoral elections. We exist within a post urban wreckage fever dream of cities as audibly outlined by master architect Dan The Automator, when he expertly interpolated the Poppy Family's 1971 cautionary tale of urban blight in "Cities And Escapes". Maybe we're all "Caught in the Grip of the City Madness"?
The thing about alternate sci-fi futurist realities is that our reality isn't that different. In the present we navigate the cultural dialectics of the urban experience, with its endless sea of signs and signifiers layered before us, as the backdrop of the city video game. The conflict and tension of the urban experience propel things, somewhere. The same is true in a sci-fi alt reality, but with an added bonus; we're allowed to freely examine nuance and discuss oft overlooked or avoided "difficult" subjects with a kind of humor and safe distance not usually granted to us in normal and non sci-fi life.

In his display of artifacts from a rare based society, Shimada casts a light on various themes normally obscured or slightly too cutty for the untrained viewer to observe or even realize exist all around us, all of the time. In a post zeitgeist experience, specifics and reference points meld together forming associations to better understand difference. Rather than isolating the subject, Shimada gathers from an infinitely regenerating bank of source material to overwhelm the viewer with a maximal yet apt display of a kind of contemporary culture, our culture. The complexity of a pan-Asian community existing intrinsically and alongside neighborhoods of varying cultures form new identity and meaning within the brackish experience of the city.

Gregory Shimada (b. 1986) lives and works in Daly City, California. His work has been the subject of numerous exhibitions and solo presentations in New York, Tokyo, Mexico City, Vancouver and Los Angeles. He has collaborated extensively with brands RVCA, Tenbox, CDG, Better Gift Shop, Supreme and Stussy.