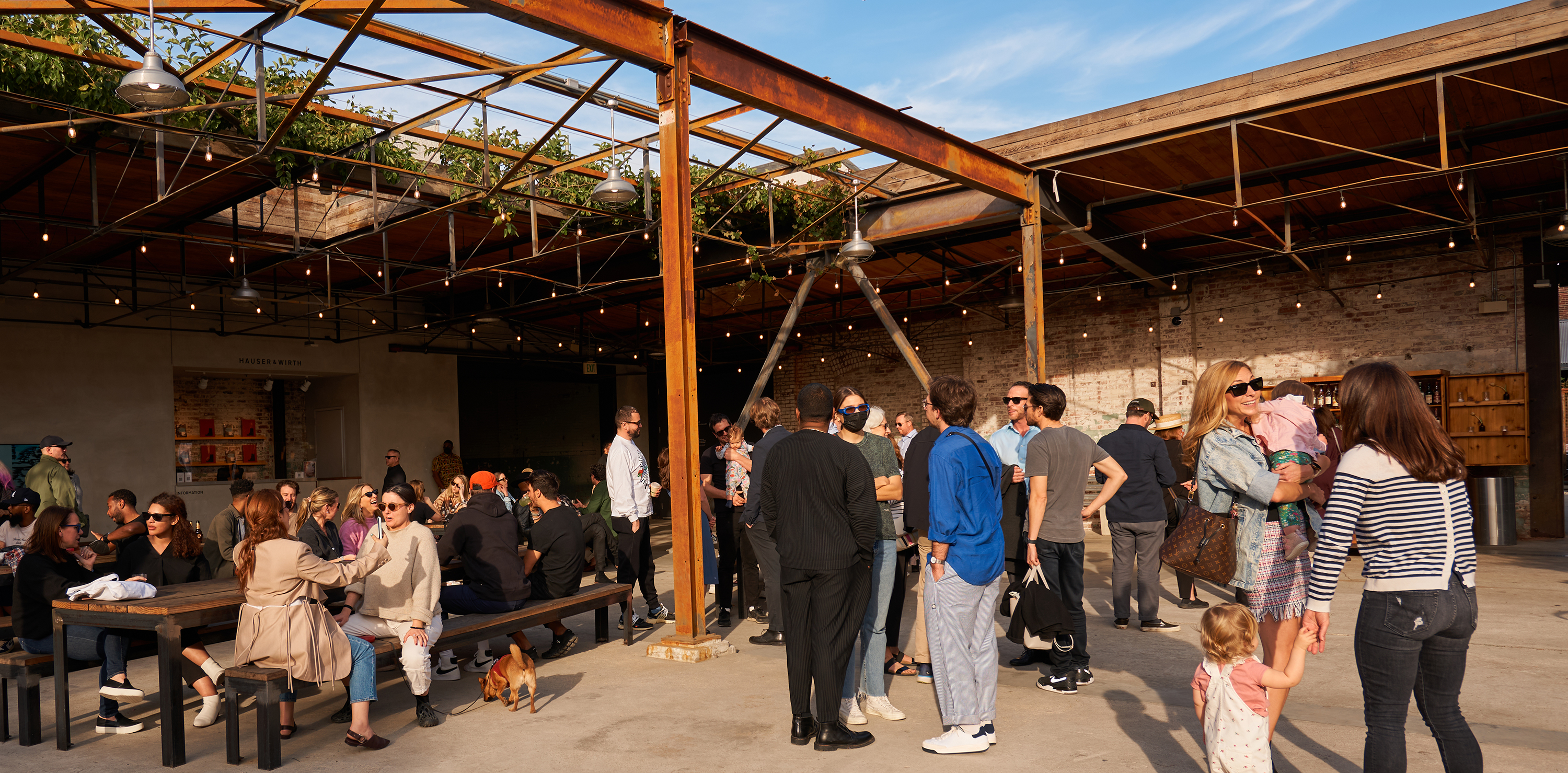 Martin Creed | Cindy Sherman. 1977 – 1982 | The New Bend
901 East 3rd St. Los Angeles, CA 90013
Oct 29, 4 PM - 6 PM — ends Dec 10, 2022
Join us in the courtyard for the opening celebration of three new exhibitions: 'Martin Creed,' 'Cindy Sherman. 1977 – 1982,' and 'The New Bend' curated by Legacy Russell. Enjoy cash bars by the gallery's onsite restaurant Manuela and an all-vinyl set by DJ Jihaari.
Free to attend, no booking necessary.

About the Exhibitions
'Martin Creed'
In this solo exhibition by Martin Creed, the Turner prize-winning artist performer composer 'Punk poet' (The Guardian) warm-hearted heart-warming head-scratching hair-combing talk songs cabaret feelings spoken-word anti-war love jokes tricks friendly 'Creed is a social artist' (The Observer) loneliness experimental piano juggling clothes including socks ideas thoughts bums spelling mistakes hard-hitting easy-going.'

'Cindy Sherman. 1977 – 1982'
Cindy Sherman revolutionized the role of the camera in artistic practice and opened the door for generations of artists and critics to rethink photography as a medium. Following its critically acclaimed New York presentation this summer, Hauser & Wirth Los Angeles will exhibit over one hundred works from Sherman's ground-breaking and influential early series – including the complete set of 70 Untitled Film Stills, Rear Screen Projections, Centerfolds and Color Studies – in her second major solo exhibition with the gallery.

'The New Bend'
Curated by Legacy Russell, Executive Director & Chief Curator of The Kitchen, 'The New Bend' travels from the gallery's New York location to Los Angeles in October, with contributions by contemporary artists working in the raced, classed, and gendered traditions of quilting and textile practice. Their unique visual vernacular exists in tender dialogue with, and in homage to, the contributions of the Gee's Bend Alabama quilters – Black American women in collective cooperation and creative economic production – and their enduring legacy as a radical meeting place, a prompt, and as intergenerational inspiration. This exhibition acknowledges the work of Gee's Bend quilters such as Sarah Benning (b. 1933), Missouri Pettway (1902-1981), Lizzie Major (1922-2011), Sally Bennett Jones (1944-1988), Mary Lee Bendolph (b.1935), and so many more, as central to expanded histories of abstraction and modernism.