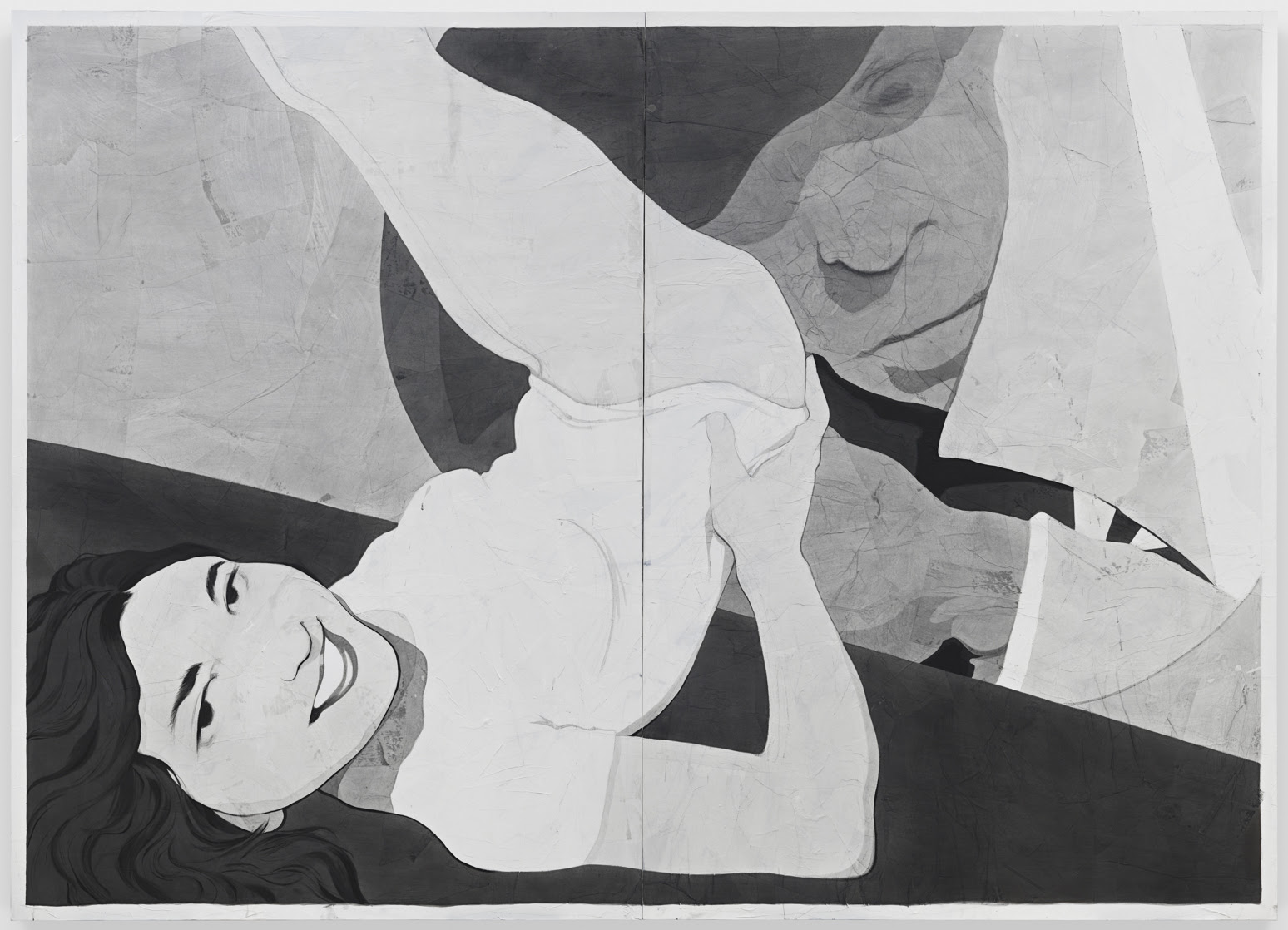 Anna Park: Mirror Shy | Linder: Sex-Pol
👀
2727 S. La Cienega Blvd., Los Angeles, CA 90034
Nov 05, 6 PM - 8 PM — ends Dec 17, 2022
Blum & Poe is pleased to present Mirror Shy, Brooklyn-based artist Anna Park's second solo exhibition with the gallery and her first in Los Angeles. This presentation coincides with Park's first solo museum exhibition Last Call, on view at the SCAD Museum of Art, Savannah, GA.

Depicting her alter ego in a series of urbane, pared-down portraits, Park's newest work strains her distinct style through the visual vernacular of film and advertising. A New Yorker by way of Utah, Park channels perceptions of the cultural output of Los Angeles for this presentation, her first ever solo exhibition in the city of angels. The resulting illustrative works on paper on panel are confidently succinct in composition and rich in reference as they play with cultural perceptions of the body in relation to agency, voyeurism, and humor—tools Park uses to address topics that are otherwise difficult to broach.

In Business as Usual (2022), Park's alter ego—with her heels on, nails done, and clothes seemingly off—drags the lifeless body of a massive hotdog into the composition's frame. She stands against the checkerboard background of a picnic blanket beaming: it's mealtime. This sausage, the same one depicted cradling Mirror Shy's protagonist in Sweet Nothings (2022), serves as a place holder for male figures and a foil to the main character, revealing her struggles with intimacy and her ongoing journey to find personal empowerment. Sweet Nothings captures Park's female lead in an ambiguous position—in a scene evoking Carl Theodor Dreyer's Master of House (1925), she stares at a wiener in a hat and suit with a look that calls her agency into question. Is she being seduced or is she the seducer? In a vignette that recalls and subverts Roy Lichtenstein's Drowning Girl (1963), This Could Be Us (2022) reveals that Mirror Shy's main character has the capacity and intention to overcome her challenges as she floats atop what remains of her frankfurter.

As a subset of Park's exploration of agency, other works presented in Mirror Shy expand upon notions of pervasive voyeurism. Park investigates how one's daily presentation can open the self up to scrutiny stemming from the impossible body standards pop culture constructs. In Smells Like Roses (2022), Park's alter ego returns as a vessel that the artist puts through a test of self-exposure. Appropriating a pose from vintage exercise photographs, this painting postures a woman, hips on hands and legs toward the sky, for examination by a larger-than-life, ominous figure. Park presents this work as an analogy for body anxieties, with the background character representing the consistent social pressure that hangs over women.

Although it deals with difficult topics, Mirror Shy never loses its levity. A dark humor resonates throughout the exhibition by way of surrealism and hyperbole—a comedic effect is created when expectations are upended and impossibility replaces them. This is certainly the case with the character of the hotdog, but it is also present in It's Called Show Business (2022), in which the central figure is trapped amongst several parading women's legs. These repeating legs, a flashy yet unfeasible method for containment, are used by the artist to reference the setting of a culture where one is taught to assimilate or blend in.

Bringing the language of advertising into the fold of her practice, Park furthers her self-aware investigations into a society of commodity and surveillance. In moments of stillness that originate from a perspective rooted in empathy for her subjects, Mirror Shy signals to the viewer a newfound sense of control while continuing to address overarching themes in the artist's oeuvre such as inner conflict, longing, and the one amongst the many. This exhibition marks a shift in Park's narrative voice—arriving at the center of a world that she had previously looked in on from afar, she is now a participant in that which she actively critiques.

Anna Park lives and works in Brooklyn, NY. Her first solo museum exhibition, Last Call, is currently on view at the SCAD Museum of Art, Savannah, GA. She has been featured in numerous group exhibitions, including 52 Artists: A Feminist Milestone, Aldrich Museum of Contemporary Art, Ridgefield, CT (2022); Fire Figure Fantasy: Selections from ICA Miami's Collection, Institute of Contemporary Art, Miami, FL (2022); 100 Drawings from Now, The Drawing Center, New York, NY (2020); Art on the Grid, Public Art Fund, New York, NY (2020); Drawn Together Again, Flag Art Foundation, New York, NY (2019); among others. She received her BA from Pratt Institute, Brooklyn, NY and her MFA from New York Academy of Art, New York, NY. She is the First Prize Winner of the AXA Art Prize (2019) and the Grand Prize Winner of Strokes of Genius 11: Finding Beauty (2019).

Blum & Poe is pleased to present a solo presentation with UK-based artist Linder. This is the artist's second solo exhibition with the gallery and her first in Los Angeles in nine years.

Since the 1970s, Linder has made sharp transformations to found images of the sexualized, commodified, and exploited body. For her latest exhibition Sex-Pol, titled after a sexual liberation movement helmed by Wilhelm Reich in the 1920s and '30s, Linder constructs her signature photomontages as visual explications of the vast complexities of desire across time and space. This investigation is rooted in distinct thematic universes that the artist philosophically inhabits. In three new series respectively titled Art and Industry, HE Shells, and Le Theatre—she delves into longing and resistance under 1930s fascist rule, previously examined in her works made for David O. Russell's film Amsterdam (2022). In another, Linder explores the Ancient Greek concept of Eros as it plays out in contemporary pornography. With other works on view, she amplifies the performative eroticism and body confidence displayed in the stage aesthetic of artistic collaborators—that of Texas-based occult musical artist Rabit and ballroom influenced multidisciplinary collective the House of Kenzo. The installation unfolds in a color spectrum, which transitions from a silvery black-and-white to vivid hues of green and sienna.