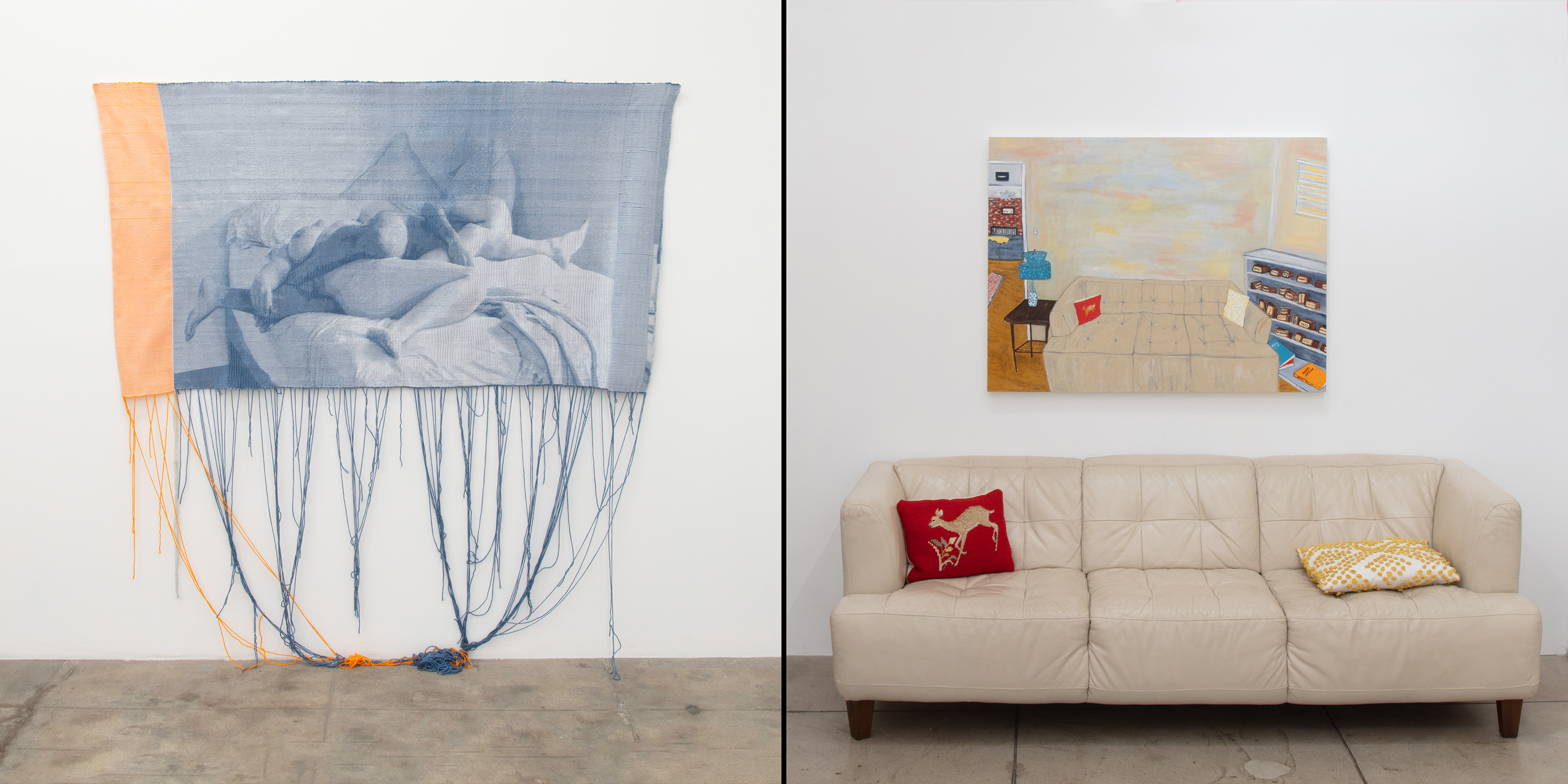 Mia Weiner: Foreplay & Ali Liebegott: Rooms and Other Feelings
3301 W Washington Blvd, Los Angeles, CA 90018
Oct 29, 5 PM - 8 PM — ends Dec 17, 2022
MIA WEINER
FOREPLAY
OCTOBER 29 - DECEMBER 17, 2022

OCHI is pleased to present Foreplay, a solo exhibition of new work by artist Mia Weiner, on view in Los Angeles, CA from October 29 through December 17, 2022. This is Weiner's first solo exhibition with the Gallery. An Artist's Reception will be held on Saturday, October 29th from 5:00 to 8:00 pm PST.

Mia Weiner weaves tapestries that depict intimate and raw imagery as she reflects upon personal relationships, somatic memories, psychologically charged spaces, and the subtle energy of the body. Weiner begins with feelings—the feeling of knee crossed over a leg, of a sigh or a deep breath, of what it feels like to float in water. Visuals that emerge from these meditative exercises are reenacted in photography sessions with the artist's own body or with models. Weiner choreographs figures against backdrops of non-descript interiors, gently overlapping and interlacing limbs like living sculpture. Back in the studio, Weiner manipulates these digital images—collaging, deleting, and adjusting pixels as needed before converting completed compositions into an intricate map of gridded structures and tones. Files are fed into a digitally assisted loom, and line by line Weiner begins to manually weave each image. Unlike with textile mill fabrication, Weiner retains her ability to make decisions throughout the weaving process, changing color or yarn, manipulating the tension to foster abstraction, or inserting odd materials as intuition sees fit. Weiner lets long threads emerge from the edges of a woven image, haptically skimming the floor or tangled like emotions.

"Cloth is a place of shared experience. We interact with cloth every day," notes Weiner. Mostly monochromatic, Weiner sometimes chooses to shift color unexpectedly or include the visual markers of production or glitch. Darker colors create a more contrasted or photographic image, while brighter hues can disrupt legibility of an image. Both color and anonymity—Weiner frequently hides the faces and heads of her figures—allow us to enter a conceptual space instead of searching for a narrative. Foreplay posits the body as a collective whole—expressing joy, making love, resting, sheltering, holding, and healing.

Mia Weiner received her MFA in Fiber and Material Studies from the School of the Art Institute in Chicago and her BFA in Fiber from the Maryland Institute College of Art. Weiner's work has been exhibited nationally and internationally at venues including The Suburban in Milwaukee, WI; Masur Museum of Art in Monroe, LA; James Center for the Arts in Woodstock, NY; Arc Gallery and LVL3 in Chicago, IL; CULT Bureau in Oakland, CA; Museum of Contemporary Art in North Miami, FL; Grunwald Gallery of Art in Bloomington, IN; and the Barrett Art Center in Poughkeepsie, NY. Weiner currently lives and works in Los Angeles, CA.


ALI LIEBEGOTT
ROOMS AND OTHER FEELINGS
OCTOBER 29 - DECEMBER 17, 2022

OCHI is pleased to present Rooms and Other Feelings, an exhibition of new work by artist Ali Liebegott. This is the Artist's first exhibition with the gallery. Rooms and Other Feelings will be on view at OCHI Aux, located at 3305 W Washington Blvd in Los Angeles, California from October 29 through December 17, 2022. An Artist's Reception will be held on Saturday, October 29th from 5:00 to 8:00 PST.

For more than 20 years, Ali Liebegott has been a visual storyteller, using watercolor, ink, and oil to make paintings and drawings that feature sharp observations full of well-seasoned characters, familiar places, and quotidian wit. Chronicling the goings-on of the everyday, Liebegott welcomes the viewer into her community and immediate surroundings as seen through the lens of her own queer consciousness. Each brightly colored self-portrait, landscape, and interior scene depicts personal experience with nuance and complexity and draws on the elusive nature of memory and feelings. Subtle and voyeuristic, the paintings focus on ambiguous moments of existence. Like distant memories, space is flattened, distorted, and morphed as Liebegott lingers on a moment, unafraid to consider the absurdity or the tenderness of the present.

Moving beyond visual representation, Liebegott's compositions emphasize the feeling of looking, staring, gazing, and interacting. Imagining an observer always slightly out of the frame, the objects in each painting radiate a heightened awareness of isolation, exposure, and attention. In Shrimp Cocktail (2021) perspective is oriented down onto a plate of shrimp arranged on a bed of ice, accompanied by lackluster garnishes and a sliver of stemware. Stiffly composed in a portrait orientation, the meal appears unremarkable yet has been rendered with detail and care, as if the protagonist just out of frame was listening to other peoples' conversations while dining alone in a restaurant. Entenmann's Factory Outlet (2022) depicts empty coffee carts tucked into the back corner of a grocery store alongside assorted desserts, day-old and discounted. Illuminating the commonplace can reveal the drab. Exploring the vulnerability of being noticed, Liebegott paints vignettes of the unseen details of life—poetic, temporal, and endearing.

Ali Liebegott (b. 1971, Newbury Park, CA) is a painter and a writer primarily interested in inclusion and representation for queer communities. Liebegott's work has been exhibited widely at venues including the Institute of Contemporary Art in Philadelphia, PA; Contemporary Art Museum St. Louis in St. Louis, MO; Southern Exposure in San Francisco, CA; Invisible-Exports in New York, NY; and OCHI and Junior High Gallery in Los Angeles, CA. Liebegott has read, performed, and exhibited her writing throughout the United States and Canada and is the author of four books: The Beautifully Worthless (2006), The IHOP Papers (2007), Cha-Ching! (2013), and The Summer of Dead Birds (2019). Liebegott received her MFA from Sarah Lawrence College and co-founded the non-profit RADAR LAB, a free annual retreat for queer writers. She is the recipient of two Lambda Literary Awards (2006, 2008), a Ferro-Grumley Award (2008), a New York Foundation for the Arts Fellowship in Poetry (1999), and a Peabody Award (2015) for her work on the television series Transparent. Liebegott lives and works in Los Angeles, CA.