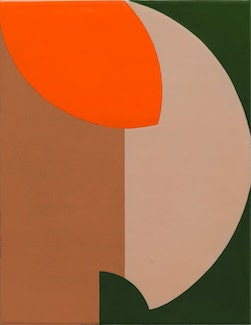 Ulrike Müller: On Edge
1700 S Santa Fe Ave #101, Los Angeles, CA 90021
Nov 19, 6 PM - 9 PM — ends Jan 07, 2023
Vielmetter Los Angeles is excited to announce "On Edge" New York-based artist Ulrike Müller's first solo show in Los Angeles. The exhibition will be on view in Gallery II from November 19, 2022 through January 7, 2023.

Comprised of vitreous enamel paintings on steel, textiles, paper collages, monotypes, and painted walls, Müller extends the pictorial space of the exhibition beyond the gallery into communal areas and onto the outside walls of the building—presenting an ambitious array of recent work where the intimate becomes customary, and the pedestrian becomes sensual.

Through a multi-faceted artistic practice spanning curating, publishing, and public murals, the Austrian-born artist's image-making takes apart the symbolic signage of our collective histories—slicing, cutting, zooming, edging, remixing, coloring, and abutting in unforeseeable ways, infusing amusement and tenderness at each turn and producing a manifold of visual reform.

On view in the exhibition is a group of recently completed monotypes created through a painterly printmaking technique that combines indexical marks and the collaging of previously printed papers into unique works. Accompanying the monotypes is a group of smaller paper collages, each entitled Instrumentarium, in a nod to cassettes of 18th-century surgical instruments. Both groups of works exemplify the artist's toolbox of varying forms, textures, and tones in kinetic compositions that set in motion meaning and figuration. By breaking down traditional assemblies and binary systems these investigational works on paper provoke us to reexamine the motives and means of visual communication.

Continuing the artist's exploration of relationships between abstraction and the body through painterly modalities that are not limited to brush and canvas is a group of enamel-on-steel paintings. Materially connected to industrial sign making, and to histories of hygiene and jewelry, the works on view, each entitled Hinges, are finely honed, kiln-fired compositions of hard-edged forms and curvilinear contours.

Such animate, hybridized mannerisms are transferred throughout the entire exhibition appearing, for example, as flat creature-like shapes in rugs woven from local wool by Zapotec weavers in Mexico as well as in paint swaths of different grays onto some of the gallery's walls. Appearing as if shadows of unknown origin had been cast on the building from outside they situate viewers in their own bodies and draw attention to perspectives that lie outside the framework of the gallery and this exhibition.