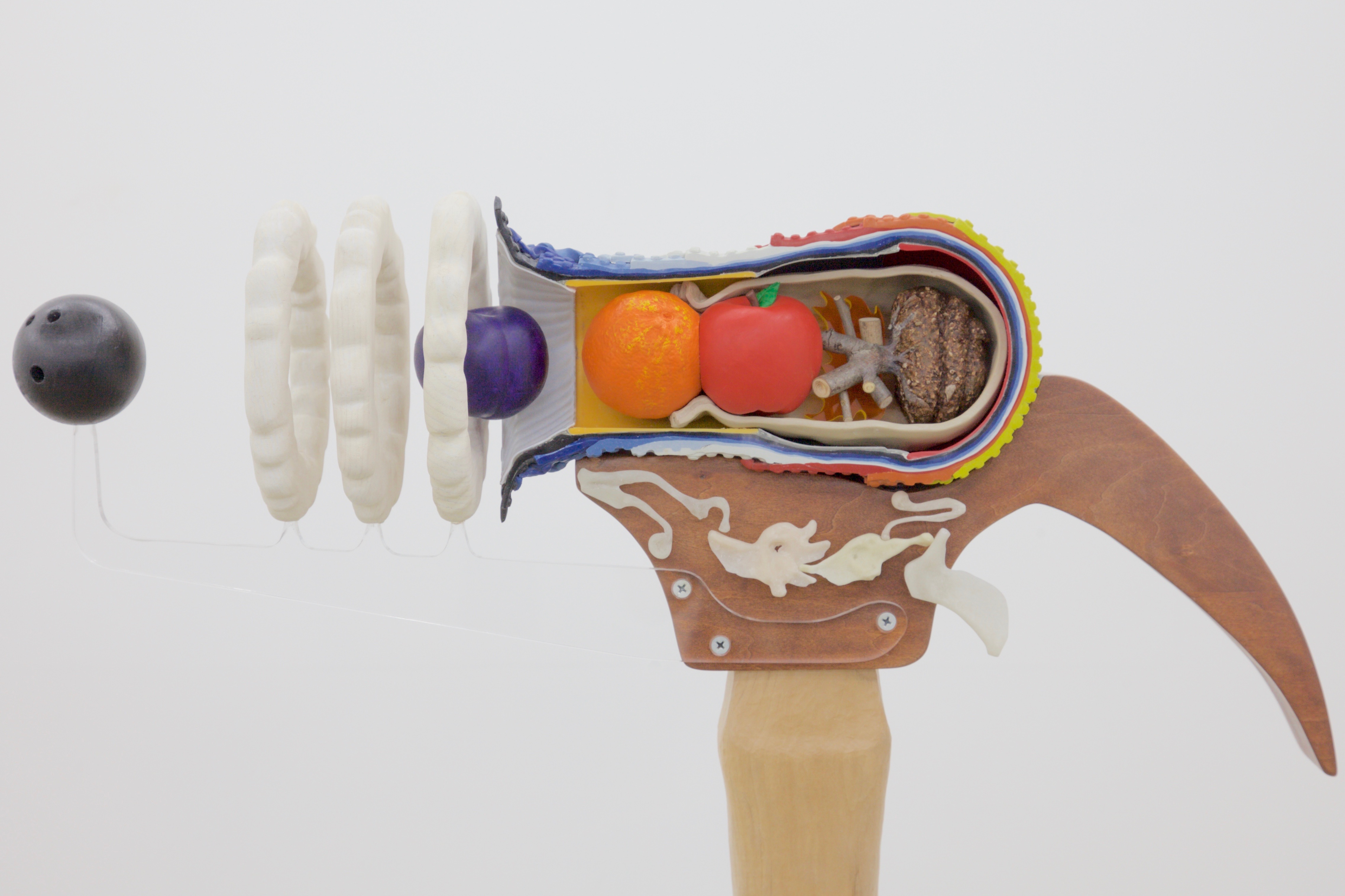 Very Quiet: Michael Kennedy Costa & Benjamin Reiss
5513 Pico Blvd. Los Angeles Ca 90019
Dec 11, 3 PM - 6 PM — ends Jan 29, 2023
Hunter Shaw Fine Art is pleased to present "Very Quiet," an exhibition of works on paper by Michael Kennedy Costa and sculptures by Benjamin Reiss. The exhibition will also include a text by artist Naoki Sutter-Shudo; a series of fictional vignettes prompted by the physical works on view (excerpts below).

- - - - - - - -

The low clouds, rich in rain soon to drop, pulse blue to purple to yellow from the lights of the city below. I can't stand the rain! The city people, in the canyons between buildings, hurry into nearby doorways, they can't stand the rain either, they can smell it brewing above, they can't see the rhythmic glow, though. Aviation obstruction lights on skyscrapers add a dash of twinkling reds: only from a distance the light show can be enjoyed... Until the curtains are drawn and the view goes away. Inside the room, a leather sofa takes up one whole wall, its surface is darkening and cracking slowly but surely; against the windows, light taps politely announce the rain's arrival. As I lay naked on the sofa, a new scent is created, a private perfume just for this room: the top note of musk is what I provide atop a leather base note; and a slight hint of salt and sea, from a nearby plate of unfinished seafood. For a while the bouquet is enough to entertain me. But glancing at the plate sideways, the configuration of discarded shrimps and clams overwhelms me by surprise: for a brief moment, something about the way in which they sit looks like an evil sigil... I rush to scrape it all off into the trash, but not without personally thanking each uneaten mollusk and crustacean for their service. The rain can't be heard anymore, so I open the curtains to check. All the lights of the city are out, and stars have entered the sky. It's as if a giant and invisible being has vacuumed all the beauty from the ground world, and sent it up into the air.

- - - - - - - -

Everything, in front, around, behind, above and under, glows as a solid expanse, shines, so when they appear pustulating in the distance, it's impossible, really, to gauge if they are in the distance, or mere flecks inside the retina; in such a situation, attempting to even think is a chore that's better avoided... And there's comfort in that: it's wiser to try to sleep. But the scenery remains even with eyes closed; and they still pustulate... All of a sudden, it's clear what they are: fruits. No hunger at the moment means no rush to decipher which kind they are. A slightly acidic smell misleads towards oranges, until the sharpness in the air is understood to be nothing but a metallic drone permeating the zone... A simple mistake. No, they are not oranges: they are apples, yes, and perhaps they are ripe. Adam and Eve ate one too—unless it was a quince, like some would point out— and their murderous son Cain had Enoch as a son, and Enoch was the father of Irad, and Irad was the father of Mehujael, and Mehujael the father of Methushael, and Methushael the father of Lamech, and Lamech the father of Jabal, Jabal the father of all ranchers, and Lamech was also the father of Jubal, Jubal the father of all musicians, and Lamech was also the father of Tubalcain, Tubalcain the father of all smiths, etc; etc; Adam was also the father of Seth, and Seth the father of more than fifty children, etc; and from Seth descended Steve Jobs, who was the father of Apple, and with Apple Pay and Apple Card there are no fees, not even hidden ones: no annual fees, no late fees, no foreign transaction fees; no fees, really.

- Naoki Sutter-Shudo

- - - - - - - -

Michael Kennedy Costa (b. 1982, Northampton, MA) is an artist and educator who lives and works in Los Angeles. Kennedy Costa received an MFA from Virginia Commonwealth University in 2011 and a BFA from Boston University in 2006. He has recently exhibited at Bad Water, Knoxville; Simian, Copenhagen; Franz Kaka, Toronto; u's, Calgary; Roger's Office, Los Angeles; Sydney, Sydney; and 67 Steps, Los Angeles. He has a forthcoming solo show at Human Resources, Los Angeles, in 2023.

Benjamin Reiss (b. 1985, Los Angeles, CA) is an artist based in Los Angeles, working primarily in sculpture. He received an MFA from University of California, Irvine in 2022 and a BFA from School of the Art Institute of Chicago in 2007. He has recently exhibited at JOAN, Los Angeles; Harkawik, Los Angeles; Visitor Welcome Center, Los Angeles; Bel Ami, Los Angeles; High Art, Paris, FR; and Parker Gallery, Los Angeles.

Naoki Sutter-Shudo (b. 1990, Paris, France) is an artist and gallerist based in Los Angeles. He received an MFA from École Nationale Supérieure des Beaux-Arts, Paris (2016) and a BFA from Art Center College of Design, Pasadena (2013). He has recently exhibited at XYZ, Tokyo, JP; Cocotte, Treignac, FR; Crèvecœur, Paris, FR; Bodega, New York City; Commercial Street, Los Angeles; Von Ammon Co, Washington DC; and Franz Kaka, Toronto, ON. He is also a co-founder of Bel Ami gallery in Los Angeles.