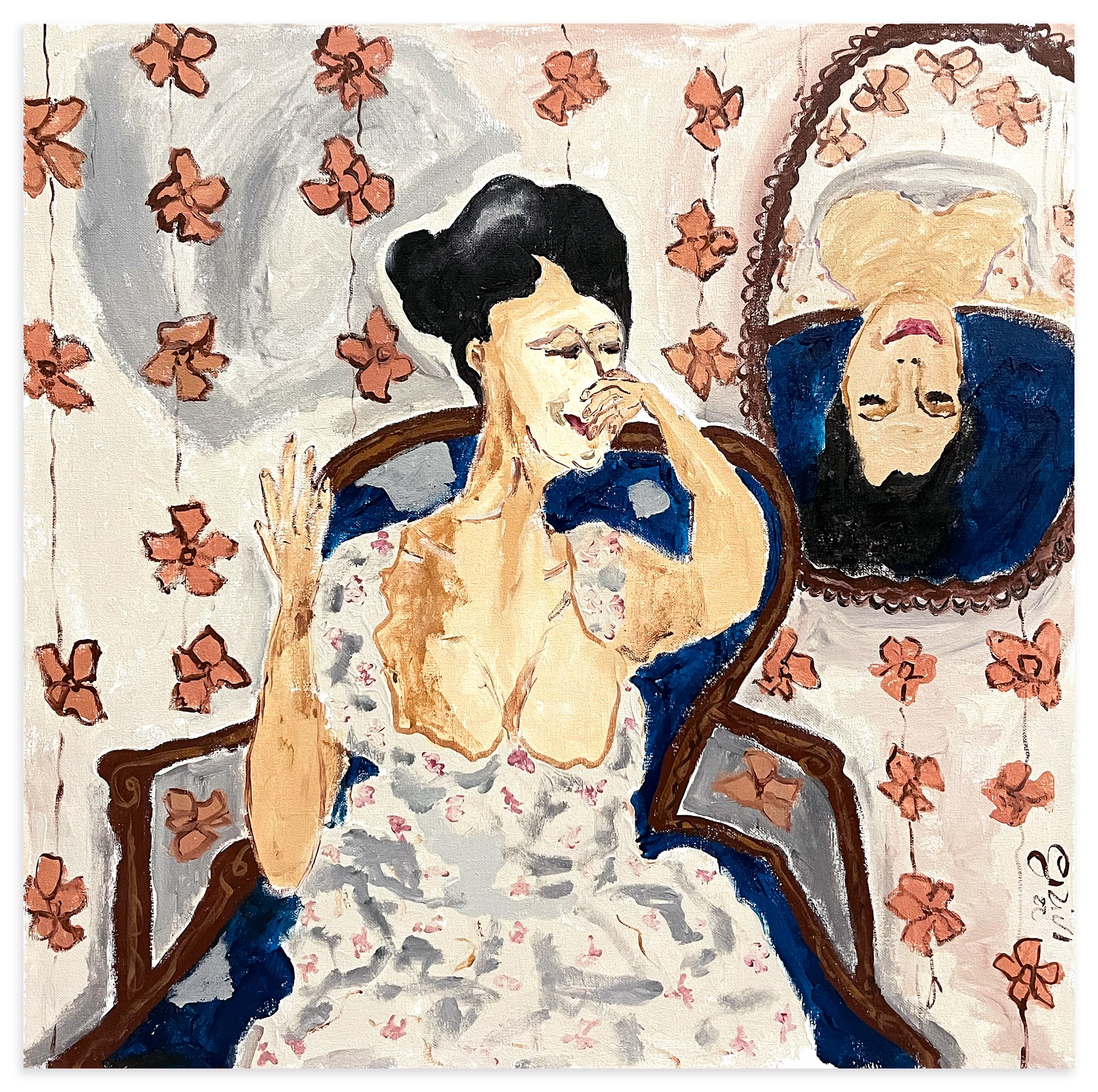 Vera Girivi: Intimate Silence | Julien Saudubray: Voir Double
734 East 3rd Street, Los Angeles, CA 90013
Dec 10, 5 PM - 8 PM — ends Feb 04, 2023
Anna Zorina Gallery is pleased to announce Intimate Silence, a solo exhibition of reflective paintings by Italian artist Vera Girivi. This is the artist's West Coast debut and inaugural show with the gallery. Intimate Silence brings together works Girivi produced over the past few years when the world faced periods of uncertainty, introspection, and, ultimately, a new normality. Richly detailed and boldly rendered, the paintings offer glimpses into the private worlds of women relaxing in their tranquil interiors.

Girivi is a self-taught artist and began painting over six years ago in her home in Genoa, Italy. Drawing inspiration from her own lived experiences and imagination, she celebrates women of various ages and silhouettes. Her canvas' expressive colors and energetic strokes belie the quiet, contemplative moments of often solitary figures tenderly captured by her brush. Whether reclining in a sitting room or admiring a reflection, these women each have personal stories, beliefs, and depths of emotions that are not only complex and significant but also universally relatable.

Girivi carries on the Fauvist traditions through her vivid palette and assured lines. As an admirer of Chagall and Matisse, she studies their formal techniques but recontextualizes them in a style all her own. Her flattened picture planes are teeming with resplendent decor and reflective surfaces, many of which are found in and around her house. The patterns, furniture, and adornments surround the women as though protecting them in a warm cocoon, a feeling that Girivi relishes in her own handsomely decorated home. She is drawn to these spaces, both literally and mentally, to not only focus on the self and disregard distractions from the world but also offer moments of pure intimate silence.

Vera Girivi (b. 1961, Salento, Italy) lives and works in Genoa, Italy. As a self-trained artist, Girivi began painting within the last decade and has already exhibited internationally in New York, Marfa and Paris. Solo exhibitions include At the garden's edge, James Barron Art, South Kent, CT (2022); Vera Girivi: Tomorrow the birds will sing, Marfa Invitational, Marfa, TX (2021); and Vera Girivi, Sargent's Daughters, New York (2021). Her works have been included in select group exhibitions such as Uncanny Interiors, Nicola Vassell Gallery, New York (2022); To Be Human: The Figure in Self-Taught Art, Hirschl & Adler, New York (2021); and Sexual Personae, Hôtel Drouot, Paris (2020). Girivi's paintings are held in both private museums and foundation collections in Italy, Germany, and the United States. She has been featured in The New York Times, New York Magazine, and Le Figaro. As an homage to her family, Girivi paints under a pseudonym that combines the names of her children and husband: 'GI' for Giovanna, her daughter, 'RI' for Riccardo, her son, and 'VI' for Vittorio, her husband.

__

Anna Zorina Gallery is pleased to announce Julien Saudubray's solo exhibition, VOIR DOUBLE (SEEING DOUBLE). This marks the artist's US solo debut and inaugural show with the gallery. In his latest paintings, Saudubray interrogates the process of image-making and deepens his exploration of gesture, abstraction, and the surrendering of self to the works.

Saudubray's decade-long career began with painting, but he soon ventured into other visual disciplines including installation and performance. It was only recently that he returned to his oil and brush, feeling inspired to approach the canvas afresh without preconceptions or his past inclinations. Saudubray explains, "I wanted to paint as if I were completely new to it, and at the time this seemed the only genuine way to me." This artistic choice to surrender his learned habits for the wonder of discovering a new pictorial language underpins these most recent bodies of work.

Replete with sweeping, undulating shapes and warm, bright colors, Saudubray's canvases become sites of material and formal experimentation. The process of paring down compositions and working in pure abstract forms are the results of his ongoing interests in alchemy and the infinite possibilities of the medium. He mixes oil and turpentine to create thin washes of color that are alternated with gesso producing an unexpected gossamer effect over the surface. By allowing the interactions of pigments, solvents, and cotton canvas be his guide, he relies on chemistry and intuition to see what new revelations appear. The results on display are canvases that slowly come to life emanating and pulsating from within, as though the biomorphic forms are breathing through their diaphanous layers of color.

In a further attempt to paint anew, Saudubray adopts an almost mechanical discipline to his execution. Likening himself to a machine, he methodically sweeps the brush from left to right in constant motion across the canvas until he loses himself in the gesture, meditating on the action of applying, erasing, and applying again. He describes the process as thus, "What interests me the most is this movement…to sufficiently repeat a gesture for it to lose all intentionality. I repeat this gesture until something comes out of it…I would like the forms to impose themselves on me…until the painting, so to speak, begins to paint itself." These latest works from the Watching, Growing, and Study series are evidence that Saudubray is the consummate explorer, continually searching for new encounters and uncovering untold possibilities.

The exhibition also celebrates the launch of Saudubray's first monograph WATCHING, published by Snoeck Publishers, graphic design by Bureau Wolewinski with contributions by Claire Leblanc, director of Musée d'Ixelles, and Louma Salamé, director of Boghossian Foundation. The publication is done in partnership with Waldburger Wouters, Brussels and Ketabi Projects, Paris. The artist will be attendance with signed copies of the book available.

JULIEN SAUDUBRAY (b. 1985, Paris, France) lives and works in Brussels, Belgium. He obtained his degree from the Ecole Nationale Supérieure des Beaux Arts de Paris in 2012 and has since exhibited widely throughout Belgium, France, and Germany. Selected solo exhibitions include Lazy Eye, Ketabi Bourdet Contemporary, Paris, France (2022); Dear Tcherenkov, Waldburger Wouters, Brussels, Belgium (2021); and Format allemand, Westwerk, Fugitif, Leipzig, Germany (2017). Saudubray's works have been included in numerous group shows, including Third Person, Whitehouse Gallery, Lovenjoel (2022); Le miroir de Claude, with Thomas Depas, MAAC, Brussels (2021); Julian Saudubray/Anastasia Bay, Thunder Cage, Aubervilliers (2020); Stuttering at night, Greylight Project, Brussels (2018); and NO COMMENT, Palais de Tokyo, Paris (2016) to name a few. He has attended a number of residencies including the CAB Foundation and Boghossian Foundation, both in Brussels, and PASSAGE residency in Bergerac. He has been honored with the Wallonia-Brussels Federation Prize as part of the Prix Médiatine in 2020 and the Watch This Space biennial prize awarded by 50° nord in 2016.