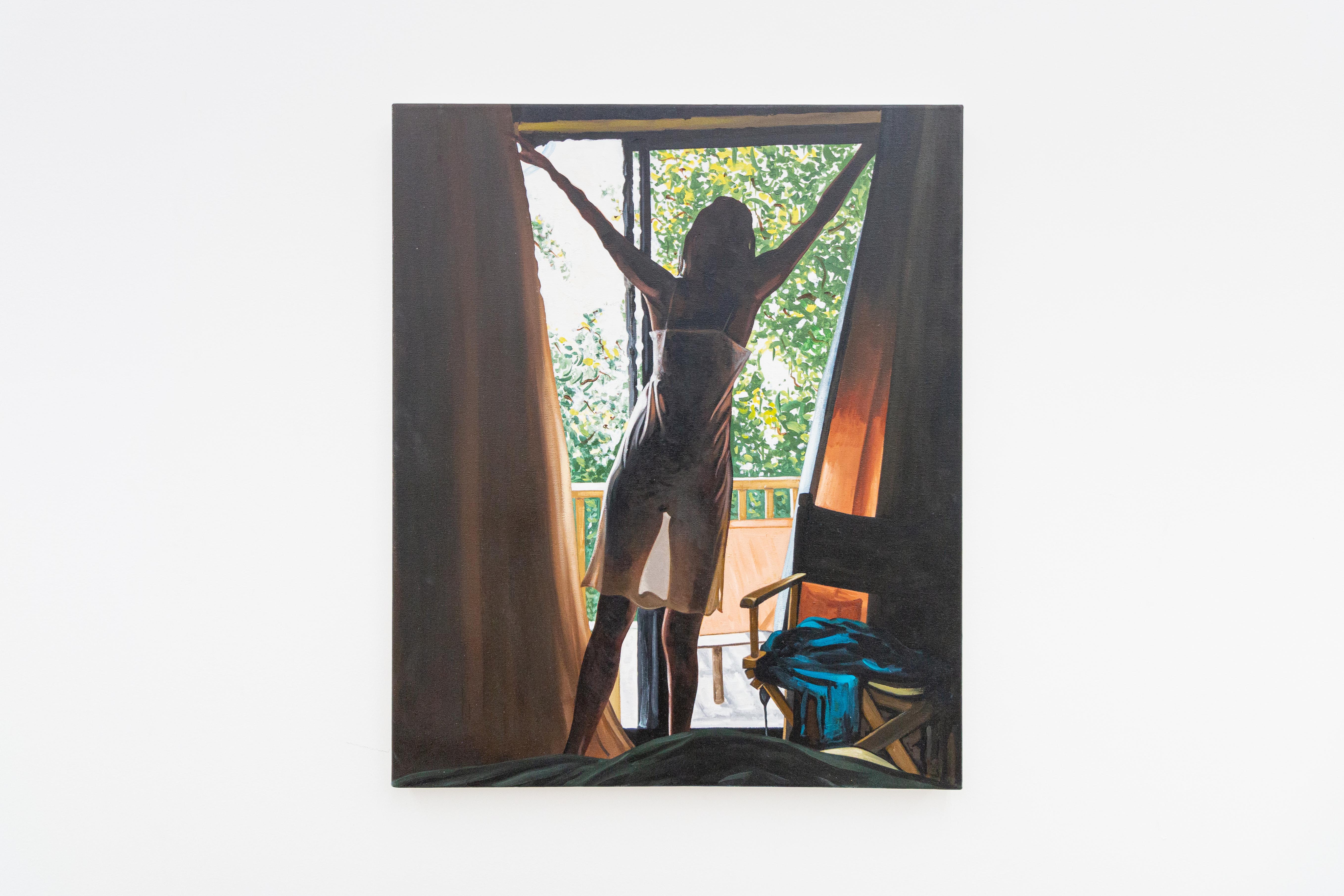 Brad Phillips: I Know What I Did Last Summer | Koen van den Broek: The Coin Toss
3311 East Pico Blvd, Los Angeles, CA
Jan 07, 4 PM - 8 PM — ends Feb 25, 2023
Brad Phillips: I Know What I Did Last Summer

de boer (Los Angeles) is pleased to announce a solo exhibition by Brad Phillips. In his second exhibition with de boer, Phillips presents figurative paintings that depict fragments of actual and imagined moments, where narrative oscillates in and out of reality.

Often depicting artist Cristine Brache, Phillips' exercise is complex; it's complicated, yet effortless and beautiful. In one painting, a scarfed female figure gazes upwards with the Hollywood sign with its reflection on her glasses. In another painting, a knife dangles downward as it hangs from a roll of toilet paper. Another painting depicts an arm smashing through a door that is casually unlocking the door from the other side.

Pop culture, Hollywood icons, and lesser known deep cuts permeate into each picture. Be it the Warner Brothers logo, or the famous director Brian De Palma being referenced in the title of a particularly ominous painting of a couture shoe being used as a doorstop, Phillips' has an uncanny ability to create pictures that reject labels such as 'auto-fiction' and 'psychological figuration'. Phillips remains steadfast in his humor, earnest sentiment, and misdirection.

Brad Phillips (b. 1974) lives and works in New York & Toronto. Phillips is best known for his work around addiction, mental illness, and the more obscure aspects of human sexuality. He has had solo exhibitions at de boer, Los Angeles; the Shed, Hamptons, NY; James Fuentes LLC, New York; Harper's, New York; Allen & Eldridge, New York; CSA Space, Vancouver, BC; Wallspace, New York; Groeflin Maag Galerie, Zurich, Switzerland; Rod Bianco Gallery, Oslo, Norway; and Andrew Kreps Gallery, New York, among others. Two-person exhibitions include Anat Egbi, Los Angeles (with Cristine Brache), and Working Title, Toronto, ON (with Sojourner Truth Parsons). His work has been included in group exhibitions at Nino Mier Gallery, Los Angeles; The Lodge, Los Angeles; Galerie Sebastien Bertrand, Geneva; Signs & Symbols, New York; Jessica Bradley, Toronto; The Hole, New York; M + B, Los Angeles; Galerie de l'UQAM, Montreal. Phillips' first book of short stories, "Essays and Fictions," was published in 2019 by Tyrant Books. New York magazine recently called it one of the most important books of the decade. Writing about Phillips and his work has appeared in various publications, including Autre Magazine, New York Times Magazine, Purple Fashion Magazine, Mousse, Art Forum, Modern Painters, Hyperallergic, Whitehot Magazine, Frieze Magazine, Bordercrossings, The Art Newspaper, and Canadian Art.

----------------------------------------------------------
Koen van den Broek: The Coin Toss

de boer (Los Angeles) is pleased to announce a solo exhibition by Belgium based painter Koen van den Broek. New oil paintings play out a disruptive narrative that accentuate structural character and deliberate marking of carefully framed locations.

Informed by a recent trip to Death Valley, the new works in this exhibition balance a sense of familiarity within gestural mark making. While van den Broek does not consider his work to be within the lines of abstraction, his often close-up and ostensibly out-of-context works can appear as such. As van den Broek states, "Everything I do comes from the world. It's not something I make up, it comes from details I see that I digest and re-work." The title of the exhibition "The Coin Toss," leads viewers to consider the chance encounters in life that can take them down different roads.

With a process that begins with looking at the ground, van den Broek photographs architectural elements; cracks in pavement, curbs, roads, and parts of buildings and architectural debris that make up the modern landscape. With roadscape vantage points, the edges of desolate buildings, crackling roads, and forlorn tractors in the desert the exhibition lends itself to ideas about the passing of time, generational change, and the violence within humanity who claim these spaces.

Forthcoming Monograph
In 2023, a 600 page monograph titled "Out of Place" of van den Broeks paintings will be published by Mer Books which will include a major essay by art historian John C. Welchman. The launch of the monograph will inaugurate exhibitions at KunstMuseum Magdeburg (Germany), and Ludwig Museum Koblenz (Germany) over the next two years. John C. Welchman is Professor of Modern Art History in the Visual Arts Department at the University of California, San Diego. He is the editor of Minor Histories: Statements, Conversations, Proposals, a collection of writings by the artist Mike Kelley (MIT Press).
About Koen van den Broek

Koen van den Broek's paintings (b. 1973) explore subtle abstract forms embedded in the urban landscape. His work was presented at the 2015 and 2017 Venice Biennales, and in 2008 he collaborated with John Baldessari on a body of work exhibited at the Bonnefanten, Maastricht, and Galerie Greta Meert, Brussels. Van den Broek received his bachelor's degree in architecture before studying painting at the Royal Academy of Fine Arts Antwerp, the St. Joost School of Art & Design in Breda, the Netherlands, and the Higher Institute of Fine Arts in Flanders, Antwerp. Architecture serves as the primary source of inspiration for Van den Broek. Painting from photographs of cracks in the sidewalk, shadows of buildings and bridges, highway overpasses, and stone curbs taken on his travels in Asia and the United States, he reduces these man-made architectural forms to their essential geometry. Devoid of figures, his canvases nonetheless imply the presence of human intervention.

Works by Koen van den Broek are part of major public collections, including the LACMA, Los Angeles; SMAK, Ghent; M HKA, Antwerp; Busan Museum of Art, Busan; San Francisco Museum of Modern Art; Astrup Fearnley Museet, Oslo; Staatliche Kunsthalle, Karlsruhe, and Museum Dhondt-Dhaenens, Deurle. His work has been presented at the Venice Biennial (2015 & 2017); White Cube, London; Kunstmuseum, Bonn; Royal Museum of Fine Arts of Antwerp and Brussels; Seoul Arts Centre, Seoul; Kunsthalle, Mannheim; Royal Academy, London; MAS, Antwerp, and Kunsthal, Rotterdam; His work can also be found in numerous public spaces in Belgium, such as the Hofkamer, Antwerp; 't Zilte, MAS, Antwerp; AZSM Hospital, Mechelen, and the Provinciehuis, Hasselt.