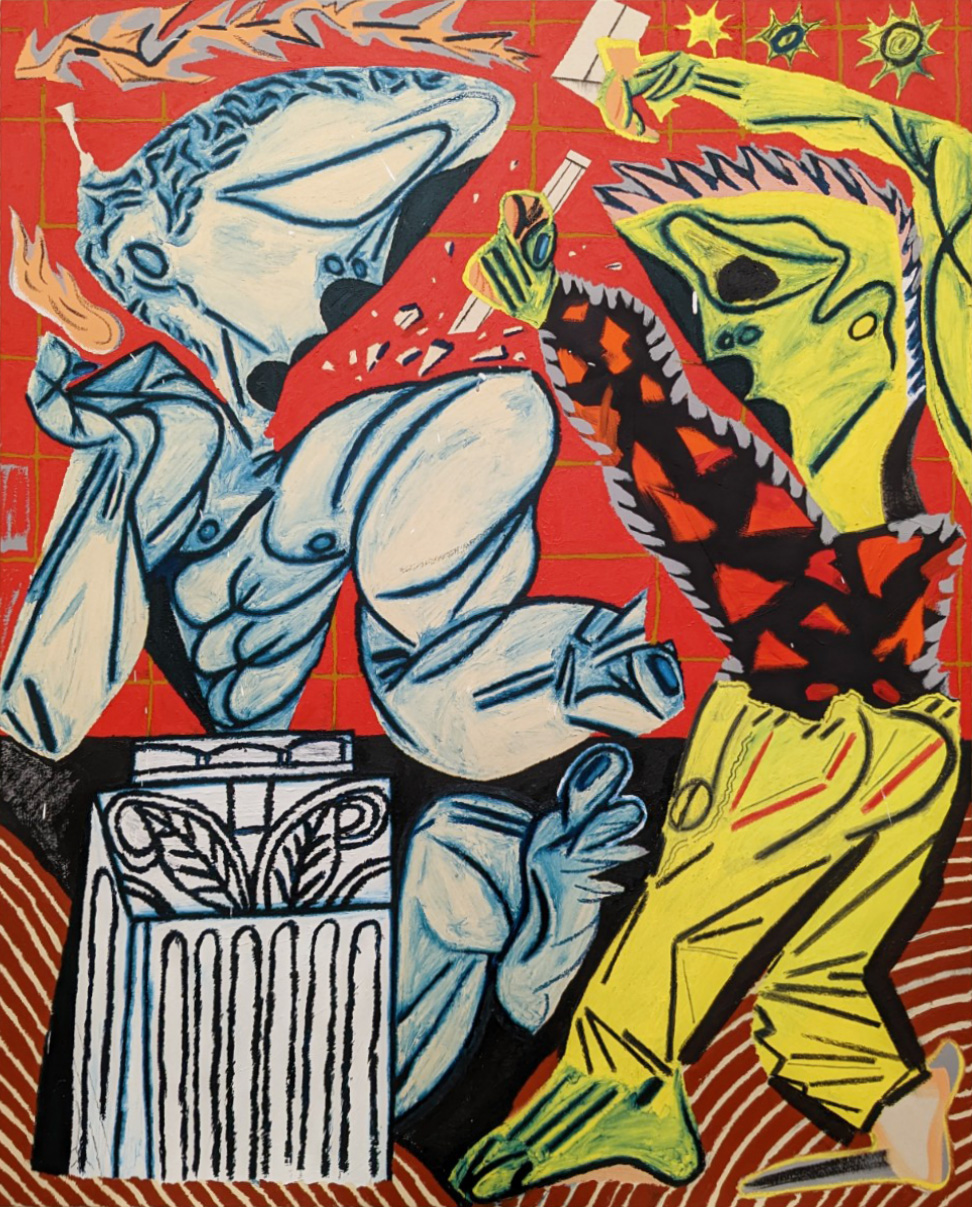 Shohei Takasai | Adam Linn: Edge Crush
6830 Santa Monica Blvd. Los Angeles, CA 90038
Jan 14, 11 AM - 8 PM — ends Feb 11, 2023
Steve Turner is pleased to present Hybrids, a solo exhibition of new paintings by Shohei Takasai. In combining disparate imagery, Takasaki thinks of his studio as a laboratory in which he experiments with different mixtures of words, images, colors and compositions. He describes his paintings as something in between two extremes, just as a child is something in between their two parents. They are a reconciliation of muscle and mind with his process encompassing much personal reflection. A good day in the studio will yield both a good painting and some self awareness.

Shohei Takasaki (born 1979, Saitama, Japan), is a self-taught artist who grew up in Japan before moving to Portland and later Sydney, where he now lives. He has had solo exhibitions at Common Gallery, Tokyo (2018 & 2022); Nadif a/p/a/r/t, Tokyo (2021); Nationale, Portland (2018) and Upfor Gallery, Portland (2017). This is his first exhibition at Steve Turner, Los Angeles.

__

Steve Turner is pleased to present Edge Crush, a solo exhibition by New York-based Adam Linn featuring new paintings that depict stretched, twisted, condensed and collapsed domestic spaces. The edges of his paintings serve to confine the image within, undermining the common notion that there is a world of implied imagery beyond the perimeter of a canvas. Linn reveals and conceals, giving objects anthropomorphic traits that get intertwined with the main figure so as to blur the distinction between the animate and inanimate and to make the main figure almost indiscernible. Like a warm taffy pull, locks, keys and zippers stretch into impossible articulations that defy their conventional material constraints and entirely lack straight lines. According to Linn, his distorted compositions aim to disrupt the heteronormative assumptions aligned with the idea of home.

Adam Linn (born 1995, Pittsburgh) earned a BFA in Printmaking from the Rhode Island School of Design (2017) and has completed residencies at the Vermont Studio Center; Anderson Ranch Arts Center, Snowmass Village, Colorado and the Distillery Program at the Brewhouse Association in Pittsburgh. His work has been included in group exhibitions at Steve Turner, Los Angeles; Ortega y Gasset Projects, New York; Martha's Contemporary, Austin; Eve Leibe, London and JPS, Hong Kong. He is currently pursuing his MFA in painting and drawing from SUNY Purchase.