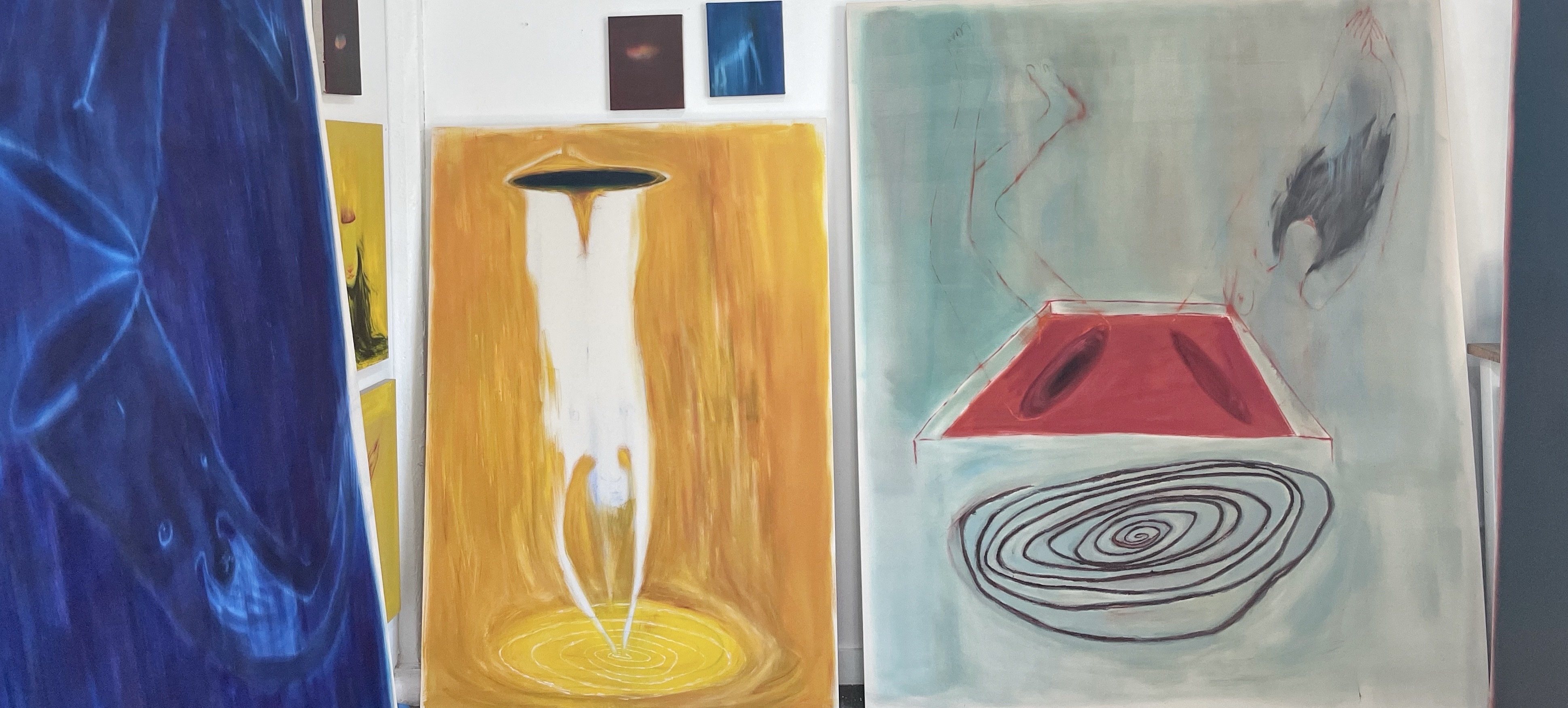 Amorelle Jacox: An Infinite Sunder
5225 Hollywood Boulevard Los Angeles CA 90027
Jan 13, 5 PM - 8 PM — ends Feb 11, 2023
Lauren Powell Projects is pleased to present An Infinite Sunder, a debut solo exhibition from New York-based artist Amorelle Jacox, on view from January 13 – February 11, 2023. The exhibition features a new body of work, drawing viewers into an open-ended portal where space, object, and body are inseparable. Within the gallery's sliver of Hollywood Boulevard, Jacox's iterative figure dives, splits, and morphs—a metaphor for the artist's fluid approach to making as much as the experience of scaling our bodies to the external world.
In Jacox's works, the painted mark that is the descent of a paintbrush that is the fall of the artist's arm visibly coalesce into a series of enveloping paintings, where fall, flux, and severance are proposed modes of movement through the world.

A single figure transverses Jacox's atmosphere, leaving one painting only to emerge into another. Neither landscape nor portraiture, Jacox's visual lexicon is derived from the language of poetry as much as scientific phenomena. Her works question the limitations of physics and the physical, whether blackhole or stomach—entangling their elliptic forms to create a distinct pictorial language wholly Jacox's own. Severed torsos are offered as portals, welding metaphysical concepts such as time and knowledge into a single plane.

In Jacox's canvases, layers of Gamsol-saturated oil pigment are slowly applied over time, with traces of early layers, referred to by the artist as "early time," left untouched. Echoed by the march of a clock, beating inside the foot of a sculpture entitled Time Throat, time is a central tenet of Jacox's practice. Explored as negative space or a transfinite container, bands of color that appear on the right edge of her canvases suggest the edge of time.
Working before a large window in her Brooklyn studio, Jacox's paintings are composed in direct collaboration with light. As viewers move in the gallery before her paintings, here lit by Los Angeles' sun, iridescent hues cut in and out of view. The artist's application of paint is embedded with the ever changing light native to the studio space in which they were made—most evident in a visible light spectrum in the bottom left corner of Dawn Diver.
Jacox's slippery spaces oscillate between bodies of water, sky, and cosmos by suspending color within unencumbered edges of raw canvas—a nod to their objecthood. Potent shades of cobalt and crimson reverberate through the gallery. Jacox's color fields, however, diverge from the legacy of Abstract Expressionist painters such as Mark Rothko by grounding her canvases in the physical world. Where color and structure were entangled for Rothko, Jacox feeds her figure with colors of the spaces they inhabit, suggesting a color field comprised of matter. Jacox's speckled constellation of pigment in Black Hole and Stomach is a decoction of atoms; the textured swirls in Infinite Flail are a vortex of molecules. Jacox's ellipses are guttural, recognizable as flesh.
Amorelle Jacox is an American artist, born in Oklahoma, raised in Ohio, and currently based in Brooklyn, New York. She recently received her MFA from Hunter College.