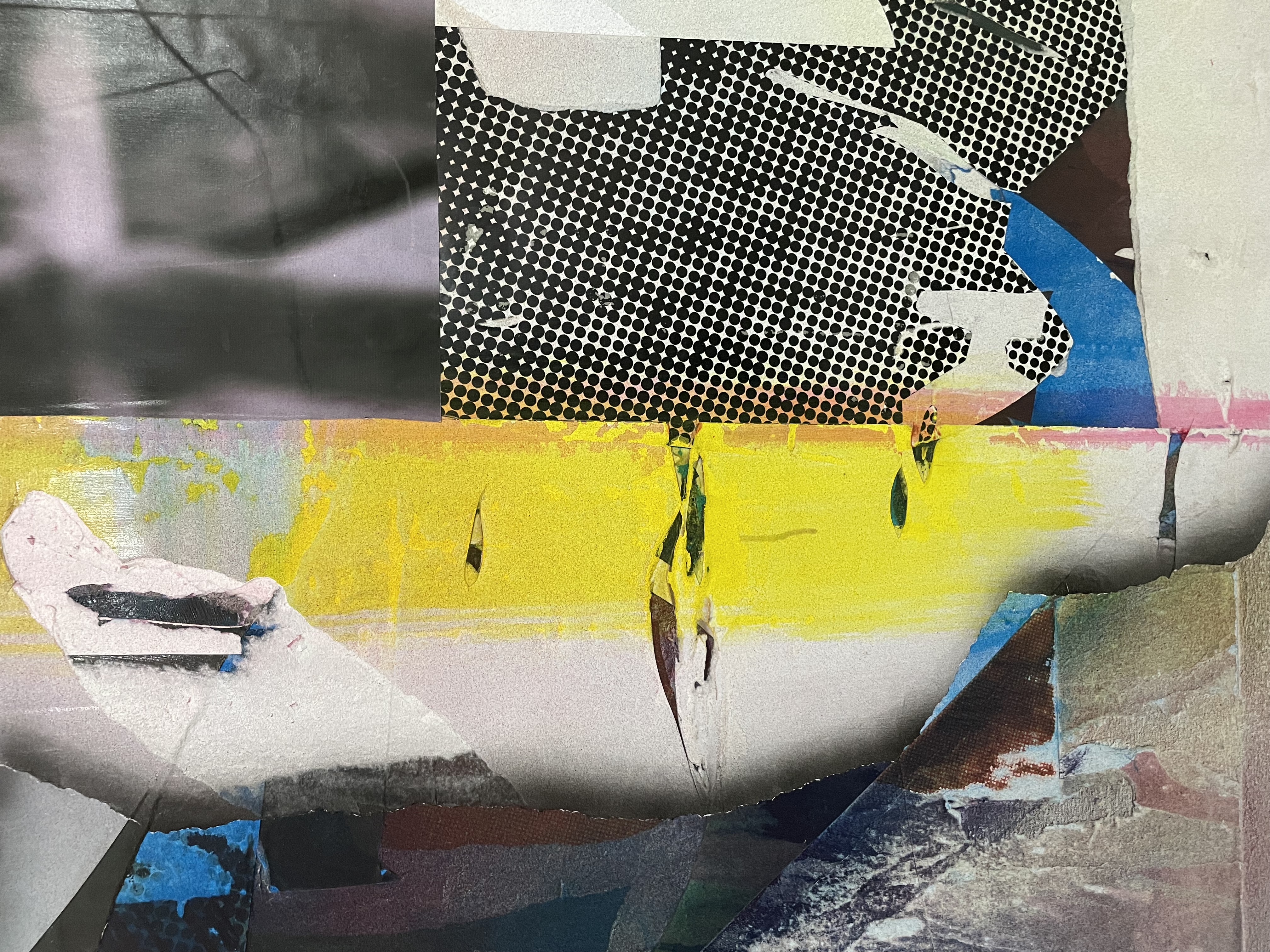 Jackson Hunt
1718 Albion Street Los Angeles, CA 90031
Jan 14, 6 PM - 9 PM — ends Feb 18, 2023
The overlay of familial oral histories, cultural refusal, urban contemporary life, and ghostly presence mark Photo Realism, a solo exhibition by Jackson Hunt.

A descendent of the Klamath Tribes and Cherokee Nation*, Hunt weaves facture and collage, alluding to representational painting techniques and tromp l'oeil through process-based abstraction to create his new body of work.

Contained within the abstraction is a very real snapshot Hunt took of his grandmother's desk in her living room painting studio. It frames her black-and-white reference photo of cowgirls raising their hats, a newspaper, a tissue box, and the artist's own hand.
Through shifts in scale, digital manipulation and material disintegration, the work suggests the limits and expanses of photographic representation, the photo as an object, and how when broken down to its component parts, perception abstracts. It is
in this way that Photo Realism can be read through the lens of Indigenous relationships to documented histories, portraiture, and representation in media and popular culture while squarely situating itself within the ever-expanding field of painting. The paintings represent an unending practice of self-discovery through
material experimentation. As he stands beside the viewer at the threshold of his presented world, Hunt challenges the very notion of legibility.

A sense of shapeshifting finds a natural expression in Hunt's mercurial use of paint and printer, a chance-based representation of the inseparable past and present, as experienced by the technologized mind. The paintings are produced through an
additive and subtractive process, responding to the paper as it wrinkles, bubbles and tears. Paint is layered in thin translucent sprays which build to a kaleidoscopic palette.

Tears become gestural mark-making, indexing the artist's body within the work. The source image expands and contracts, entering into and out of focus and is interrupted by fissures and screens.

Hunt doesn't just ask what is possible to understand, but rather what multitudes are contained within the interdimensional tears and folds of human experience. It is not what is depicted, but how. In his sophisticated use of layers and limited palette of cyan, magenta and yellow accented with black and white, Hunt actively creates a fresh
vernacular, building meaning from strips of paper, pulpy texture, and exorcized iconography. Photo Realism boldly suggests that Indigenous art is not limited to familiar iconography but also a space for Indigenous futurity that extends in all directions past the perceptual limitations of representation, the archive, and the
photograph.

*The artist is a descendant of The Klamath Tribes and Cherokee Nation. His mother and grandmother are enrolled Klamath tribal members. Hunt traces his own Oregon heritage to the Klamath Tribes (located in Southern Oregon) which include the Klamath,
Modoc and Yahooskin. Additionally, Hunt's great-grandmother was Cherokee from Adair, Oklahoma.

Jackson Hunt has recently exhibited work at SOIL Art, Seattle, WA, TSA LA, Los Angeles, CA, CAC Gallery, University of California, Irvine, CA, and the New Wight Gallery, University of California, Los Angeles, CA among others. Hunt received an MFA from the University of California, Irvine and a BFA from Pratt Institute. Hunt currently lives and works in Los Angeles, traditional Tongva land.