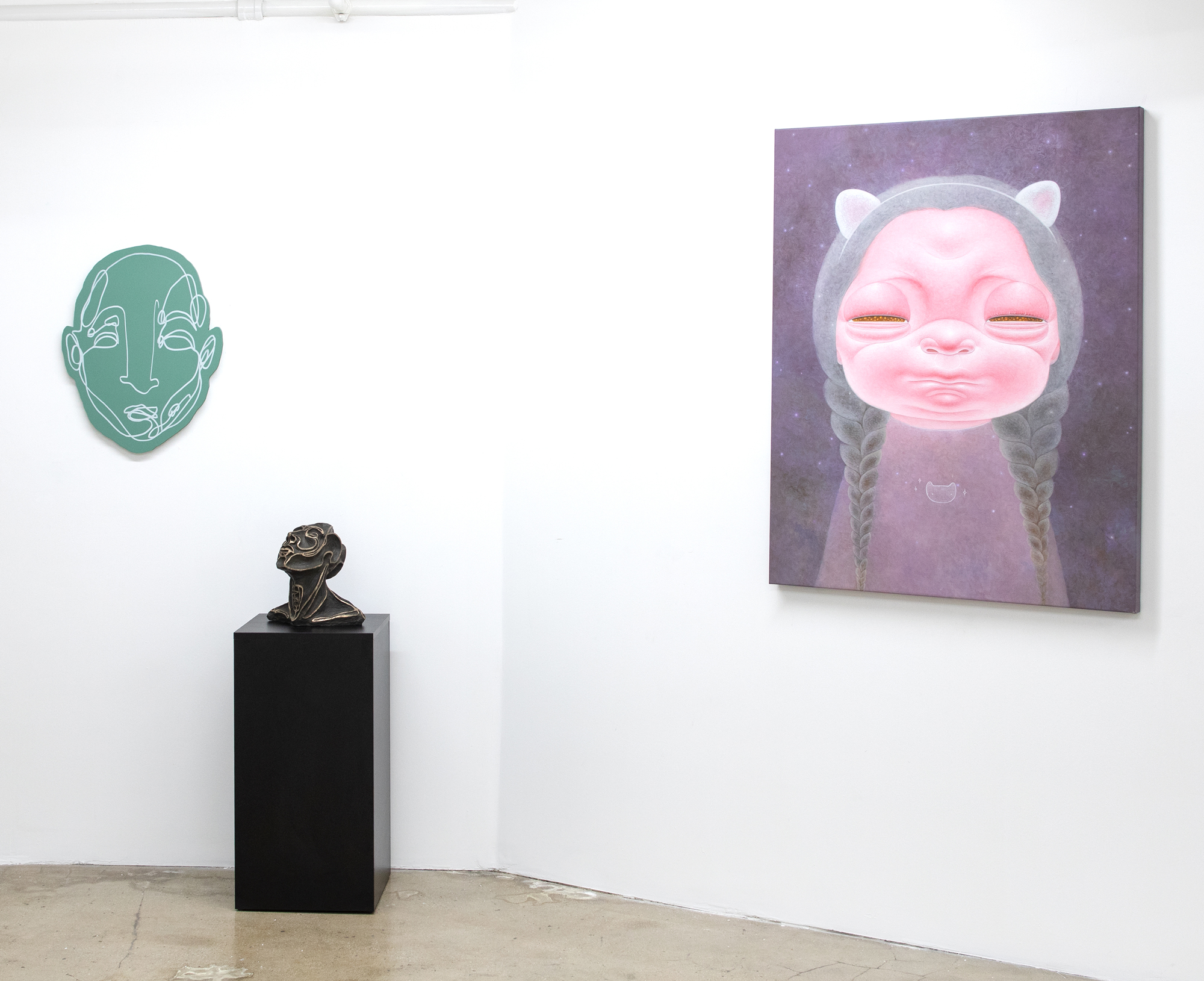 Crossing: Side A
807 S. Los Angeles Street. Los Angeles, CA 90014
Jan 14, 5 PM - 8 PM — ends Feb 04, 2023
2022 has been an incredible year for us. Let's start 2023 with our biggest group show ever. 45 artists in collaboration with City of Talents and our French friend Jean Claude Geraud. "Crossing" will open its doors on January 14th, 5-8 pm in both galleries. Can't wait to show you what we have planned for this new year.

Crossing is a group show highlighting the mix of styles that our market meets nowadays. Crossing is also a meeting between different countries. This lineup features various artworks by international artists from Africa to Asia, Europe, and America. We will be able to see different skills and mediums in our artists' societies. This exhibition combines several different painting techniques, such as abstract, surrealism, naive, and figurative painting, all of which pay homage to the action of painting in general.

"In my role as a curator, I also make an effort to exhibit the artists I admire and find inspiring. This explains why the lineup is so eclectic. All of the artists complement each other, even if they come from different universes, which is why I believe it is so important in life to create something unique and to take risks."

Crossing will take place in two different locations in Los Angeles, in the two galleries owned by owner Dimitri Lorin. This group show will be a mini-adventure in which collectors will need to travel to a different location to understand the theme of our show

Downtown LA Side A

Noritoshi Mitsuuchi was born in Osaka, Japan, in 1978. There are many things that Noritoshi finds delightful in modern Manga, Western classical cartoons, Japanese cartoons, and ancient Asian arts including Choju-Giga Minga and folk art. He has been inspired by many of them. He creates art that stimulates the viewer's memory and imagination by focusing on the beauty that may be subtle, yet surely exists in the vast history of art. In addition to the aforementioned...He finds that the unfinished, comical, disposed and worn-out objects can be very appealing to me. His creations are inspired by personal experiences that have touched him deeply. He is influenced by multiple perspectives and proudly refers to them as Kawaiism (Cutism).

Samuel Sowatey was born in Ghana, in 1997. Sowatey is from La Accra Ghana and has been painting for the last 10 years. Whilst at school, he faced many challenges in trying to find the right materials and tools to work with and had to create these for himself. Sowatey creates mystical flowing lines, using tools such as a comb, to create fluidity and movement in his work. He works the comb into the oil, creating mesmerizing lines that highlight the clothing and face. The portraits capture the viewer in a deep gaze where one is lost within the lines. More recently, Sowatey has incorporated African broomsticks that are made from palm trees into his body of works. Sowatey is inspired by black identity, the strength of black skin, and who they are as individuals, he states 'We are all one people, but different colors.'

Austyn Taylor was born in New York, United State in 1984. Somewhere between "hype" and "hope" exists a cast of characters -animals -all of whom have been with Austyn throughout her life. The light of their poses is a colorful one, reflecting an outlook on being that is both optimistic and realistic. Self-aware shadows cast an outline of total assurance. Their dynamic emotions project a certain carnal freedom, fixated on the present moment, providing a welcome respite from our human perception of time.

Isshaq Ismail was born in 1989, Accra, Ghana. He Lives and works in Accra, Ghana. Isshaq vibrant, bold, and colorful paintings of Isshaq Ismail explore and investigates how the social, cultural, and political aspects of the modern world impact identity. Ismail paints faces and figures in impasto, typically depicting them with accentuated grotesque features and using black, brown, Blue, Purple, Green, Ochre, and Red hues. His portraits also reflect his interest in themes such as desire, resilience, power, Joy, and hope; they tell stories and universal truths about societies around the world. Ismail studied at the Ghanatta College of Arts and Design, he lives and works in Accra, Ghana.

Fandi Angga Saputra was born in 1996. he lives and works in Yogyakarta, Indonesia. The surrealist paintings of Fandi are deeply inspired by his childhood memories, where he lived around nature. Nowadays, activities like exploring the environment, walking on the grass under shady trees, and recognizing various plants and animals are hard to do. As time goes by, increasing industrial development, lack of green space, modern life, and destruction of nature made those memories fade. Fandi is fascinated by the beauty of the natural world. Fandi likes to observe his surroundings; the people, the plants, and the animals, then transform them into various unique objects or figures to create harmony in his painting.

Angling is an Indonesian visual artist that specializes in surrealistic paintings. His art is frequently described as a modern synthesis of surrealism, anime, and manga. Angling has a passion for the spiritual concept of the inner child, which inspires his work. His creations bring the unconscious to life. Due to their innocence and kindness, children are frequently the focal point. How we respond to events in our lives is shaped by the inner child growing inside of us. An emotion could range between grief, rage, perplexity, or joy. Artists like Yoshitomo Nara, Liu Ye, and Ray Caesar served as his inspiration as well.

Han Ji Min was born in Seoul, Korea. She graduated with a Master of fine arts in painting from Hongik University, Seoul, Korea. Han Ji-min's work is far from the intensity and splendor that captivates the viewer at a glance. The public can naturally wonder at the charm of her work, and look at it for a while. Her work is like a continuous movement to stimulate the viewer's imagination. Those paintings are like long breaths that allow the public to slowly observes the postures, nonverbal elements, and even unconscious actions or parts of the characters. For the most part, the figures are back-to-back so that the observer can comfortably view them. Additionally, some of the objects she draws are persons that she might have run into in her daily life. In truth, to achieve anonymity in portrait paintings, you can utilize techniques like distortion or blindfolding the shape of the face, but they can arouse negative emotions in the viewer's subconscious. Han Ji Min's character is made more anonymous by the subtle pictures that the artist has patiently tapped into the painting by focusing on her body language rather than the other person's face and speech.

Now based in southern France, Ces McCully is a contemporary Australian artist, whose work is collected and shown internationally. Her work moves between text pieces that utilize chance in color relationships, and abstract, geometric paintings which often have a meditative effect; both sharing autobiographical elements with a reflection on society, and a minimal approach. She recently participated in several shows in Miami, London, France and Taiwan.

Hyung Seok was born in 1985 in Seoul, Korea, and received BFA from Chelsea College of Art in 2011. He is interested in storytelling his own experience with the distorted memory and some portion of humor. These highly personal narratives which have distinct identities can be seen differently by viewers' own experiences. The mixtures of his daily life, that range from fairy tale books of his daughter to pop culture, and new angles on old memories of particular events are the main parts of his inspirations. Talking to children is always giving them new perspectives on the subject.

Yusuff Aina Abogunde is a Lagos-based multidisciplinary artist born in the Aguda-Surulere area of Lagos, Nigeria in 1997. He uses his body of work, Eniyan, as a medium to represent humans and to show different parts of us, the delicate state of the human mind, our emotions, our experiences, and how we counter various mental health issues. He is currently exploring in this work the mental process of decision-making and how it affects actions through the project "Escape Room." It is an interactive project as he engages people in questions that concern their mental health, human psychology, and emotions. His idea of "Ainaism" is the use of patterns and lines with the Eniyan concept to explore the journey of human beings. His creative process is guided by the question: "How do experiences shape or influence our minds?" And how can we bridge empiricism, idealism, creativity, and psychology? The materials that influence his works are animations, fantasy materials, metaphysics, nature, artificial structures, conversations, and experiences. He is currently working with painting, digital art, and sculptural installation.

Aleksander Ana was born in 1992, She is a Serbian contemporary artist and designer. She studied graphic design at the Faculty of Applied Arts, University of Arts in Belgrade. With her art she strives to evoke emotions in everyday situations, and create a dreamlike atmosphere in ordinary settings. The focus of her paintings is usually put on representing the melancholy of the characters. Starting her career, she worked in advertising, creating advertisements, books, and brand identities, which led her to develop her brand and apparel. ALEKSOVANA's work has been featured internationally, such as at Galerie Le Monde in Tokyo, and Gallery Jo Yana in Marseille. She participated in the One PieceBUSTERCALL project, which held exhibitions in Shanghai, Los Angeles and Yokohama.

Kenki Tsujimoto was born in1989, NAGASAKI, JAPAN. He is a Japan-based Japanese painter whose work is largely influenced by his slightly younger twin brother. He is a mostly self-taught artist. Having briefly attended a local painting school instead of a traditional university, he began to work independently while honing his painting skills on his terms. His work often combines traditional Japanese materials with contemporary acrylic and oil painting techniques and has won several awards within Japan. He made a new body of work created around a theme of "trajectories", the movement and influence of various things over time. Reflecting on several old texts such as collections of Japanese literature and poems, Kenki Tsujimuto contemplates the thoughts, feelings, and words of people who lived more than a thousand years ago. He intertwines figures, symbols, and objects together with fantastic and dreamlike spaces delicately and timelessly. Using natural minerals and pigments that are as timeless as the imagery into which they are blended and layered, He hopes the viewer to contemplate their own "trajectory" as it is relative to the natural world and what we share with those who came before us.

Eglusha also known as Egle Simkute was born in Lithuania and living in the south of France. His artwork aims to capture the essence of the life deposit that runs through my body. His work is interdisciplinary, Eglusha uses photography and pencil drawing in my research. Art, for Eglusha, is a daily practice that is not limited to the studio. The research and the observation of the world hold a central place in my approach. Like an alchemist, Eglusha looks for materials, textures, and colors that seem complementary to what surrounds me. The search for fusion or alchemy is done in nature as well as in the traces left by humans in our streets. To experience a new form of beauty moves me, to find emotion in troubled alchemies, and to highlight what is neglected. Pure emotion is expressed on canvas or paper, thanks to the colors that vibrate and respond to each other. This one is disarticulated in lines and forms to create a melody marked by beauty and poetic imagination. The work of the clay is realized after gestation, it is the synthesis of the research. Spontaneous, free, and open practice is important to achieve a sincere result. Thus my anxieties and my fears freeze in inert forms deprived of the power of action. The viewer is invited to enter an intimate world through which he/she feels a certain sense of appeasement and softness. Negative emotions are reinterpreted and a poetic vision of the world is offered to them.

Popay was born in 1971 in Barcelona as the son of an architect. He currently lives and works in Paris. Growing up in Paris and he started drawing comics at a very young age before transposing his art onto the streets in 1986 and discovering the art of graffiti writing with KISTER in 1987. Through what he has once called "the art school of the streets", he first developed different lettering including dripping, melting, unifying forms, and figurative elements, like big human heads and weird characters. In his studio, he was sketching and drawing. He learned how to paint on paper and canvas using pen, ink, pencil, spray can, airbrush, and acrylic paint. While continuing to paint, he increasingly began to receive commissions for illustrations. His research of artistic expression guided him to produce digital painting as well, wanting to print unlimited editions of images accessible to everyone. His artwork is diverse, generous, dense, and intense. Despite an elaborated painting technique, his work stays spontaneous and emotional, the gesture being essential to the artist. The artist mixes realism and fantasy and creates disorienting, chaotic scenes, with narrative to be read and many details to be discovered in most of his works. His universe invites us into an organic jungle of colors and biomorphic volumes, populated by strange creatures, mostly stemming from dark fairy tales. His human, big-headed figures with small limbs are expressive and disturbing. His imagination scenes are disconcerting, placing the life of the physical as well as the social body in the focus of his work. The painter is using dark and accented rings, creating sculptural volumes in a range of dense and powerful colors - dominated by blue, green, red, orange, and purple -, and his scenes end up in luxuriant, seemingly screaming combinations. POPAY's scenes are challenging for the viewer, the mind needing some time to decode the sense of the pictures to discover all the elements and decrypt every detail.

Ju Schnee's art is a dialogue between an abstract painted world and a physical object. A balance of imagination, manifestation, and reaction. From the abstract painting to the manifested sculpture, to the reaction via augmented reality and the return to the digital world. Ju studied Information Design (BA) and Communication Design (MA) in her hometown Graz. Since 2020 she has had her studio in Berlin Mitte and since 2022 she is also located in Vienna, Austria, where she works as an independent artist. She has been exhibiting internationally in Germany, South Korea, Switzerland, Spain, France, and Belgium and this exhibition will be the first one in the US. Ju Schnee is one of the first female artists to combine Augmented Reality with oil paintings and has been experimenting with different media for several years now, combining traditional paintings and sculptures with NFTs, AR, and AI.

Lori Marsala is a young artist living and working in the south of France. She studied graphic design and Fine Art for seven years before she was frequently exposed to several "artist-run spaces" and french art centers. Her last exhibition was a collective one and took place at Lieu-Commun, in Toulouse, France. On this occasion, she showed her ongoing work through three big colorful, and abstract paintings including a short-lived one. Collecting and working on photographs of the city walls, she's interested in traces of time and graffiti and the way they are covered up or how they disappear. Keeping in mind these images, she creates her abstract paintings on unusual supports like tarps or survival blankets for example. Therefore the notions of incarnations, ghosts, and collections are her actual sources of inspiration to create mental images with spray, acrylic paint, or Chinese ink. This show is her first exhibition in the United States.

Feebee was born and raised in Japan. When she was a child, she grew up in the countryside – a place filled with the splendor of nature. Influenced by anime and manga, she taught herself how to draw. She began creating artwork using Adobe Illustrator in 2002 when she first started using a computer. After posting her art on the web, she started to receive offers of work, and thus began her career as an illustrator. Subsequently, Feebee has published 2 collections of my artwork. Throughout 10 year's career, her thinking towards art shifted to have a more conceptual focus, and this shift changed my style as well. her present style incorporates the traditional Gongbi style of Chinese painting which she had previously studied. She includes philosophical elements and metaphors in my artwork. By incorporating various elements which transcend time and place, she can express the relationships and connections among the era, society, and the world in which we reside.

Two Front Teeth is a visual artist from Las Piñas, Philippines. She graduated from Mapua Institute of Technology with a degree in BS Multimedia Arts & Sciences (MAS) majoring in Graphic Design. Her works revolve around her main character – Deer Boy, an anthropomorphic deer who wanders on his journey and encounters peculiar friends along the way. Her artworks are mainly focused on pop surrealism inspired by pop culture, 90s anime, music, toys, and everyday scenarios rooted in her childhood. She usually uses allegories, fables, parables, and children's folktales to create narratives that evoke nostalgia for past experiences.

Jade Kim was born in 1981, in Korea. She is a visual artist working with paintings and sculptures to create his character "MIN", an animated version of his wife. His wife's personality and characteristics inspire his works. He also portrays the rapid change of the world we live in and how it sometimes gets out of control. Dreamy eyes, child-like features, and innocent traits characterize MIN. She is often portrayed as a protective and loving character. A peaceful ambiance overshadows Kim's paintings aiming to find common ground with the viewer to sympathize.

Adam Handler was born in Queens New York in 1986 and grew up on Long Island. As a young child and adolescent, he spent countless hours at his grandparent's framing factory in New York City. There, his passion for the arts grew and it became inevitable that he too would discover the many possibilities of art. Handler studied Life Drawing in Italy and went on to graduate from Purchase College with a major in Art History. He has also studied craft design with Jorge Nieves and printing color photography with Debra Mesa-Pelly. Handler has mounted major solo exhibitions globally. His work has also been shown extensively at major art fairs which include, Art New York, Art Taipei, Art021, DNA Shenzhen, Spring/Break Art Fair, and the Armory Fair. In addition, Handler's work has been included in numerous collective exhibitions throughout the United States, Canada, the Middle East, Asia, and Europe.

Geoffrey Bouillot is a french-born artist in Chalon-sur-Saône, Geoffrey Bouillot currently lives and works in Japan. His work is informed by these two cultures and examines a unique dynamic of pop art, cubism, and Italian futurism. Bouillot is adept at portraiture, still life, and interiors. Bouillot's work typifies contemporary art culture. It is clean, fresh, and chic. His monochromatic designs burgeon an eclectic blend of minimalism and the ethereal. The cultural influences include remnants of Manga, with subjects and composition meticulously separated with clean lines and play on light, achieving harmony and balance between the artist's other influential styles; cubism and pop art. The mastery in conjoining such diverse genres is an accomplishment, particularly considering this is achieved using only monochrome hues. It has been said of his work, "Composed of metallic-like stacking cylindrical and spherical forms, each character morphs nostalgic cartoons into unfamiliar forms, speaking to a collision of culture – from the ancient to the deep future."

Ms.Dyu is a contemporary oil painter currently living and working in Dubai. She began painting as a teenager and perfected her craft by graduating from art school, as well as while earning a BFA in design and an interdisciplinary MLA. Her paintings are characterized by colossal cartoonish figures of people crowded into the picture frame, as if they do not have enough space. Large naked bodies, usually without obvious signs of gender, hint at a conflict between the individual and society. Despite the lack of any clothing, the giantesses do not express any sexuality. The characters of the paintings often are in seaside landscapes. The characters rise above the palm trees and birds, which are somewhere at the very bottom of the picture. The characters are placed at the height of marshmallow clouds, emphasizing the importance of the individual and the inner state. The giantesses look at us from the paintings with their hair covering their faces and sharp geometric eyelids, like shutters, opening emotional eyes to us. Ms.Dyu often brings the simplest situations to a grotesque comic, absurdity, to see the situation in different colors. Her goal is that the viewer of her provocative work will accept them with a smile and enjoy the ironic presentation of our society.

AYI Mensah borns 1986 in Accra-Ghana. He Lives and works in Accra Ghana. He is a self-taught visual artist whose work explores the intersection between figuration and abstraction. Mensah uses photographs of everyday people, and magazines as source material and infuses his intuition, self-perception, and imagination into the construction of his paintings. He actively commingles both figurative and abstract strategies within his works resulting in the creation of odd figures or odd figurations, forms, and compositions that have been his signature style.