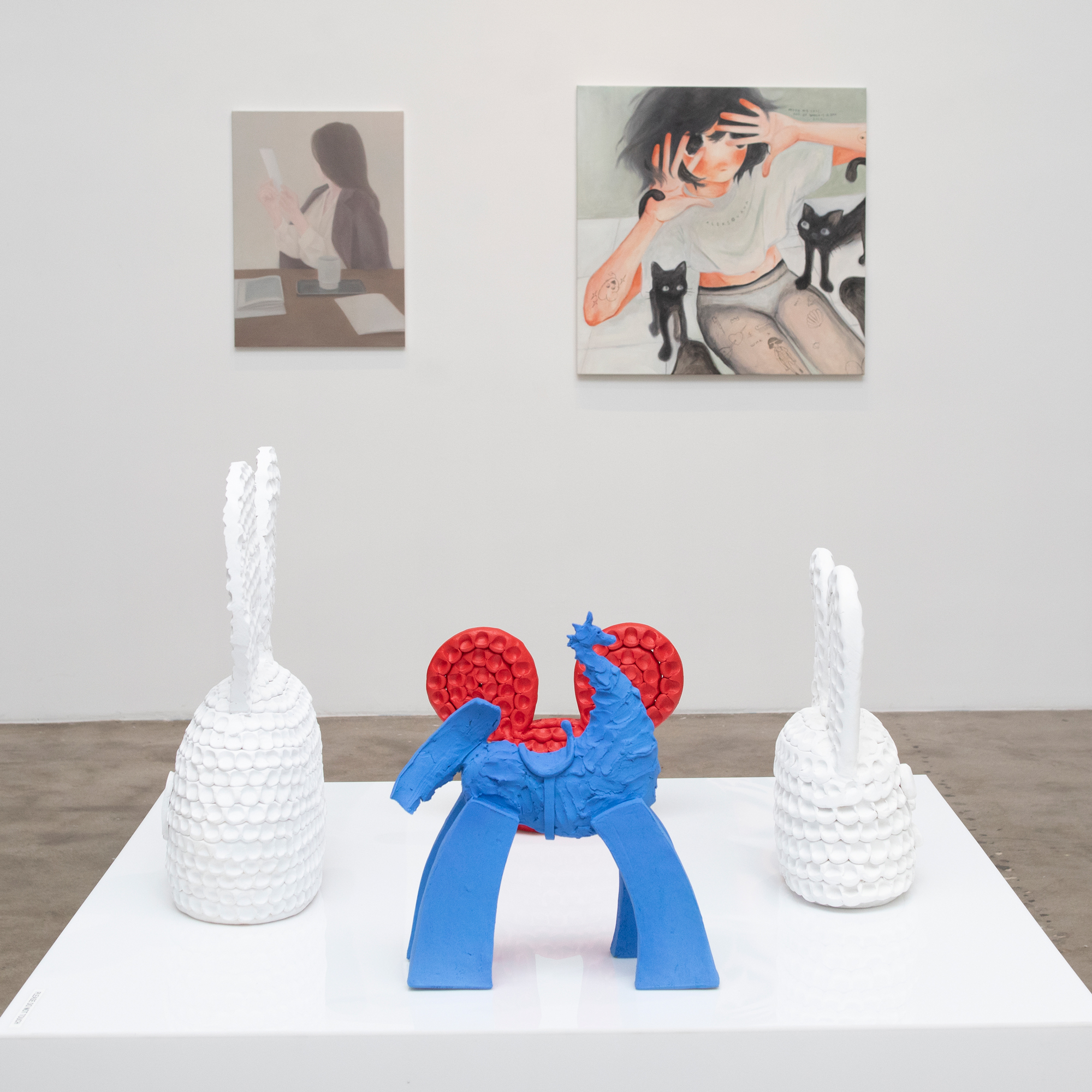 Crossing: Side B
607 N La Brea Ave Los Angeles, CA 90036
Jan 14, 5 PM - 8 PM — ends Feb 04, 2023
2022 has been an incredible year for us. Let's start 2023 with our biggest group show ever. 45 artists in collaboration with City of Talents and our French friend Jean Claude Geraud. "Crossing" will open its doors on January 14th, 5-8 pm in both galleries. Can't wait to show you what we have planned for this new year.

Crossing is a group show highlighting the mix of styles that our market meets nowadays. Crossing is also a meeting between different countries. This lineup features various artworks by international artists from Africa to Asia, Europe, and America. We will be able to see different skills and mediums in our artists' societies. This exhibition combines several different painting techniques, such as abstract, surrealism, naive, and figurative painting, all of which pay homage to the action of painting in general.

"In my role as a curator, I also make an effort to exhibit the artists I admire and find inspiring. This explains why the lineup is so eclectic. All of the artists complement each other, even if they come from different universes, which is why I believe it is so important in life to create something unique and to take risks."

Crossing will take place in two different locations in Los Angeles, in the two galleries owned by owner Dimitri Lorin. This group show will be a mini-adventure in which collectors will need to travel to a different location to understand the theme of our show

La Brea Side B

En Iwamura was born in Kyoto, Japan, in 1988. He currently lives and works in Shiga, Japan. He was raised in a creative environment thanks to the influence of both of his parents, who are artists. He developed an interest in the global art scene after earning a BFA and MFA in the craft at the Kanazawa College of Art and Craft. He continued his education by earning a second MFA in visual art and working as a ceramics teaching assistant at Clemson University in South Carolina, USA. According to him, ceramic has the potential to be one of the universal languages that can be used by people from many cultures and nations. He took part in the Japan Residency 2019–2020 Shigaraki Ceramic Cultural Park.

Bibi Lei is a Portuguese-Chinese artist working in Tokyo who was born in Macau in 1985. Lei's passion for painting and motherhood reveals itself in finger-painted masterpieces that depict blissful freedom. She describes herself as a childish soul that never ages. Her vivacious young girl superheroes bring an innocent dreaminess, love, and hope that epitomizes Bibi Lei's art as they explore, dance, and float through the wondrous worlds of her imagination. Her creations conjure up a captivating world of color and sensation while intuitively seeing a world of innocence and wonder. Her most recent group exhibitions include "Initiation" at the Popi Gallery in Brussels and "Current Era Perspective" in Shanghai. She also took part in shows at Guy Hepner Editions in New York, Contemporary Tokyo Gallery (Beijing), and Ginza Collector's Club.

Taher Jaoui works and lives in Madrid, Spain. Creating captivating and labor-intensive work with the idea of continuing the legacy of the abstract expressionism movement from the 50s and 60s, Taher Jaoui's paintings are rich assemblages of layered forms, vibrant colors, expressive gestures, and mathematics signs and formulas. Applied on canvas through a dynamic interaction, a physical back-and-forth dialogue in which perspective and orientation continuously change until all the elements are balanced right, these opulent creations are the artist's way of expressing himself. Through a series of spontaneous movements, directly inspired by the way canvas responds to layers of paint and gestures applied to it, Jaoui compares his work to a dance routine with a familiar partner. And while impulsive and unconstrained at its core, familiarity with materials is essential for the creative process that strongly depends on the ability to respond quickly and foresee the way the elements will work together. As of today, he is represented by Galerie Saltiel (Paris, Aix-en-Provence), Corridor Contemporary (Tel Aviv/Philadelphia), REDSEA Gallery (Singapore), Jason Shin Gallery (Seoul), The LT Gallery (Beirut) and Srisasanti Syndicate (Yogyakarta). He recently participated in Freeze.art, Shanghai, China, November 202, Art Central HK, May 2022, and Art Jakarta, August 2022.

Visual artist Olasunkanmi Akomolehin was born in Nigeria. This is where he currently resides and works. He grew up learning how to transform emotions and thoughts into what is apparent, including deep soul pictures. His ability as an artist has been boosted by the expertise and individualized guidance he has received from seniors and coworkers. He received his National Diploma from Rufus Giwa Polytechnic in Owo and his Higher National Diploma in Painting from the renowned Yaba College of Technology in Lagos, Nigeria. He considered that while painting is a meditation, photography is an immediate reaction, therefore he spent most of his time producing his paintings. His artwork is inspired by human emotions, their past, present, and outlook on the future; painting has a life of its own that results from these inspirations. Every painting is a journey in itself; his early love of art served as the foundation for his high degree of creativity. According to him, art is a reflection of emotion and life as well as a means for soul liberation. He conveys himself through the Realism style, portraying the reality hidden beneath the façade with his amazing skills and experiences. Olasunkanmi has done work for a lot of different companies. He has also taken part in a lot of shows, such as The Crucible Art Collective at Connecticut Street Buffalo, New York, Icandrawafrican, Affinity Gallery, Black Wall Street Gallery, and many others. Through his paintings, he hopes to encourage optimism in all men, regardless of race or location.

Kojiro Matsumoto grew up in the Sendai-shi district of Miyagi Prefecture. He currently resides and works in Tokyo where he was born. He received his master's degree from Tama University of Arts' Graduate School of Fine Arts. Matsumoto, whose works frequently portray little girls and creatures depicted in Yonen manga (children's cartoon) style. He blends traditional Japanese painting techniques and composition with his aesthetic philosophy. With the help of graphical techniques frequently employed for Tobira-e (frontispiece) in manga comics, he creates his very own characteristic art style. He recently participated in a solo show You Know You're Right Contemporary Tokyo, Japan, and a group show CHRONICLES VOL 5 Gallery Droste, Germany.

KAI is an artist who paints monsters that appear between black and white. She purposefully hides her profile in the public realm so that she is known solely for her identity as an artist. As such, the viewers will not be distracted by any associated text or premise when they approach her works. Kai refuses to have her works hijacked by over-interpretation or over-flooding texts. She began painting on her own at the end of 2021, making her debut at a group exhibition in Dubai in February 2022, followed by her first solo exhibition in London in June. Since then, she has participated in art fairs and exhibitions in Tokyo, Seoul, Beijing, Shanghai, Taiwan, and other Asian countries. She plans to hold group and solo exhibitions in Madrid, New York, Los Angeles, Seoul, Paris, Hong Kong, London, Dubai, and other cities around the world.

Dimitrios Tade was born in Greece and currently resides and works in Athens. The characters in his fictional realm are the main subject of his works. Tade brings to life legendary figures straight out of an intergalactic computer game. Some of these heroes soar around on their wings, while others ride mythological creatures into battle. New layers of depth and texture are added by using the raw canvas technique with acrylic, oil, and spray paint.

Blic was born in the Philippines in 1985. He is a full-time visual artist and mural artist. He is also a member of Street Art Collectives named Cavity Collective and Pilipinas Street Plan. In Blic's works, human hands have always been the core element of his paintings, directly replacing the faces of the characters in his paintings. Human emotional expressions are no longer limited to the face, but through the extension and bending of the hands, and the interaction with others which graft the functions of conveying emotions and transferring images. They formed a sense of haziness that is beyond expression. It also highlighted the interests of the elements and cleverly combined human bodies with organs. The places in his works are often arranged in public daily street scenes or daily necessities, allowing the meaning of the works jump into a deeper surreal meaning. His painting style is unrestrained, but his use of color and composition is calm and well-knit. The introverted and reserved style brings the body's gratitude into his works and the streets, as he said:" Blic comes from the word public that also conveys that I am part of the public."

Clémentine Bal is a sculptor born in Paris in 1979 and who lives in France. She graduated from the School of Fine Arts in Annecy. In her work, she creates characters that reflect her inner world. They can come from feelings, memories, and projections. They take the form of multicolored mountains or volcanoes, semi-human creatures, and little hybrid ghosts. With their simple, clean lines, it's as if they justcame out of a drawing. Clémentine Bal maintains the strong ties she keeps with childhood, giving her characters a sometimes disconcerting naivety. Influenced by the worlds of Mark Ryden or Hayao Miyazaki, she will also draw her inspiration from her memories of reading or cartoons from her youth. Family, children, friendship, animals, and more generally the strong bonds that give us emotions are themes that she likes to address. Thus are born a variety of characters gently. Their lightness protects us like an antidote to the sound and fury of the world.

Born in the Bronx, New York, Scott Daniel Ellison explains, "I like awkward, uncomfortable images." Creatures grin and grimace and a hand emerge from a mysterious hole in the wall. Pop cultural vignettes from horror films, heavy metal imagery, and Scandinavian mythology are all important references in Ellison's paintings, which straddle the ancient past and recent memories. Ellison was one of the artists featured in the recent 2021 "Portrait of an Artist" Curated by Hedi Slimane for Celine and has exhibited at galleries throughout New York, including ClampArt, and further afield.

Arturo Correa was born in Valencia, Venezuela, in 1967 to parents who were medical professionals. Their debates about how decisions affect health and human behavior influenced him to make art that would offer a different way to view the world after moving to the United States at age 21 to study art. Correa earned a Master's in studio art from New York University, NY. His early paintings were influenced by his Venezuelan heritage and pre-Columbian culture, which revolved around home, family, religion, and the land. As an American-based, Venezuelan-born artist, Correa traveled often between these countries and began to think about the cultural differences and connections both countries share. He remains committed to exploring in his artwork what he experiences in life. Chaos, myth, injustice, and memory are entangled and intertwined. We can often see his fascination with uniforms in his paintings. In particular, figures clothed in religious garments or military gear in the stylized Latin folk art tradition. After moving back to the United States his young son quickly became immersed in American life. This inspired Correa to include motifs from today's youth culture. Childhood toys, superhero cartoons, and video game characters swiftly became inspirational themes. "My current work, Twisted Vines, is based on the Enredaderas series from 2005. Then, they were abstracted by entangled branches, vines, and mangrove roots. Bold colors, solid backgrounds, precise brush strokes, and a graphic style contrast with the expressionistic, painterly approach from the earlier series."

Cotoh Tsumi is a Japanese artist. He based his artistic style on blending the boundary between illustrations (especially digital works) and contemporary artworks. Cotoh has succeeded in producing contemporary artworks with unique interpretations of mass-consumed illustrations and their printing techniques. Cotoh's works include silkscreen, giclee prints, ukiyo-e woodblock prints, and hand paintings, all of which are unique (except for ukiyo-e woodblock prints). By deliberately limiting artwork creation to using techniques based on mass consumption, he seeks to bring a breath of fresh air to the Japanese context in which these artworks have been generally evaluated as commercial products. With no particular style in terms of design or method of output, Cotoh's work is constantly being updated. Cotoh is a contemporary artist who continues to challenge an approach that is distinctly different from the artists who depict urban female characters of today. Cotoh participated in 2022 To Break In Emergency (4BYSIX / London, UK) and 2021 to Analog (Gallery Jo Yana - Marseille, France)

Yokoteen is a Japanese self-taught oil painter. He was born in Sakaide City, Japan, and started Oil Painting in 2010. The "Friends In Paradise" series has been in production since 2015. Through this artwork, Yokoteen explores many messages such as freedom, peace, cooperation, and diversity. In recent years, he has been working on wave works and would like to express the power and transparency of the sea. When you hear the word oil painting, many people may feel a heavy, dark image, but he hopes you can feel the oil painting more closely with the blue color nuances. Recently Yokoteen participated in many group exhibitions in Taiwan, Tokyo, Paris, New York, Brussels, and Korea. He is currently working on a Solo exhibition in Shanghai.

Yohta Matsuoka is a painter and an artist. Yohta began his art career in 2004 through live painting, exploring the street culture scene of Japan. Applying abstract expression composed of painting patterns to wall paintings, Yohta has left large-scale mural paintings in various places in Japan and overseas with his dynamic and highly flexible paintings as JON JON GREEN. Since 2021, Yohta has been producing what are known as "still life paintings," in which he arranges everyday things on monochromatic canvases. Yohta considers whether objects can become something different from their original form by cleverly putting motifs. In the past year, he participated in many solo and group exhibitions in Japan, Spain, and Taiwan.

Martin Tardy is an Austrian-French artist who was born in Vienna in 1992. This is where he currently lives and works. His artistic style is especially characterized by figural works, which consist largely of one line or which he sometimes also draws asynchronously with both hands. Starting from simple drawings with ink and paper, he now paints his bodies and forms on glass, PVC, stone, mirrors, etc. Through these new media, Martin Tardy plays with the depth of space and breaks out of his two-dimensional work. Since his exhibition "Anthropos" he also presents sculptures made of bronze, and since mid-2020 he also works with aluminum. His latest artwork in this field is "The three graces", which he created during the pandemic. The intensive study of various anatomy books as well as the examination of different drawing techniques have also influenced

Martin Tardy's unmistakable style first originated in sketching and has consolidated over the years. The resulting dynamics were a challenge initially, but today it results in every new and existing drawing, the line stretches without stopping until the work is completed. Symbolically, the line also stands for continuous development and the path of life, which one follows every day with all its twists and turns.

MOTAS. An art unit formed in 2012, in Japan by BOYA and TOMO. Before their association, BOYA and TOMO practiced graffiti and tattooing for one, and animation and stop-motion films for the other. Both are two artists from different genres who have combined their unique perspectives on human emotions in their artwork. The singular style of MOTAS is the fruit of slow maturation. Heir to comics, cartoons, graphic design, and abstract painting, their universe draws on a wide range of inspirations. Their works, which are expressed by combining abstract designs, transcend narrative and time axis and evoke a mysterious warmth. In recent years, they have been expanding the scope of their creations by using the motif of a middle finger, called "BLEYE", to express the meaning of "no matter what the situation, there is always tomorrow, and we have to live while carrying something on our shoulders". They recently participated in shows in France, Japan, and Taiwan.

Raji Mohammed Babatunde born in 1986, in Nigeria is a figurative painter. In recent years he explored the realm of abstract paintings and has created a body of work fusing the traditional style he is well known for with the abstract. He graduated with a National Certificate in Education (NCE) in Fine and Applied Art in 2008 and a Bachelor of Science (Education) in Art Education in 2015. He then went on to join the A.S. Ebenezer Studio in Lagos where he undertook a two-year intensive internship program under the close supervision of master artist Ebenezer Akinola. He gained a lot of knowledge and learned techniques that influenced his art and determined the course of his career. He currently runs a private studio in Lagos where he mentors young artists. He also works as a visual arts teacher. Raji paints in different media such as oil, acrylic, charcoal, pastel, pen, and graphite. He is motivated by the works of great masters worldwide. He draws his inspiration from everyday activities and the experiences of people around him. He has participated in several group exhibitions and has four solo exhibitions to his credit. In 2019, his painting titled REFLECTION was selected among the 260-best works in the British Portrait Competition. His works are widely collected in Nigeria and abroad and he is currently represented by Bloom Art, Lagos.

Fleur Cozic is a French painter born in 1981. Nature, according to Fleur Cozic, has evolved into a physical and sensory extension of who we are. Her paintings' sepia tones occasionally transport us to another era. She defines her artwork as a landscape. Not a picture, a canvas, or a painting. A pure landscape, in which one enters entirely, first vision already far behind. Fleur Cozic is fascinated by ruins. We approach the paintings with the eyes of archaeologists, closely examining everything in our immediate environment as well as the artist's marks on the canvas. The pigment heaps, these fossilized shipwrecked elements, and so many details spiraling would transport the audience into the painting and make them forget where they are. She recently participated in a group show in Hangzhou, China.

Habeeb Andu's practice investigates the socio-political climate of his home country Nigeria and Africa at large. He was mentored by the late Nigerian artist Ben Osaghae, who influenced his practice as an abstract expressionist and mixed-media artist. Andu employs a variety of discarded materials in his interrogation of the lived experiences of Africans, particularly those living under the margins of society. He won the ArtXLagos Prize in 2017, which culminated in his first solo exhibition at the 2018 ArtXLagos Art Fair. In addition, Andu has taken part in numerous group exhibitions including Faces, Phases, Terra Kulture Gallery, Lagos (2015) and, Protest, AMG Projects, Lagos (2022). ''My inspiration started with drawing and painting during my childhood and developed into an intuitive yet naïve approach to artistic experimentation. I use form, color, and abstraction as a vehicle of mediation, about the plight of the average Nigerian, who constantly struggles to swim against the oppressive tide of the socio-political and economic climate. My practice addresses those in authority and their ineptitude. The uniqueness of my work is in the materials I use, which transform my ideas into an exploration of contemporary issues and events, employing a visuality that encompasses symbols, writings, discarded and recycled materials, and oftentimes a brightly painted canvas.''

Ha Haengeun was born in Jindo, South Korea in 1985. This is where she currently lives and works. After majoring in Western painting at Deokwon Arts High School, she went on to study art at Hongik University, where she took classes in Oriental painting, Oriental philosophy, Zen, and Indian mysticism. Ha draws based on what she sees in her reality, but freely travels through her time through her work. The complex stories of 'nature', 'human', 'art', and 'everyday life', derived from her curiosity and thoughts about the question 'Who am I?', appear on the canvas. The figures in her work reveal features of a baby, a girl, and an elderly woman at the same time and therefore the circle of life within one figure. The figure is far from the standard of beauty and is a free being at a certain boundary. And in one figure, the old is willing to give way to the new and coexist with each other. She has exhibited not only in Korea but also in Hong Kong, France, Austria, Germany, and Taiwan.

TILT was born in 1973. He currently lives and works in Toulouse (France). Like an urban landscape in constant movement, Tilt's work inventories the traces of a common experience, dispersed in time and space. Having started as a graffiti artist, he creates works where the boundaries between cities and landscapes merge into a gestural painting. Movement and matter come together in a philosophy of the trace of the steps of our collective memory. Relating to the mural writings of which he collects the images throughout his travels, he does not cease developing his creation by weaving links between urban and cultural territories. As a link between multiple worlds, the wall as a support and as a motif remains at the center of a pictorial
reflection wavering between abstraction and figuration. Tilt has notably exhibited at the Musée d'art contemporain Les Abattoirs in Toulouse and at the Musée Mohammed VI d'Art Moderne et Contemporain in Rabat. His works are part of the collections of the Mucem in Marseille, the Pera Museum in Istanbul, and the Montresso Foundation* in Marrakech. In 2018, he was the winner of the L'art est vivant - Promesses Prize, during the Art Paris fair at the Grand Palais.

The exhibition will run from January 14th to February 4th in both of our spaces Downtown LA and La Brea.