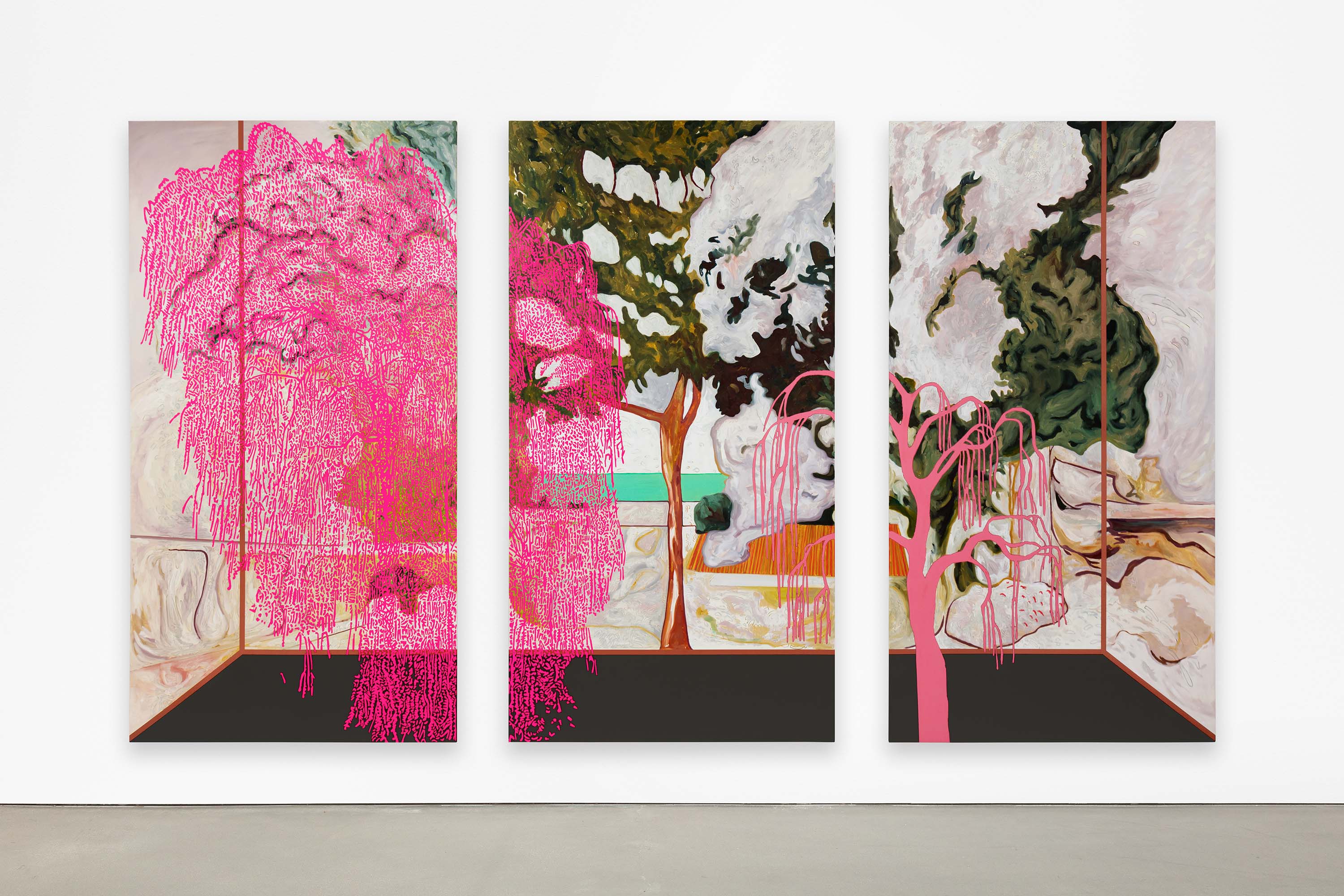 Whitney Bedford: Vedute | "It's Time" Group show
1700 S Santa Fe Ave #101, Los Angeles, CA 90021
Jan 14, 4 PM - 6 PM — ends Feb 25, 2023
Vielmetter Los Angeles is thrilled to announce Whitney Bedford: Vedute, the Los Angeles-based artist's seventh solo exhibition with the gallery. Continuing her exploration of the affective possibilities of historical landscapes, Vedute finds Bedford using scale and repetition to mine the experiential possibilities of painting the land in the twenty-first century. Two monumental paintings by Bonnard via Bedford are repeated four times each. Each repetition refers to a season or a time: Spring, Autumn; mid-morning, evening. The passage of time is reflected in a shifting palette, the compositions and confrontations between present and past in each work changed only in their color.
From a thicket of frenzied lines and a maelstrom of day-glo hues–as if she mixed her paints with irradiated waste, Bedford conjures haunting, post-pastoral landscapes. From this Chernobyl palette and these skittered marks emerges a lamentation on the loss of our earth, but also a calling out of the ancient pastoral tradition for perpetuating what was always a myth: that we, humans, have ever lived in anything like a balance or concordance with our surrounding world. It is only now, in the age of the Anthropocene, that this fallacy of balance is entirely shattered. Bedford's newest works wreak havoc on these historical
contradictions.
Bedford is an acid-rain romantic, only her landscapes are less odes than omens. The works remain romantic not because they idealize the earth but because they provoke the sublime--what matters is not each wasteland's beauty but its ability to terrify. Spiritual upheaval becomes ecological dread. Bedford paints the madness of the Age of humans, and madness is what she seeks to inspire.
With her helter-skelter Constables and gonzo Bonnards, Bedford critiques the greater landscape tradition while weaponizing it against our own impoverished reality. Each high-concept hallucination memorializes the parched and invalid land of our time. After all, what better way to satirize or own destruction than to grant it so much false nobility?
Whitney Bedford and Jori Finkel will be in conversation about Bedford's recent works at the gallery on Saturday, February 18, 2023.
Bedford received her MFA from the University of California, Los Angeles in 2003. She was the winner of the 2001 UCLA Hammer Museum Drawing Biennale and received a Fulbright Graduate Fellowship from Hochschule der Kuenste, Berlin in 1999. She has had solo exhibitions at Art:Concept, Paris, France; Carrie Secrist Gallery, Chicago, IL; D'Amelio Terras Gallery, New York; and Starkwhite, Auckland, New Zealand. She has been included in group exhibitions at the Pizzuti Collection, Columbus, OH; the Jewish Museum, New York; Massachussetts Museum of Contemporary Art, North Adams; and the Museum of Contemporary Art, Denver. Bedford's work is included in the Jumex Collection, Mexico City, Mexico; the De La Cruz Collection, Miami, Florida, USA; The Saatchi Collection, London, England; the Francois Pinault Collection, Paris, France; the Eric Decelle Collection, Brussels, Belgium; and the Collection Ginette Moulin/Guillaume Houze, Paris, France. Bedford is a painting instructor at both Chapman University and the University of California, Riverside.
The gallery is located at 1700 S Santa Fe Avenue, south of the 10 freeway. Parking is available on the south parking lot adjacent to the building. Gallery hours are Tuesday through Saturday from 10 am to 6 pm and by appointment. Please contact Olivia Gauthier,
olivia@vielmetter.com
for all press inquiries.
__
Several years ago my father said "The world needs to acknowledge the tremendous, artistic legacy of the people of Africa and its Diaspora. The unique and varied sense of freedom, design, color, detailed or abstracted, has given the world a new way of seeing and relating to life itself." "It's Time" is a thoughtfully curated, artistically masterful intergenerational expression of this proclamation.
- Kwame S. Brathwaite
Vielmetter Los Angeles is pleased to present "It's Time," an exhibition of works by Kwesi Botchway, Genevieve Gaignard, Rodney McMillan, Wangechi Mutu, and Paul Mpagi Sepuya in conversation with works by legendary New York-based photographer Kwame Brathwaite (b. 1938, Brooklyn NY). Anchored by Brathwaite's influential images, the exhibition creates a cross-generational dialogue that posits an exploration of the photographer's influence and the continuing investigation of portraiture and representation of the Black body by artists today.
The exhibition title, "It's Time," refers to the landmark 1962 album released by drummer Max Roach, featuring singer Abbey Lincoln. Composed of six songs in six meters, the album "It's Time" is in some sense a metaphorical parallel to the construction of the exhibition itself, with each artist finding their own "meter." "It's Time" also refers to the Civil Rights Movement, in which friends and peers from the Black Arts Movement Brathwaite, Roach, and Lincoln were all actively involved. Just as artist and media theorist Brathwaite worked tirelessly in his six-plus decades of art and practice to promote "Black is Beautiful", one of the most important American ideas of the 20th and 21st centuries, the artists included in the exhibition, in their respective practices, work to craft images that ask us to think about who we are today, what we want our society to be, and affirm that change now is possible.