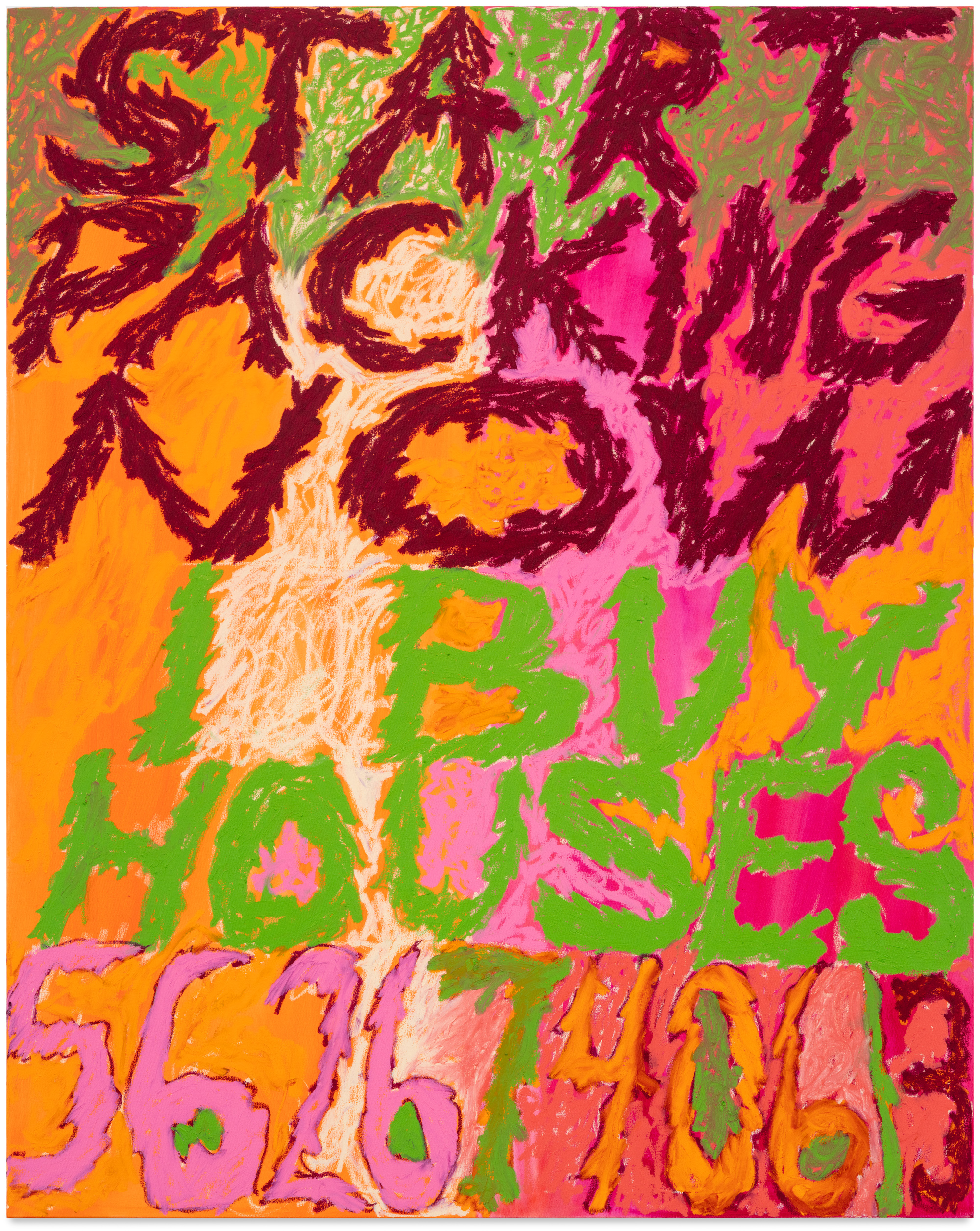 Caleb Lyons: I'm Surprised You Haven't Called
8115 Melrose Avenue Los Angeles, CA 90046
Jan 14, 6 PM - 9 PM — ends Feb 11, 2023
"Stocks, bonds, objects of art, real estate... what are they? An opportunity. To what? To make money? Perhaps. To lose money? Perhaps. To indulge and to learn about ourselves? Perhaps."—Ricky Romeo, Glengarry Glen Ross

Harper's is pleased to present I'm Surprised You Haven't Called, Caleb Lyons's first exhibition with the gallery. Through a barrage of language, color, and form, Lyons's paintings accost their viewers with phrases appropriated from the WE BUY HOUSES signs ubiquitous in the artist's home city of Los Angeles. Combining their humorous and pithy slogans with deft painterly gestures, he pulls back the curtain and invites his audience to consider the brilliance of the voices and visions that populate their daily lives. The exhibition opens Saturday, January 14, 6–8pm, with a reception attended by the artist.

Driving through Los Angeles, Lyons has become increasingly aware of a form of background noise following him: the call of advertising. Corporate billboards and pylon signs have become as integral to the city's landscape as its natural palm trees, mountains, and sunsets. In recent years, a new sign has emerged that has firmly supplanted those marketing gas stations, liquor stores, and "for rent" in abundance: mass-produced or handmade signs brazenly stuck on telephone poles and fences, each promising fast cash for a house at "any price" or "any condition." Their proliferation began most frequently in lower-income neighborhoods, and, notably, following the 2008 housing crisis. For Lyons, these signs are found objects that function as a lens for exploring the formal dynamics of painting while sardonically highlighting the socio-political and economic issues from which they emerge. Lyons's colorful palette and kinetic brushwork are perfect companions to the manic tone of the messages spread throughout his work, at times confrontational or humorous. Through embellished colors and scale, Lyons teases out the aesthetic brilliance of a relentless call to consume, pushing this chorus of commerce to the point of absurdity.

In conjunction with his text-based works, Lyons presents a series of paintings depicting drainpipes spewing waste. In each of them, a drain enters the foreground from outside of the picture plane with viscous streams of color, reminiscent of chemical waste, pouring out and surging into unspecified bodies of water. In these works, Lyons's wit returns through a form of visual double entendre, wherein the very thing he seeks to depict in each work—oil spills or industrial accidents—is rendered in a comparable material: oil paint. The use of pinkish hues and a caricature-esque style recalls Philip Guston's technique of using humor to present critical commentary and subvert bleak realities and in titling these works Fountainheads, Lyons suggests the cyclical nature of these spills while positing that we might be seeing the beginning and the end. The series title can also be read as a wry allusion to Ayn Rand's infamous paean to capitalist values.

Together, through these bodies of work, Lyons offers a macabre vision of the forces that drive the environment around him and fuel his personal practice. He understands their contradictions and complexities but stops short of offering a solution. Instead, he revels in their ambiguities. Eschewing binary and absolute approaches, he calls for his audience to find beauty and pleasure wherever it is to be had, and to acknowledge that to know the world is to accept its true aspect, however grotesque.


Caleb Lyons (b. 1982, Chicago, IL) received a BFA from School of the Art Institute of Chicago in 2004 and was an artist-in-residence at Ox-Bow the same year. His work has been the subject of solo presentations at 3034 Berkeley, Los Angeles (2020); Museum of Contemporary Art, Chicago (2010); i-cabin, London (2008); and Threewalls, Chicago (2008). Lyons has participated in group exhibitions at Felix Art Fair, Los Angeles (2022); Foam Corp, online (2020); Other Places Art Fair, San Pedro (2018); Petzel Gallery, New York (2017); Arturo Bandini, Los Angeles (2015); 356 Mission, Los Angeles (2014); and Human Resources, Los Angeles (2014) among other institutions. His work has been featured in multiple episodes of Bad At Sports as well as in Chicago Tribune. Lyons is the 2017 recipient of the Rema Hort Mann Foundation Artist Community Engagement Grant; he lives and works in Los Angeles.