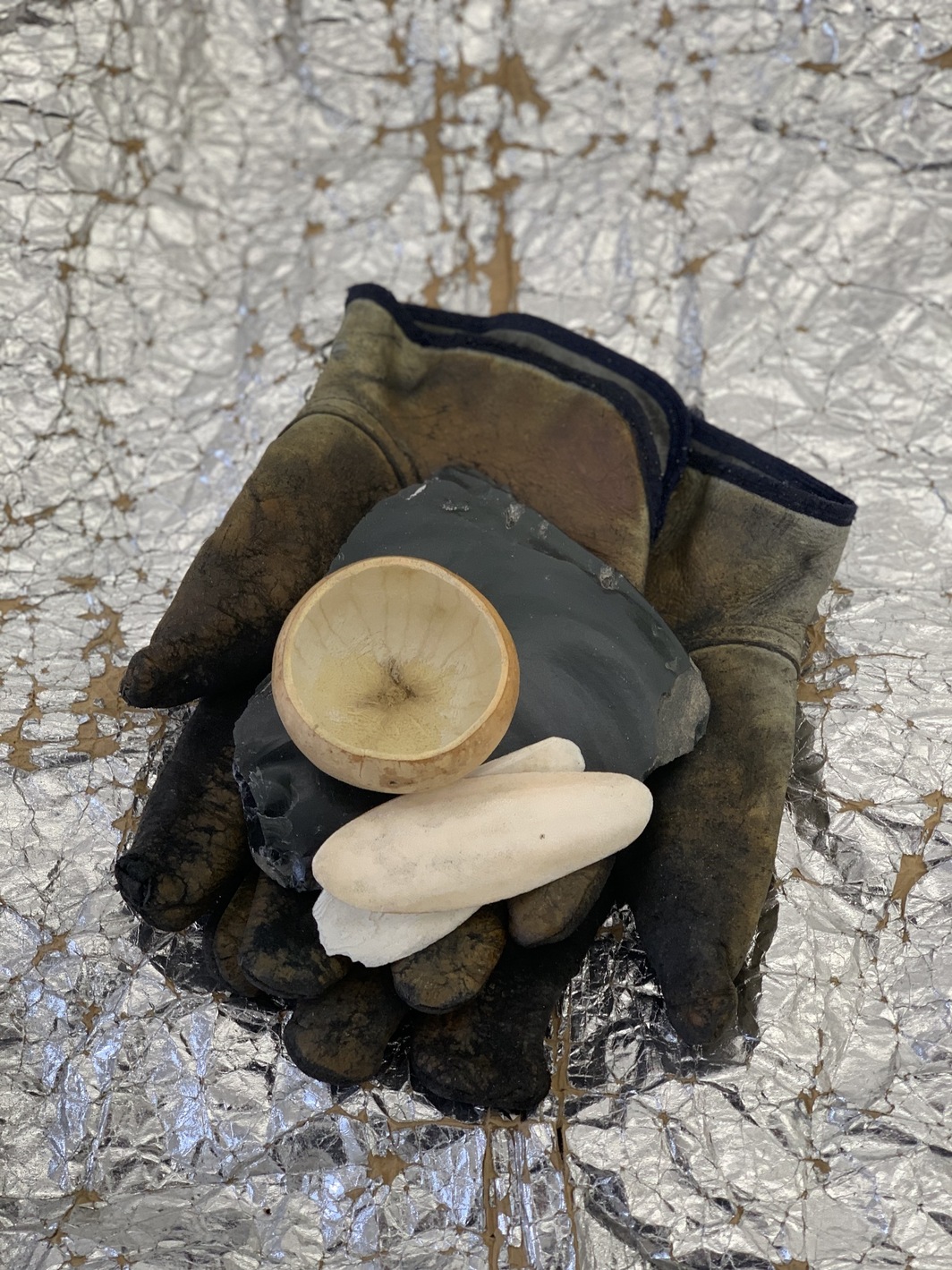 Carrie Yamaoka: Objects in mirror are closer than they appear | Harold Mendez: A sentence, or a spell
3006 W 7th St #220 Los Angeles CA 90005
Jan 21, 3 PM - 5 PM — ends Feb 25, 2023
Commonwealth and Council presents Carrie Yamaoka: Objects in mirror are closer than they appear, the artist's second exhibition at the gallery.

For almost three decades, Yamaoka has worked with reflective materials like polyester film and resin, creating works of an inherently provisional nature, steering clear of the pictorial. The artist's experimental process-driven works, spanning painting, photography, and sculpture, result from a series of layerings and interventions. She often disrupts the surface of reflective polyester film, abrading it against everyday materials or surfaces such as bubble wrap or the studio walls and floor. Once mounted over panel, she pours resin over the film, preserving captured patterns and noise on its surface.

The works' manipulated mirror-like surfaces impel the viewer to assume an active role in the resulting fugitive image while also remaining subject to the surface's optical mediations. Objective documentation of works proves futile, the self-timed camera on a tripod or the artist's own body always present in the photograph as a ghostly record of a particular fleeting moment, in time, space, light, and life, one among infinite permutations of being. The translucent viscosity of the works intimates a nascent quality, always in a state of becoming, refusing fixed pictorial or narrative resolution. Vinyl retains the residue of the artist's fingerprints, and forms a resist to the resin, progressing in barely perceptible increments after the work finishes its engagement with the artist's hand. Plastic initially resists the application of plastic, then accepts it, settling into rivulets as if in a perpetual state of wetness. The unintended consequence of the lifting off of paint from the verso of polyester film onto its face, forms delicate lines impossible to have been drawn by hand. Yamaoka attempts to capture in her work the liminal moment in the darkroom, when the image begins to emerge on the print, representational, abstract, and in between, all at the same time.

For Yamaoka, the studio operates akin to a laboratory, always subject to the surprises of error, defect, and chance. A rigorous self-editor, she returns to her previous works with a critical eye—the exhibition features a number of objects which Yamaoka has revisited and reworked. Densities of material accrue or are stripped away to create a newly transformed object whose surface embodies evidence of its understory. Ripping apart material from its previously affixed substrate, Yamaoka wrestles with and reconfigures her own histories, deconstructing and reconstituting them.

Author and viewer, subject and object confuse and reorient themselves. Within the site-responsive encounter, the viewer (re)makes the work, underscoring how we make our own pictures out of what we see—and understand ourselves and the world—through our manifold subjectivities and interactions.

Carrie Yamaoka (b. 1957, Glen Cove, NY; lives and works in New York) received a BA at Wesleyan University in 1979 and attended the Tyler School of Art, Rome, Italy from 1977-78. Recent solo exhibitions were held at Commonwealth and Council, Los Angeles (2020); Ulterior Gallery, New York (2019); Henry Art Gallery, Seattle (2019); and Lucien Terras, New York (2017). Yamaoka has been featured in group exhibitions at i8 Gallery, Reykjavik (2021); Centre Pompidou, Paris (2020); Transmitter, New York (2019); Albertz Benda, New York (2019); PARTICIPANT INC, New York (2019); Kunstverein Rosa-Luxemburg-Platz, Berlin (2019); Leslie-Lohman Museum, New York (2018, 2017); Fondation Ricard, Paris (2018); Galerie Crevecoeur, Marseille (2018); Center for Contemporary Art Futura, Prague (2016); and MoMA PS1, Queens (2015). She has received grants and fellowships from the John Simon Guggenheim Memorial Foundation (2019), Anonymous Was A Woman Foundation (2017), Rutgers Center for Innovative Printmaking (1990), and Art Matters (1988), and has participated in residencies at Painting Space 122, New York (2009); Fenenin El-Rahhal (Nomadic Artists), Egypt (2006); Braziers International Artists Workshop, Oxfordshire (1998, 1995); and Yaddo, Saratoga Springs (1986). She is a founding member of the queer art collective fierce pussy. Yamaoka's work was featured in arms ache avid aeon: Nancy Brooks Brody/Joy Episalla/Zoe Leonard/Carrie Yamaoka: fierce pussy amplified, Chapters 1-4 at Beeler Gallery, Columbus College of Art and Design and Chapter 5 at Institute of Contemporary Art, Philadelphia. A new chapter of the ongoing project will open in Exposed on February 17, 2023 at Palais de Tokyo, Paris. Carrie Yamaoka: seeing is forgetting and remembering and forgetting again will also open at the Zilkha Gallery at Wesleyan University on January 30.
__

Commonwealth and Council presents A sentence, or a spell by Harold Mendez, the artist's first solo exhibition with the space. With new sculptural works, drawings, and assemblage, Mendez continues his meditations on transnational narratives that shaped the histories of the Americas and the bodies touched—through migration, exchange, violence, and evolving spiritual, epistemological inquiries—by those inherited histories.

An arrangement of votive offerings in the center of the floor anchors the gallery space. Vessels with prominent bone-like appendages; a jutting stand enshrouded in fabric; shells with serrated spikes clasped together. Upon closer look, the component parts of the objects may reveal themselves as tails of horseshoe crabs, calf-weaning nose rings, funerary headrests. With their atemporal, enigmatic, and elegiac quality, the objects perhaps suggest burial objects from a familiar, yet undefined, culture. Marking death through oblique allusions to the body, Mendez constructs a scenography of communion, evoking notions of life and death, presence and absence, and fullness and emptiness, across time and geography.

The aforementioned objects are cast in brass and iron, with varying patinas. Through these processes of reproduction, Mendez is not so concerned with the loss of any original aura but rather in what meanings carry over. The artist searches and seeks what memories remain as vestiges. And what new meanings material alchemy can produce. The weave of a fabric rendered in metal turns an obfuscating shroud into sinewy skin. Arepas, ubiquitous carriers for food in Colombia, enveloped in silverleaf become pockmarked iridescent moons.

Mendez's uncanny play with materials create multivalent objects and images redolent of more than their prescribed function or meaning. Found objects take on new connotations. Layered crowns of fabric and leather read as ritualistic totems, nodding to pre-Columbian artifacts. They were originally polishing wheels for metalwork, and the residues from their original purpose remain in imperceptible form (and are acknowledged in the materials list). For Mendez, all such myriad meanings and memories, lived and imagined, intrinsic and extrinsic, associated with the objects remain pertinent. The artist asserts that objects and images hold agency, their own subjectivity that speak to their histories and encounters, whether visible or invisible, including the artist's interventions. A glinting silver-leafed spiderweb, painstakingly realized, indexes the labor of the artist's own body.

In offering works with polysemic resonance, Mendez captures moments of slippage in semiotic recognition. Thus the artist repudiates singular identities, totalizing universality, and linear narratives. While histories of colonialism and the concomitant development of capitalism that drove diasporic migration have informed Mendez's life and worldview, and thus his work, as a Latin American, Mendez is not interested so much in these particular narratives but more on how these histories have left traces on our bodies, psyche, and the images and objects with which we live. Affect supersedes cause and effect.

One specific inquiry that informed Mendez's work in the exhibition was his search for the grave of the late Cuban artist Belkis Ayon. While Mendez in the end did not find the grave, it was not a failure as the undertaking was never about achieving a neat resolution. The circuitous travails around and the tangential ruminations about—the precarity of bodies, and bonds shaped by and memories preserved through shared rituals—were just as, if not more, compelling and resonant in the works that followed the trip to Cuba. Through his wayward explorations across histories and materialities, Mendez posits that at times our collective imagination can reveal greater truths.

Harold Mendez (b. 1977, Chicago, IL; lives and works in Los Angeles) received his MFA from the University of Illinois, Chicago in 2007 and BA from Columbia College, Chicago in 2000. Solo exhibitions have been held at Institute of Contemporary Art, Miami (2021); Institute for Contemporary Art at VCU, Richmond (2021); Institute of Contemporary Art, Los Angeles (2020); Reva and David Logan Center for the Arts, University of Chicago (2020); Moody Center for the Arts, Rice University, Houston (2019); Patron Gallery, Chicago (2019, 2016); and Project Row Houses, Houston (2016). Selected group exhibitions have been held at Wattis Institute for Contemporary Art, San Francisco (2022); Museum of Contemporary Art, Chicago (2021); Josh Lilley Gallery, London (2021); Bridge Projects, Los Angeles (2020); Smart Museum of Art, University of Chicago (2019); Hiram Butler Gallery, Houston (2019); Museum of Modern Art, New York (2018); Whitney Museum of American Art, New York (2017); Bass Museum of Art, Miami (2017); LAXART, Los Angeles (2017); Bemis Center for Contemporary Arts, Omaha (2017); Institute of Contemporary Art, Philadelphia (2017); Queens Museum, New York (2017); Museum of Fine Arts, Houston (2017); The Studio Museum in Harlem, New York (2015); and The Drawing Center, New York (2015). Mendez is the recipient of the Illinois Arts Council Artist Fellowship (2014) and Efroymson Contemporary Arts Fellowship (2013), and has participated in residencies at John Michael Kohler Arts Center, Sheboygan (2021); Light Work, Syracuse (2020); Tamarind Institute, Albuquerque (2018); Robert Rauschenberg Foundation, Captiva (2016); Headlands Center for the Arts, Marin (2014, 2012); CORE Program, Museum of Fine Arts, Houston (2014); Skowhegan School of Painting and Sculpture (2013); The Lighthouse Works, Fishers Island (2013); and Ox-Bow, Saugatuck (2001).