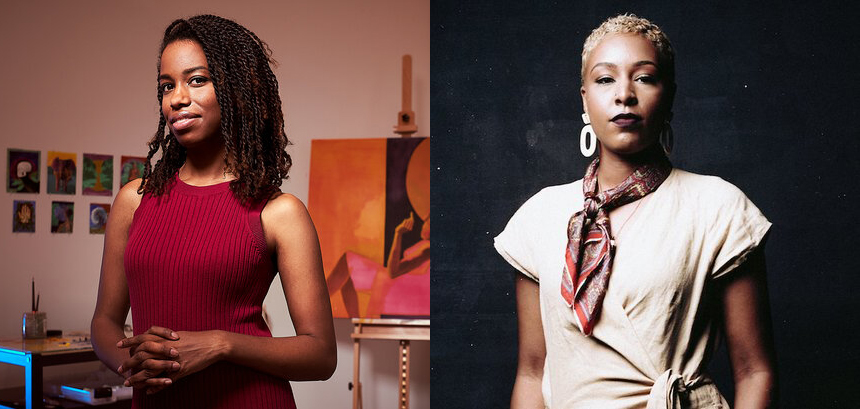 Adrienne Elise Tarver: Speaking Dark + In Conversation: Adrienne Elise Tarver and Taylor Renee Aldridge
3301 W Washington Blvd, Los Angeles, CA 90018
Feb 15, 4 PM - 5 PM — ends Mar 25, 2023
In conjunction with Frieze Los Angeles 2023, OCHI is pleased to present Speaking Dark: Adrienne Elise Tarver and Taylor Renee Aldridge in Conversation, a public talk presented on Wednesday, February 15, 2023 at 4:00pm PST at OCHI Aux located at 3305 W Washington Blvd, Los Angeles, California. Tarver and Aldridge will discuss themes from To Learn The Dark the artist's second solo exhibition with the gallery. The conversation will be followed by an opening reception from 5:00 to 7:00pm PST.

To Learn The Dark features new tapestries, large-scale collage works, and a video installation that build on Tarver's interest into the multitudinous nature and invisibility of Black women, these artworks consider darkness as space, identity, and a tool to embrace the possibilities of freedom, joy, and growth. To Learn The Dark references bell hook's Belonging: A Culture of Place (1990). Part autobiography, part critical theory, hooks charts a non-linear course towards a fully realized sense of place, which she calls "darkness:"

Daddy Jerry always tried to get his grandchildren to come out in the pitch dark 'to learn the dark'—to learn its comforts and solace. We can do that and learn to be comfortable in the darkness and beauty of our skin. No one can take that spirit of belonging away.
Adrienne Elise Tarver (b. 1985, New Jersey, US) received an MFA from the School of the Art Institute of Chicago and a BFA from Boston University. Tarver's work has exhibited internationally at venues including the Aldrich Museum of Contemporary Art in Ridgefield, CT; Atlanta Contemporary Art Center in Atlanta, GA; Wedge Curatorial in Toronto, Canada; Dinner Gallery, Hollis Taggart, BRIC Arts Media Project Room, and Wave Hill in New York, NY; A-M Gallery in Sydney, Australia; and OCHI in Los Angeles, CA and Sun Valley, ID. Tarver is currently a 2022-2023 Silver Art Projects Artist in Residence, is 2022 Nancy Graves Visual Art Grantee, and has been commissioned for projects with the New York Metro Transit Authority, the Public Art Fund, Google, Art Aspen, and Pulse Art Fair. Tarver's work has been featured in various publications including The New York Times, Forbes, Brooklyn Magazine, ArtNews, ArtNet, Blouin ArtInfo, Whitewall Magazine, and Hyperallergic. Tarver has held numerous leadership roles in arts and education including Associate Chair of Fine Arts at Savanna College of Art and Design and Director of Art & Design for the Harlem School of the Arts. Tarver currently teaches at Pratt Institute and serves as the Director of Programs at the National Academy of Design in New York, NY.

Taylor Renee Aldridge is the visual arts curator and program manager at the California African American Museum (CAAM). Prior, she worked as a writer and independent curator in Detroit, Michigan. She has organized exhibitions with the Detroit Institute of Arts, Detroit Artist Market, Cranbrook Art Museum, and The Luminary (St. Louis). In 2015, along with art critic Jessica Lynne, she co-founded ARTS.BLACK, a journal of art criticism for Black perspectives. Her writing has appeared in Artforum, The Art Newspaper, Art21, ARTNews, Frieze, Harper's Bazaar, Canadian Art, Detroit MetroTimes, and SFMoMA's Open Space.

Aldridge is the recipient of the 2016 Andy Warhol Foundation Creative Capital Arts Writers Grant for Short Form Writing and the 2019 Rabkin Foundation Award for Art Journalism. She has earned a M.L.A from Harvard University with a concentration in Museum Studies and B.A from Howard University with a concentration in Art History.