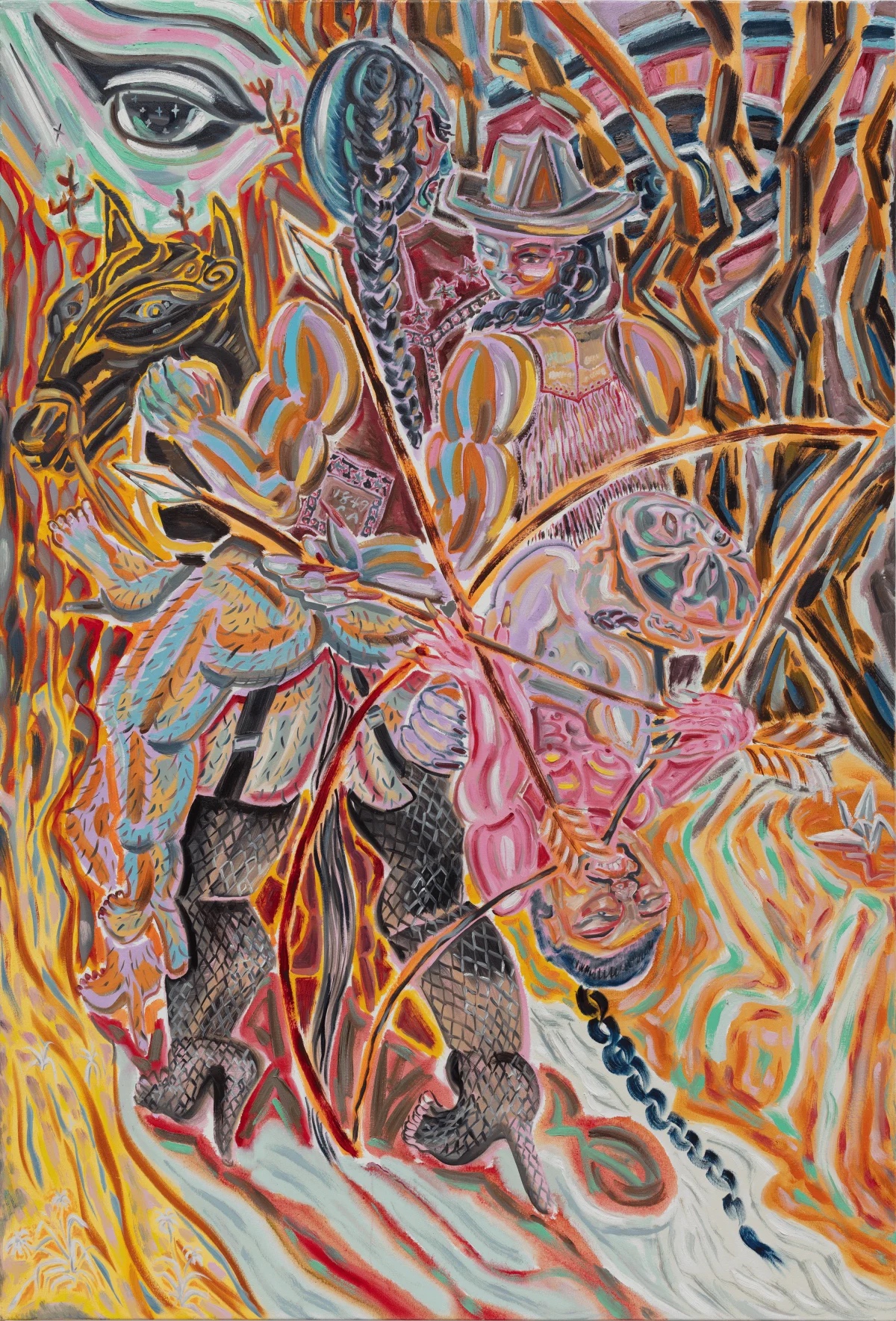 Yesiyu Zhao: Gold Mountain (Gum San) | Yoab Vera: Circadian Memories: Amar Pacífico
6361 Waring Ave Los Angeles, CA 90038
Feb 17, 6 PM - 9 PM — ends Mar 25, 2023
In the the 16th century Chinese novel Journey to the West, the monk Xuanzang and his three human-animal-angel-monster disciples are tasked with traveling the perilous path westward in search of enlightenment. 300 years later, during the California Gold Rush, scores of Chinese immigrants took a tiger's leap eastward, over the Pacific Ocean, and found themselves, somehow, further West than Xuanzang could have ever dreamed, and there they sought freedom and riches. In the 21st century, Make Room Los Angeles presents a series of new paintings by Yesiyu Zhao, In Search of Gold Mountain (Gum San), a reflection on myth, history, identity and becoming in the mass migration from East to West.

Continuing his meditations on Beijing opera, queer sexuality, and the mythos of the Wild West, Zhao's new paintings find a secret resonance between classical Chinese arts and modern surrealism as a means of alienating reality from itself in order to be experienced again anew. Like his recurring subject of the lion dance, each facet of the paintings' intertwining landscapes, figures, and forms are a component which contributes to a whole that undulates with the intertwining movements of the sum of its parts. This torpor of identities and desires, exacerbated by Zhao's vibrant day-glo color schemes, imbues his scenes with an inner turbulence, even as nude figures lay in repose on soft beds of somber eyes, or take a quiet moment to reflect on their gentle beauty and beastliness in a hand mirror.

Once seduced into Zhao's world, there is little chance of escape. As the viewer's gaze sinks deeper into the works, she finds herself situated among skylines that search outward, androgynous cowboys that journey inward, braids that tangle like a hangman's rope, and hairy legs akimbo that click on fleshy high heels in contradictory paths. You are not invited, but beckoned, into the chthonic gold mines — dark veins of earth promising radiant precious metals — though whether by spider-demons, by the demands for wealth and labor, or by the painter's hypnotic charm is left uncertain.

Despite the mythic, spiritual, and remote historical sources these paintings draw from, Zhao's work remains loyal to contemporary questions of identity, nationality, sexuality and freedom. This allows his figures to reflect the viewer, and for the viewer to reflect back, despite the former existing in a cosmic drama of gold and spirits and the latter existing in a world of work and wages. We apply makeup, we look in the mirror, we find others and love them, we put on a cowboy hat, we try to live a better life. With In Search of Gold Mountain (Gum San), one must journey deep into the earth, and once ensnared within must "find a way out, and the power to get there, and the way to get there, and pass out, and see the beauties of the skies, and see the stars again."[1]
Samuel Beckett, "Texts for Nothing" 1958.

— Suzy Vogenthaler, January 2023

______________

The image of the open ocean has long been used as a metaphor for the spirit of art. Mallarmé's Poésies of 1899, published shortly after his death, opens with a toast ("Salut") in honor of the expedition that the reader is about to embark upon: for Mallarmé, poetry was a vessel commuting between ordinary life and everyday language to the unexplored regions of aesthetic experience. Half a century earlier, Gericault used the ocean's horizon as a convergence point where the hope and desperation experienced by the shipwrecked passengers of the Raft of the Medusa could become a single, unified feeling—its own suspended reality. More recently, Tacita Dean's short film from 2001, The Green Ray, narrates the artist's attempt to record a common but rarely seen optical phenomenon in which the setting sun emits a flash of green light just before it slips below the horizon. Sailors, for whom the ray has taken on an oracular significance, see it as a harbinger of change; for Dean, having almost failed to capture it on film, the ray represents the act of looking and the faith it entails.


In Yoab Vera's new body of work, imagined views of the ocean provide a liminal space between pure abstraction and representational painting. Roughly worked colorfields, built up with a fresco technique with layers of acrylic, concrete, and oil stick, are left exposed to the elements in Vera's garden studio, washed by rain and sun until their weathered surface begins to spark memories of other places and moments in time. He calls them 'haptic-contemplative' paintings and describes his process as a kind of visual touch, operating at the inflection point of thinking and feeling. Vera traces his fascination with the relationship between texture, color, time, and space to the experience of traveling between places that has characterized his nomadic studio practice. An acute awareness to the transitions of material in space comes from his training as an architect in Mexico City, where Luis Barragán, Helen Escobedo, and Mathias Goeritz's particular strain of modernism—using highly pigmented concrete to transform geometrically defined spaces that reference syncretisms of traditional colonial and autochthonous architecture—served as a touchstone for Vera's own investigations into the affective qualities of hybridized materials and forms. Another important source has been the 2007 Katy Siegel-curated exhibition High Times, Hard Times: New York Painting 1967-1975 which introduced Vera to the post-minimal, provisional painting of artists like Mary Heilmann, Blinky Palermo, and Jack Whitten. For Vera, these artists showed a new way forward for painting: one less concerned with making pictures than with finding a process that would allow the artist to remain open to the rhythm and suggestions of feeling while relinquishing control of the final image.


Circadian Memories: Amar Pacifico is about the possibility of change embodied in painting's ability to trigger a contemplative mood in which tides of memory wash over consciousness, offering themselves up for reflection anew. Many of the paintings in the show reference boleros, a type of romantic ballad that recounts the ecstasies of love through the sufferings it enacts. The image at the heart of the bolero—of love after all—represents faith in the redemptive powers of time. For Vera, painting is an ode to everything that has been and is yet to be felt: the entirety of existence condensed into an experience of time and space, color and light. The sun rises and sets today as it did yesterday and will tomorrow. Each moment passes eternally, containing all of the past and all of the future.