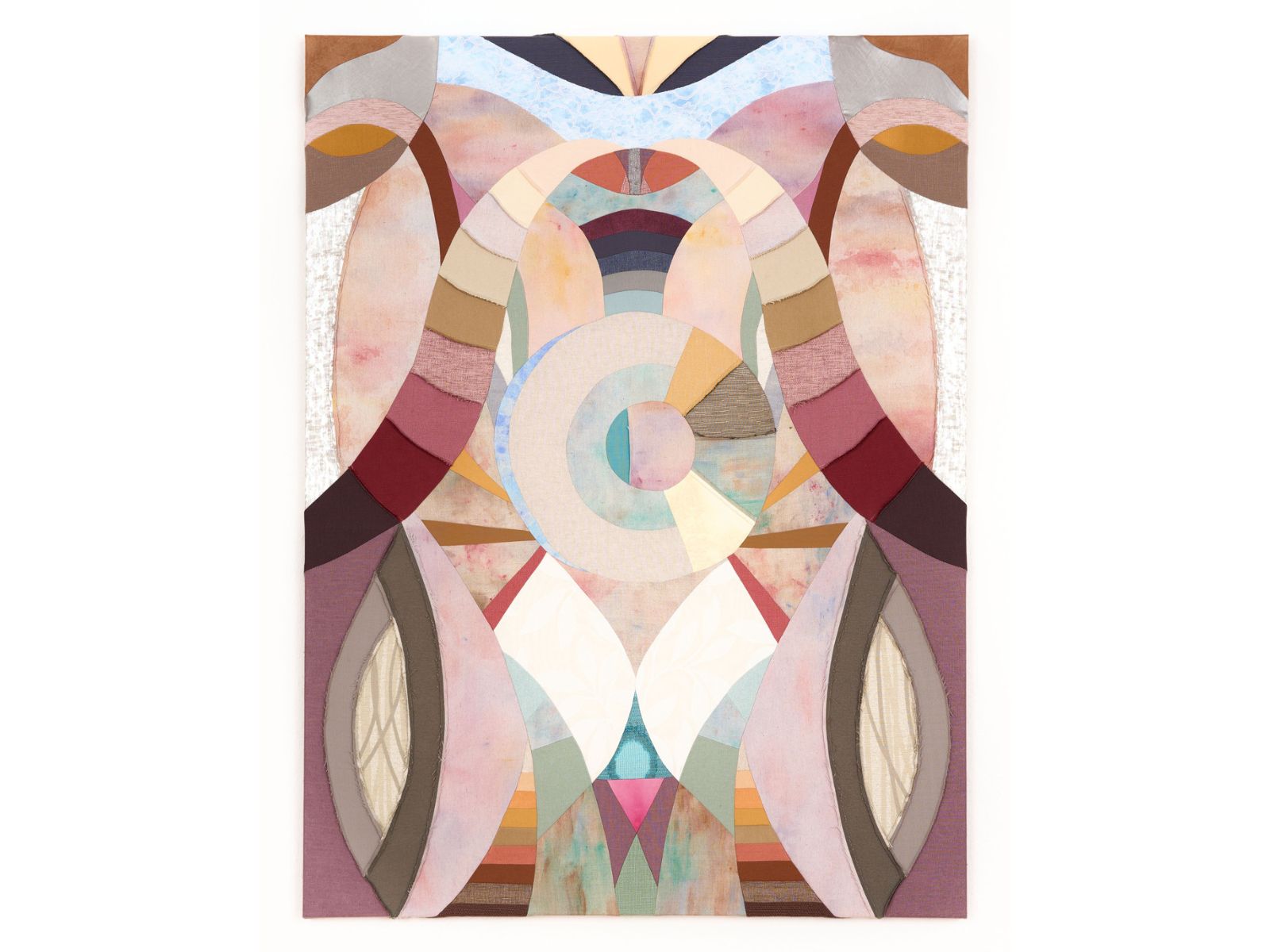 Meike Legler: Himmelskörper (Heavenly Bodies) [Online Exhibition] | WORK [Online Exhibition]
1206 Maple AVE, 502B, Los Angeles, CA 90027
Feb 25, 6 PM - 7 PM — ends May 27, 2023
WHAT: Meike Legler: Himmelskörper (Heavenly Bodies)
WHEN: Exhibition runs February 25, 2023 - May 27, 2023
WHERE: On view at LADIES' ROOM online
www.ladiesroomla.org
, concurrent with WORK (Featuring objects by Becca Van K, Felice Grodin, Karen Kuo, Meghann McCrory, Nicki Voss, Rebecca Kaufman, Renata Daina, Samira Yamin, Shiyuan Xu, and Stephanie Robison)
MORE: Contact
info@ladiesroomla.org
or 310.447.8021 for more info. Link to press images here.
-
Meike Legler's works are a bold post-feminist reframing of sewn objects, recontextualized far beyond "women's work." In 1918 Le Corbusier said, "There is a hierarchy in the arts: decorative art at the bottom and human form at the top. Because we are men" Legler craftily subverts this notion by stitching together ideas and methodologies and powerfully placing herself within the spectrum of contemporary abstract painting.
Originally trained as a fashion designer at Berlin's Hochschule für Technik und Wirtschaft and Central St. Martins in London, Meike Legler uses fabrics and nimble sewing machine skills to create abstract paintings, stretched like canvas over wooden stretcher bars. When she moved to Los Angeles in 2016 her paintings became more complex, with wilder ideas and influences, and she started integrating materials like automotive tarps and faux fur into her elaborate constructions.
Born in Alzenau, Germany, Meike Legler was familiar with European modernist works, and multidisciplinary artists like Sonia Delaunay and Anni Albers were inspirational in her early works. Each of Legler's complex configurations of color, line, and texture engage her interests in the esoteric and paranormal. Expanding her explorations of media and form, her works also possess spiritual elements reminiscent of Hilma af Klint (the Swedish painter whose mystical works were largely ignored within the canon of abstract painting until recently) or the Transcendentalist artists from the early 20th century.
Legler states, "Life is mystical and that's what makes our existence so exciting. I am very intrigued by how powerful our mind is, and that slowly the concept of energy healing having an impact on cells is being brought into the spotlight of science that for so long had rejected everything parapsychological." This interest in a developing paranormal language is most evident in her recent works where she has recently been burying fabrics under the earth to enhance their organic finish and using knowledge learned in the fashion trade like chemical treatments to distress the fabric. The results created are electric and otherworldly, as Legler tries to capture the energy of when stars are born and the colors and gasses of interstellar amalgamations.
"There is also a quote from Florence Nightingale that has stayed with me," Legler shares, "'It is extraordinary that, whereas the laws of the motions of the heavenly bodies, far removed as they are from us, are perfectly well understood, the laws of the human mind, which are under our observation all day and every day, are no better understood than they were two thousand years ago.' It is this not knowing and almost limitless possibility that continues to impel my creative work."
Another motif she explores is displacement, "The question of belonging is a theme I investigate. I haven't found a place where I really want to live yet, which at times frustrates me, but the thought that the universe always wants the best for us and that my intuition will tell me where to go eventually gives me comfort. There is so much we don't know and I think it's really important to be open." Legler's sense of longing for a place she doesn't yet know taps into a universal uncertainty that is palpable. We are all seekers…
───
Le Corbusier (Pierre Jeanneret) and Amédée Ozenfant, 'On Cubism,' 1918: (quoted in Ozenfant, Foundations of Modern Art)
───
Biography: Meike Legler has exhibited at galleries and institutions in the Los Angeles area and internationally, including Art Movement LA, Los Angeles; Stella Ripley Contemporary, Québec, Canada; E.P. & L.P., West Hollywood; Claremont Graduate University, Claremont, CA; Nous Tous, Los Angeles; and Art House LA, Pacific Palisades. Her solo exhibitions include shows at The Voyager, Los Angeles; LADIES ROOM, Los Angeles; Soho House, West Hollywood; and Annika Nuttal Gallery, Aarhus, Denmark. She currently lives and works in Alzenau, Germany.
───
Meike Legler: Himmelskörper (Heavenly Bodies) will be open online February 25, 2023 - May 27, 2023. CONTACT:
INFO@LADIESROOMLA.ORG
or TEXT: 310.447.8021 FOR CURATORIAL ZOOM TOURS, HIGH-RESOLUTION IMAGES, OR ARTIST INTERVIEWS.
───
WHAT: WORK – Featuring objects by Becca Van K, Felice Grodin, Karen Kuo, Meghann McCrory, Nicki Voss, Rebecca Kaufman, Renata Daina, Samira Yamin, Shiyuan Xu, and Stephanie Robison
WHEN: Exhibition runs February 25, 2023 - May 27, 2023
WHERE: On view at LADIES' ROOM online
www.ladiesroomla.org
, concurrent with Meike Legler: Himmelskörper (Heavenly Bodies)
MORE: Contact
info@ladiesroomla.org
or 310.447.8021 for more info.
In encountering the discursive history of "work" in artmaking, all of the objects assembled in WORK variously venerate labor as an essential element. WORK features 10 artists whose laborious methodologies demonstrate an indisputable meticulousness and care for their media. Selected for their quasi-obsessive dedication to their practice, each of the artists in WORK assiduously and repeatedly cut, draw, carve, sculpt, stitch, and weave their materials into complex configurations.
Preparation for each work is crucial, where each artist embarks on their own interesting exploratory processes – sourcing, gathering, layering, obscuring, and revealing – arranging the building blocks for the work to develop – and then slowly watching it manifest. Becca Van K weaves ripcords and climbing paraphernalia into chairs and, with teeny stitches, she embroiders landscapes that reflect the natural world, electronic music, and her nostalgia for the '80s and '90s. Felice Grodin recontextualizes "macho painting" by creating delicate ink drawings on architectural Mylar based on Jackson Pollock works. Karen Kuo creates porcelain vessels made with a Nerikomi technique where clay is stained, extruded, assembled into a large patterned block, and then sliced to reveal intricate images that explore pattern, color, translucency, and optical illusion. Honoring that the loom was the precursor for today's computers, Meghann McCrory hand-weaves hundreds of skinny strips of photographic paper to form her colorful abstractions that seem to reference digital pixelation. Nicki Voss cuts, assembles, and stitches together a polychromatic array of textiles that are informed by mapping, geometry and geography. Rebecca Kaufman employs repeated lines and patterns in her optical field paintings on canvas. Renata Daina twists, winds, and manipulates organic materials to make sculptural wall works. Samira Yamin uses an X-Acto blade to incise Time Magazine's images of war with geometric patterns derived from Islamic architecture. Shiyuan Xu makes lacy porcelain sculptures that reference scientific and microscopic phenomena. Stephanie Robison merges incongruous materials such as needle felted wool and carved marble, fusing organic and geometric forms and synthesizing the handmade and industrial.
With such rigorous accumulations of thought and execution, the exhibit recontextualizes the idea of "women's work" in our collective past, as a meditation presently, and onward in cultural futures of our epoch. In earlier centuries, women weren't part of art academia and in many cases were relegated to craft-making and artisanal pursuits such as quilting, weaving, and ceramics. This exhibition acknowledges its antecedents and builds upon this work, honoring the labor of the participating women artists and positing their contribution solidly within today's contemporary art realm.
Viewers are made participants in the labor, as the act of looking at each of the complex, exigent works in the show invites us to intimately experience their complicated presence. Seeing WORK becomes an exercise in itself.
───
WORK will be open online February 25, 2023 - May 27, 2023. CONTACT:
INFO@LADIESROOMLA.ORG
or TEXT: 310.447.8021 FOR CURATORIAL ZOOM TOURS, HIGH-RESOLUTION IMAGES, OR ARTIST INTERVIEWS.
───
ABOUT LADIES' ROOM: LADIES' ROOM opened in 2018 to research and exhibit women and non-binary artists. To date, we have shown 190 artists working in all media and have placed a number of works in both private and institutional collections. LADIES' ROOM also oversees a biennial exhibit with more than 100 artists that fundraises for the food insecure. We are part of David Zwirner Gallery's online Platform and the Gallery Climate Coalition. We encourage you to sign up on our mailing list to receive updates on our programming, and follow us on Instagram. For more information, please visit our FAQ page.