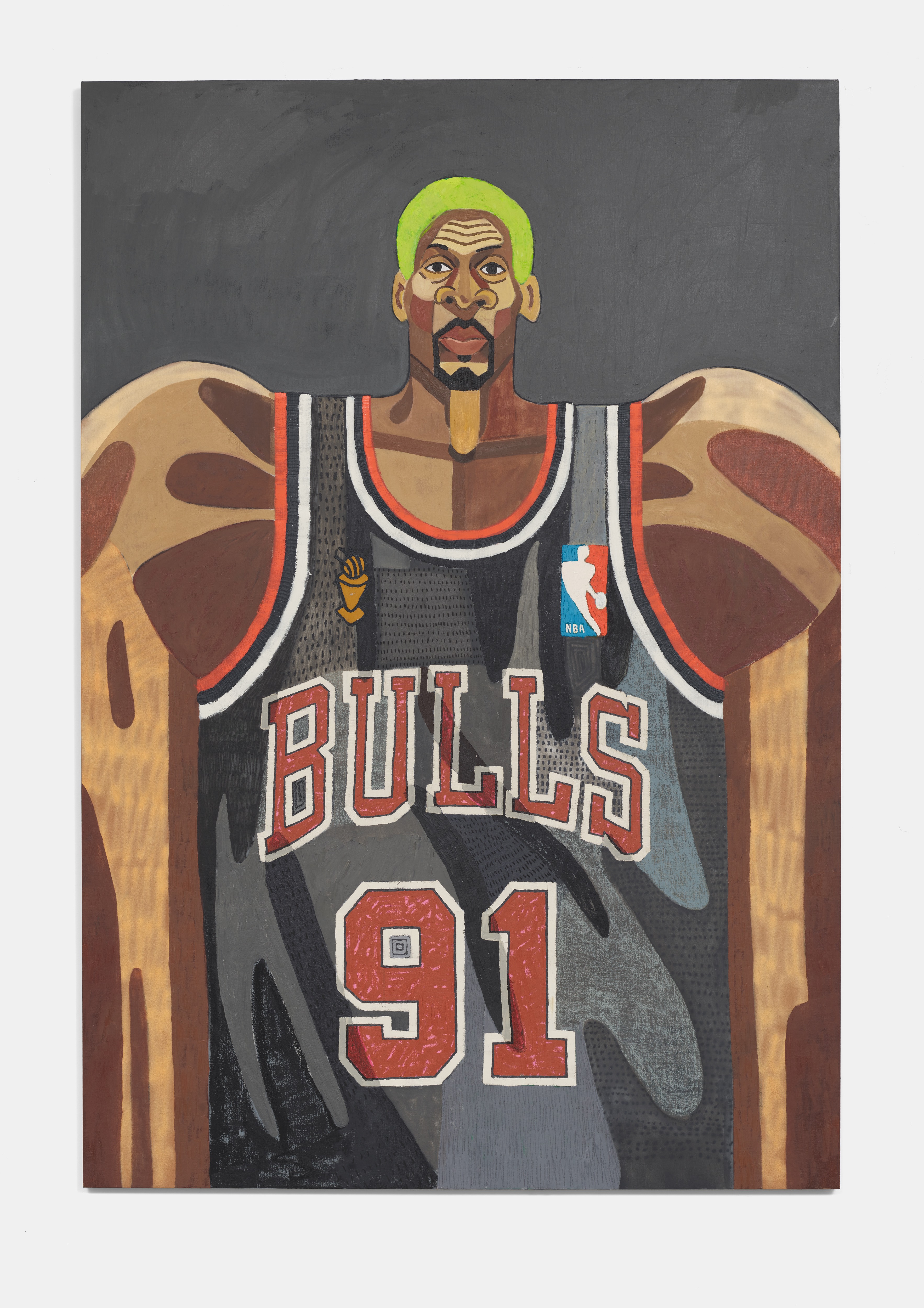 Julian Pace: Front and Back | Dané Estes: Yes, yes I will | Wycliffe Mundopa: My Cup is Full
727 E Washington Blvd, Los Angeles, CA 90021
Mar 02, 5 PM - 8 PM — ends Apr 06, 2023
For "Front and Back," Julian Pace focuses upon the broad bodies of professional basketball players, a subject he has spent many years capturing. And yet, for the artist, this choice of subject is somewhat arbitrary. While some viewers may be drawn to depictions of the celebrated athletes, to Pace, the men captured have a simple use function: to allow Pace to toy with the limits of composition and form in an iterative process of doing and re-doing, from sketch to painting to even more painting.

Although stylized with deep shadows and darkened lines, and exaggerated with enlarged torsos and epic arms, the figures retain a sense of humanity and even vulnerability in the exhibition's large-scale oil and acrylic paintings as well as the colored pencil and gouache on paper pieces. In Ewing, 2022, the greatest center in Knicks history appears subtly contemplative, his pink cheeks lending him a sweet, childlike air. More cocky-looking individuals, such as Pace's rendering of an angry-seeming Larry Bird, are oddly humanized by the artist's inclusion of the player's backside.

Yao Ming's enormous shoulders make him look particularly hulking, and yet, a shadow on his cheek, a bit scar-like, reminds us of his frailty. The players Pace has chosen to capture, such as Shawn Kemp, Dennis Rodman, and Charles Barkley, are or were the best of the best. They are strong— inflatedly, inaccurately strong in the works in this show. But when we see The Toronto Raptors' Charles Oakley look anxiously off to the side in Big Raptors, 2023, we remember he is both larger-than-life, and just simply a man.
The drawings and paintings in "Front and Back" are fun: bold colors, bold style. The squiggle line backdrops of certain paintings add levity and dynamism to the scenes. There is even a hint of art deco in Bird's hair, Rodman's forehead, and Kobe Bryant's cheekbones. We remember the rush of the game in these portraits, and also, isolated, the individual story as told by Pace's careful, loving strokes.

_____

For his first solo exhibition, "Yes, yes I will," Los Angeles-based artist Dané Estes presents oil-on-canvas paintings, mostly unstretched, works on paper and a wooden wall relief, all of which, though made in the past year, contain elements that make them feel much older. Before beginning the purely painted aspects of each work, the artist creates a dynamic, textured surface that lends the pieces a sense of age. As a result, the canvases appear like found objects with a former life before the oil even hits the canvas. In a work like La Tempesta III, 2022, smudged surfaces top layered, repetitive lines that yearn to escape the canvas, telling a story of yearning for and leaning into another space and even time.

Each of the show's works from the titular series "Yes, yes I will" features bold, playful, squiggly lines on raw canvas. Some paintings recall fire, others a storm, and all have a frenzied motion in them, the result of chance-based gestural mark-making. As the title indicates, there is an assuredness to these particular works. Estes is confident in his stroke. "I will" also implies futurity— something was done, and something will also be done later, and the viewer resides in the middle of that energetic exchange.

The drawings on view are similarly self-certain. Many drawn on crinkled book pages, again incorporating aged elements to balance their shiny newness, these oil-on-paper works use thick, intersecting black strokes to convey both a clear mark as well as a more exploratory, vulnerable line, seen particularly in Dionysian Study, XXXVI, 2022.

"Yes, yes I will" is rounded out by Self-Portrait, 2023, a wall relief comprised of found wood, tar, oil paint, and steel. Here Estes goes full throttle with the nod to the past—we see nails and screws from days of yore, and the artist himself added paint and charcoal to further antiquify the bars and blocks, which are themselves remnants of a former sculpture he once made. This is how Estes portrays himself—an admixture of many older elements, including the many older artists to whom he is indebted, and who push him forward into the certain "yes" of something new.

__

We are pleased to present an exhibition from the Simchowitz Collection. This series showcases contemporary art with a special focus on Africa in our Los Angeles spaces. Simchowitz Collection exhibitions deepen our longstanding efforts to support contemporary art and artists globally.

For the oil and fabric collage on canvas paintings in "My Cup Is Full," Wycliffe Mundopa shows us the languishing life in Harare, Zimbabwe — eating, drinking, lounging, licking — with an ever-present darkness at the surface of the play. The figures, predominantly women, seem to know that they are being watched, often looking back at us with, in turns, anger, suspicion, pleasure, or amusement. This is their everyday life, indoors and out, surrounded by owls, fish, papayas, and parasols. The hues here are both somber and vibrant, the emotional tone ranging from ecstasy to rage, all within a single piece.

Color is an essential component to the works on view, particularly color that clashes with the reality of what we see depicted. In One Thousand Afternoons, Part 2, 2017, four intertwined topless women in an orange, purple, blue, and green abstract setting reveal their split-toned breasts, purple and green, pink and blue. A lamp eclipses one of their heads; another's face is covered completely with green-blue hair. The two visages we do see reveal brightly colored makeup and deep lines on their faces. A ghoulish green woman, who places a gloved hand in her own lace panties, looks sternly at another woman, half dressed in a harlequin costume, who licks the side of the same pair of underwear while staring straight at us. There is a dark seduction at play, and one cannot help be wary of the unnerving figures seemingly selling themselves.

Despite the darker elements on display in these works— poverty, violence, alienation, despair— there is simultaneously a sensuality to the commonplace objects on view. Watermelons, papayas, and bananas are stunningly rendered in nearly every painting in the show. Polka dots, flowered fabric elements, and brightly colored patent leather high heeled Mary Janes draw us in again and again. The unsettling blank face of a child figure in The New Dispensation Part 5, 2018, is balanced by the delightful vibrancy of her pink, yellow, and green tank dress. In The New Dispensation Part 3, 2018, the disturbing, limp, Christ-like figure is resurrected by his jolly red statue of liberty crown. Life is not one thing in Harare, and in the works in "My Cup Is Full," Mundopa shows us the disparate poles.
Wycliffe Mundopa's dynamic, complex paintings, occasionally ornamented with elements of fabric collage, showcase rousing details from Harare, Zimbabwe life— watermelons, wheelbarrows, parasols, pool tables, bars, bananas, and more. The scenes feature bright colors— hot pinks, rich reds, sea greens, as well as darker tones— drab greys, eery greens, and blacks. We often see animals including birds, frogs, fish, and dogs intermixed with people, mostly women in various states of undress, lounging seductively or unnervingly, indoors or out. Many of the artist's works remind us of Marc Chagall and Pablo Picasso, due to Mundopa's surreal use of color, and the inaccurately proportioned facial features and body parts. Skin might be black or it could just as easily be purple or blue. One thigh might be yellow, while the other has a scaly blue mermaid pattern, or stripes, or spots. Figures intertwine so that we are uncertain where one begins and another ends. Rather than create an exacting replica of an everyday event, Mundopa evokes the experience or mood—the joy, frenzy, bacchanalia, energy, and complexity of urban life in the capital city.