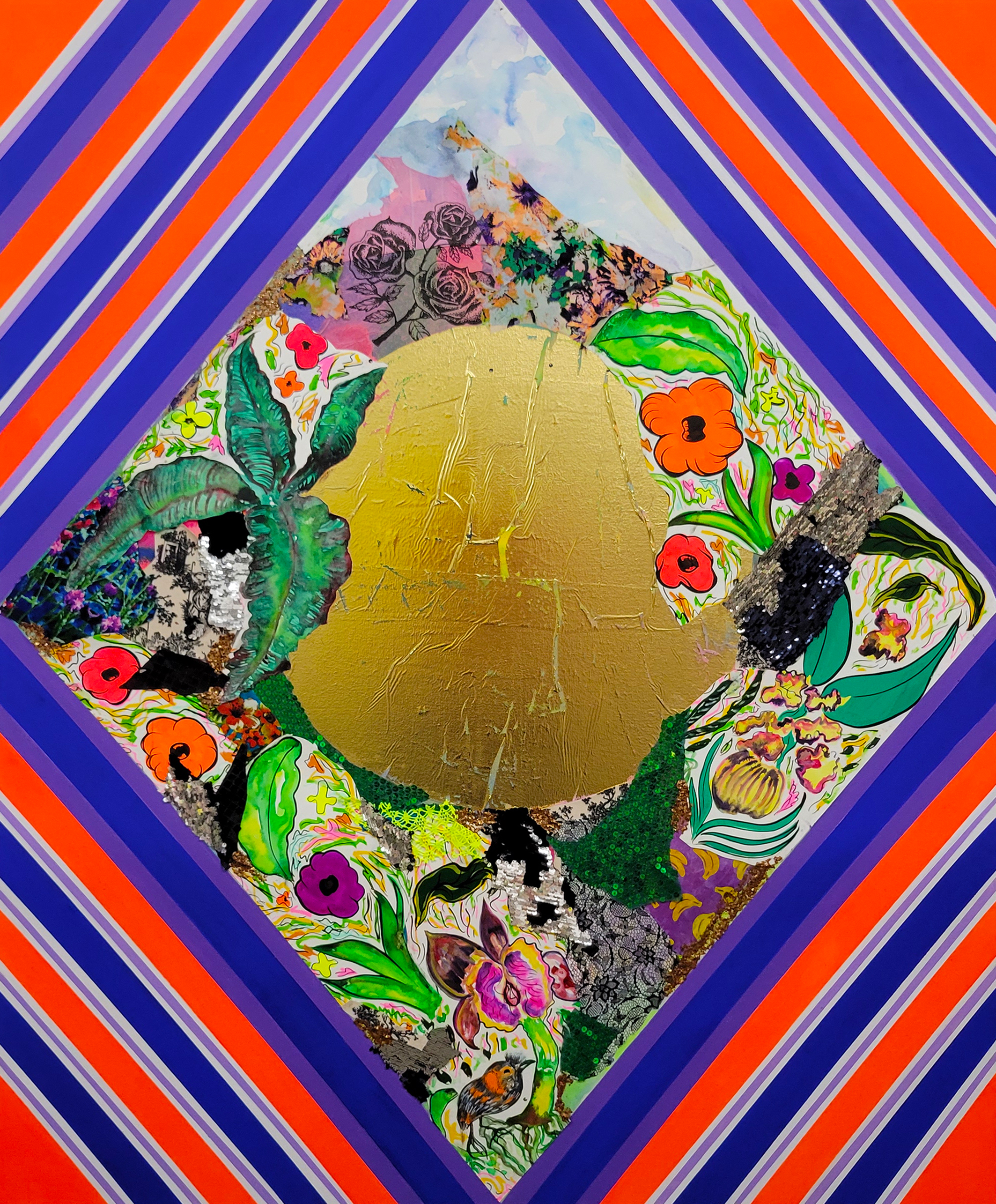 Carolyn Castaño, Christopher Chinn and Stas Orlovski
Building K, Rm K100 4901 E. Carson Street Long Beach, CA 90808
Mar 02, 5 PM - 8 PM — ends Mar 25, 2023
In Transit: Faculty Sabbatical Exhibition

Featuring works by LBCC Visual & Media Arts Faculty: Carolyn Castaño, Christopher Chinn and Stas Orlovski
Long Beach City College Art Gallery

March 2 to March 25, 2023

Opening Reception: Thursday, March 2, 2023, from 5-8 PM

Artist Talk | Christopher Chinn and Margaret Lazzari | Wednesday, March 15, 2023, from 1:30 – 3PM

Closing Reception: Saturday, March 25, 2023, from 1-3 PM

About the exhibition

Through three distinct artists' perspectives the subject of In Transit: Faculty Sabbatical Exhibition is migration, displacement, and resettlement. Each artist created works during sabbaticals which took place during the Covid-19 pandemic of 2020-2022. The exhibition will feature works created during the pandemic as well as in subsequent years.

Carolyn Castaño, is a Colombian-American artist whose work touches on themes of ecofeminism, colonialism, and migration. In this sabbatical exhibition Castaño will present drawings, paintings, reappropriated photographs, sculptures, and textiles from her recent solo exhibition at the Orange County Museum of Art Cali es Cali that explore her family's migration from Cali, Colombia to California. Paintings of the lush South American jungle are interlaced with appropriated photographs from her father's archive, as well as drawings of migratory birds, South American fruits, while textiles and mosaic sculptural work transform the gallery space into a portal to her family's home in Colombia. A diamond shape reoccurs in the paintings, the ruana is South American (Andean) poncho-like garment worn by both men and women. In family photographs we can see her aunt dressed in an ochre wool ruana as she arrives to the United States. The ruana appears in Castano's paintings as a reminder of migration while simultaneously providing a formal quality and framing the paintings in a portal like shape.

In Castano's and Orlovski's respective bodies of work they strive to recover lost family histories, memories that were lost in transit due to migration and displacement. Born in the former Soviet republic of Moldova, Orlovski's work is a mash-up of appropriated images from the artist's children's books, Russian Constructivism, European Modernism, Soviet experimental animation and found ephemera. Themes of migration, loss, collapse, and transformation appear throughout his imagery in the form of fallen monuments, running men, heads, flags plants and books. History in Orlovski work is always haunting the present. This sabbatical exhibition features Orlovski's multi-faceted studio practice across drawing, painting, sculpture, and projected stop-motion animation.

In Chinn's work, displacement and resettlement is represented in photo-realistic paintings of Los Angeles' unhoused populations. On any given day more than 60,000 Los Angeles County residents experience homelessness, and the struggle to find safe shelter involves a constant movement from one location to the next. Chinn strives to create awareness of Los Angeles' unhoused population and the housing crisis that continues to displace people and families through paintings, conversations and being involved in advocacy for the unhoused population.

The exhibition will be open through March 2 to March 25, 2023. Additional public programs will accompany the exhibition.

About the artists
Carolyn Castaño is a Los Angeles-based artist whose work in painting, drawing, video, and mixed-media installations has been exhibited both nationally and internationally. Castaño has a Bachelor of Fine Art degree from the San Francisco Art Institute and a Masters in Fine Art from the UCLA School of Art and Architecture. She has taught at UCLA's School of Art & Architecture, Chapman University, Cal State University San Bernardino, and Riverside Community College. She is currently Assistant Professor, Painting and Drawing at Long Beach City College.

She was recently the subject of a career retrospective at the Laband Art Gallery at Loyola Marymount University and solo exhibitions at the Orange County Museum of Art and Pasadena City College Art Gallery. Her work has been featured in We Must Risk Delight-Twenty Artists from Los Angeles at the Magazzino Di Sale, curated by BARDO-LA, a collateral exhibition of the 2015 the 56th International La Bienniale di Venezia, in LACMA's Fútbol: The Beautiful Game, and in the critically acclaimed Phantom Sightings: Art After the Chicano Movement, which traveled to the Museo Del Barrio, New York City and the Museo de Arte Contemporáneo Rufino Tamayo in Mexico City. Her other exhibitions include LA Now: Emerging Artists, Galerie Dominique Fiat, Paris; Liquid Los Angeles: Contemporary Watercolor Painting in Los Angeles at the Pasadena Museum of California Art; Semi-Precious, The Public Art Fund, New York; and International Paper, an exhibition of drawings at the Hammer Museum.

She is a recipient of the Joan Mitchell Foundation Grant for Painters and Sculptors (2013), the California Community Foundation Getty Fellow Mid-Career Grant (2011), and the City of Los Angeles Individual Artist Grant (2011). She had exhibited her work at

Christopher Chinn work almost entirely focuses on the unhoused population of Los Angeles, where he lives and works. His work has been included in numerous solo and national group exhibitions, in Chicago, Washington DC, the Grand Rapids African American Museum and Archives, and throughout California, including the San Luis Obispo Museum of Art. He is a grant recipient of USA Projects, the Puffin Foundation, LTD., and the California Community Foundation. Chinn received his BFA from the University of Illinois, Urbana - Champaign in 1998, and MFA from the University of Southern California's School of Fine Art in 2001.

Stas Orlovski Stas Orlovski is a Los Angeles based visual artist whose work includes painting, drawing and time-based media. Orlovski was born in Kishinev, Moldova in 1969. When he was a child, his family fled the Soviet Union to Tel Aviv, then Paris and eventually settled in Toronto, Canada. Orlovski studied art in Toronto and Los Angeles, receiving a BFA from York University, a B. Ed from the University of Toronto, and an MFA from the University of Southern California.

Orlovski has exhibited widely throughout the U.S. with solo shows in Los Angeles, New York, Chicago, and the Bay Area. His work has been included in museum exhibitions at the Los Angeles County Museum of Art, Pomona College Museum of Art, Long Beach Museum of Art, Pasadena Museum of California Art, Boulder Museum of Contemporary Art, Weatherspoon Museum of Art, and the Fine Arts Museum of San Francisco among others.

His work is represented in the following public and corporate collections: the American Embassy in Belgium, Davis Art Museum, Chevron Corporation, Crocker Art Museum, Fine Arts Museums of San Francisco, Houston Museum of Fine Arts, Los Angeles County Museum of Art, Palm Springs Art Museum, Phoenix Art Museum, Progressive Art Collection, Samella Lewis Collection of Contemporary Art at Scripps College, Vincent Price Art Museum, Twitter, and the West Collection. Awards, fellowships, and residencies include the Skowhegan School of Painting and Sculpture, George Rickey Fellowship from Yaddo Corporation of the Arts, Art Omi Residency Program, City of Los Angeles Individual Artist Fellowship (COLA), J. Paul Getty Trust Fellowship from the California Community Foundation, Artistic Innovation Grant from the Center for Cultural Innovation, and the 2015 Joan Mitchell Foundation Painters & Sculptors Grant.

"Chimera" and "Pastoral", Orlovski's large-scale, animated wall drawings were shown in the fall of 2014 in concurrent one-person exhibitions at the Pasadena Museum of California Art and Mixed Greens Gallery, NYC. In 2015 "Chimera" traveled to the 56th Venice Biennale as part of "We Must Risk Delight", a collateral exhibition at the Magazzino del Sale No. 3. Recent solo exhibitions include Young Projects in Los Angeles, Traywick Contemporary in Berkeley, Wende Museum in Culver City, and the San Jose Institute of Contemporary Art.