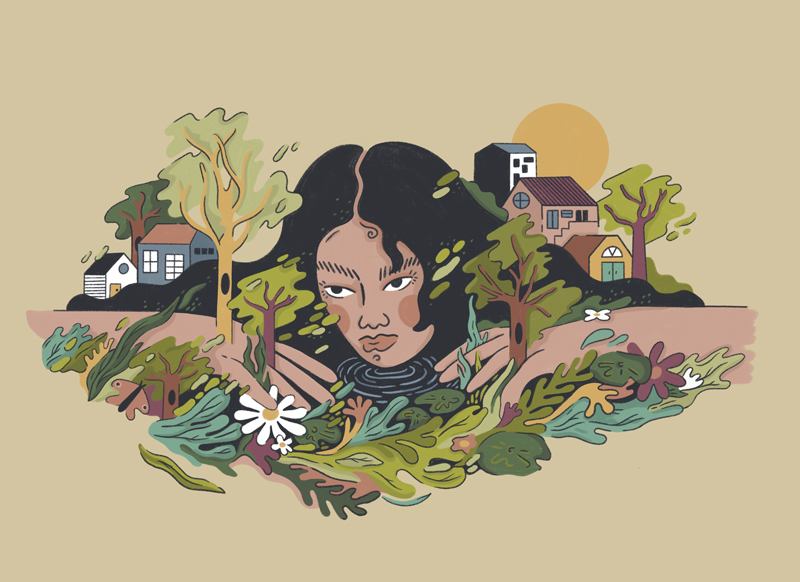 Kelly Malka: Spring of Life
10459 Tuxford Street, Sun Valley, CA 91352
Apr 08, 4 PM - 6 PM — ends Sep 09, 2023
Spring of Life is a visual exploration of how we as humans learn to coexist and adapt to our ever-changing natural surroundings. As the drought continues to shape our landscape and lives, I wanted this collection of work to show both the interaction of us within our newly shaped natural world, as well as a celebration of the plants that can thrive in this dry environment.
Spring of Life features original paintings as well as archival prints.
About the Artist
Kelly Malka is an illustrator and designer living and working in her hometown of Los Angeles. As a first–generation American born into a strong Jewish Moroccan heritage, Kelly spent her summers traveling abroad to see her family. It was on these trips that she was able to absorb the colors, language, tradition, and culture that later informed and inspired her artistic style. Kelly's love for illustration led her to the USC Roski School of Fine Art where she focused on graphic design. After graduation, she moved to San Francisco to work as a Visual Designer in advertising, but always made space for her passion for illustration in addition to her day job. After 5 years in the ad world, Kelly moved back to Los Angeles in March 2020 to pursue her dream of becoming a full-time illustrator and artist. Since pivoting into illustration during a painful time both nationally and globally, Kelly has found greater reward in being able to create work that has felt more meaningful, personal, and purposeful. She has worked with clients and organizations such as Nike, Adobe, Doc Martens, Rock the Vote, Heal The Bay, HP, Netflix, The LA Times, and many more.
Special parking instructions
Limited parking; early arrival suggested. Carpool or rideshare is encouraged.
Overflow street parking available on Tuxford, Wheatland, or Ledge.
Out of respect for our neighbors please do not block driveways.
Questions? Contact
info@theodorepayne.org